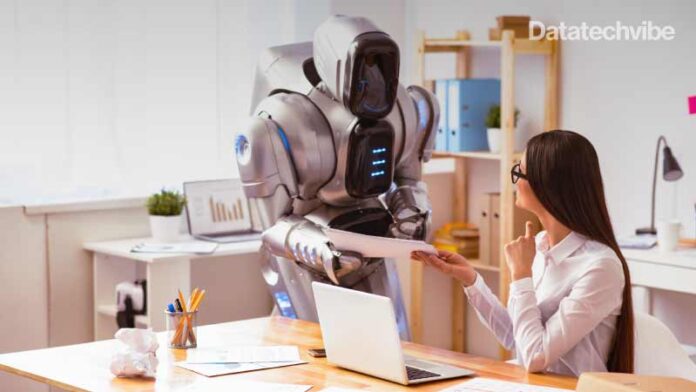 A couple of years ago, Unilever claimed it saved hundreds of thousands of dollars a year by replacing human recruiters with an artificial intelligence (AI) system.
The multinational, which receives a quarter of a million applications for 800 places on its Future Leaders Programme, saved thousands of hours of human recruitment time, with 90 per cent faster hiring, by deploying software to analyse video interviews.
The system scans candidates' facial expressions and word choice and checks them against traits that are considered to be predictive of job success. Vodafone, Singapore Airlines and Intel are among other companies to have used similar systems.
In September, SAP acquired SwoopTalent, a company that uses data analytics and machine learning to elevate HR, to strengthen its AI capabilities and provide customers with an updated view of their people — from skills and abilities to interests and learning preferences — so they can match employees to internal jobs, projects, learning courses, mentors and more.
"Delivering individualisation at scale requires a sophisticated, powerful data platform that extends across multiple systems," said Meg Bear, SAP SuccessFactors chief product officer, in a statement. "By making workforce data more reliable and accessible, we can help our customers gain powerful insights about their people to upskill effectively, reskill, and redeploy talent and future-proof their business."
A few years ago, McKinsey adopted AI-based technologies and data analytics, innovating its approach to talent management. Goldman Sachs created its résumé analysis tool to match candidates with the division where they would be the "best fit". Going a little further, LinkedIn, the world's largest professional network, offers employers algorithmic rankings of candidates based on their fit for job postings on its site.
Today, if you were to start looking for a new job, AI will likely influence your search — determine what postings you see on job search platforms and decide whether to pass your résumé on to a company's recruiters.
AI in recruitment is becoming increasingly common. More and more companies are using AI to hire new employees, and AI can factor into almost any stage in the hiring process. While automated interviews are not yet mainstream, more than 95 per cent of Fortune 500 companies use an applicant tracking system (ATS) – software that sorts and filters job applications. This means that many CVs are never actually seen by a person.
Automation is also used to undertake psychometric tests, to run online chatbots that respond to applicants' questions and to target job adverts to relevant candidates. Some companies ask candidates to play AI-powered video games to measure their personality traits and gauge whether they are a good fit for specific roles.
In September, retrain.ai launched an AI-powered engine called Sofi that maps skills, roles and talent, and provides real-time market data to help enterprises match talent to career opportunities. Also, it does not use semantic algorithms to compare individuals' skills but relies on a new knowledge graph to measure distances and similarities between the candidate and other people occupying similar jobs.
As demand for highly qualified talent continues to grow in an increasingly hybrid world, Glider AI, a talent intelligence platform, found a 92 per cent increase in candidate fraud between 2020-21, mostly in contingent workers in tech /IT roles. As a result, the platform is witnessing a surge in demand for its product as organisations need technology that ensures candidate quality and integrity. Glider AI claims to have doubled its customer base in less than one year, and its new customers include Emirates, Amazon and Infosys.
On average, Glider AI claims its customers see a 67 per cent increase in talent quality and hiring time cut down to half.
Efficient and targeted recruitment
Incorporating AI into recruitment can create a more seamless experience for both employer and candidate, improving efficiency, saving time and helping to source the best applications. Accounting firm PwC, the largest private-sector recruiter of graduates in the UK, receives roughly 50,000 applications for 1,200 graduate roles, uses automation for application scanning, psychometric testing and video interviews, helping to whittle down candidates while also removing human error.
With more than 10,000 employees in the company, AirAsia also uses AI-based solutions to pre-screen candidates and stack rank them based on their competence and skills and also match them to do job descriptions. In early 2020, during one month period, 132,000 applications for Air Asia were processed by the Eightfold platform, an AI-powered talent management company, which matched 4,700 of them (about 4 per cent) with a high enough score to move a candidate to the next step.
Also Read: Traits to Watch Out for a while Hiring a CMO
Augmenting hiring with talent data system
Some companies use data analysis beyond the recruitment process to personalise inductions and match people to internal job opportunities.
We are well into 2021, arguably the most digitised workforce era in history, and the AI-powered talent data system helps hiring teams make a shift from data availability to data intelligence — taking things one step further and augmenting it.
Legacy talent databases aren't made for complete agility and consistent optimisation. A talent data system is built on a knowledge graph, a self-expanding infrastructure that consolidates data points from the Internet, API integrations, ATS/CRM software, business intelligence tools and other integrated software into a centralised location.
The graph takes that data and analyses the web of relationships between them, even taking conversational and activity data into account. Natural Language Processing helps the graph understand human language and identify recurring patterns in an expanding data set at a scale that humans cannot do.
Within this infrastructure, recruiters sit in the centre, while the talent data system runs in the background, continuously feeding on data to automate data flow between different softwares and services, identify trends and patterns within talent pool data and self-learn and improve from experience with Machine Learning (ML) algorithms.
While data is extracted and transformed, recruiters can spend 80 per cent of their time increasing touchpoints with leads, building strategies targeted to trends for specific requirements, and increasing diverse representation in talent pipelines.
Also Read: What Marketers Don't Know About AI
The future of AI and technology in recruitment
Technology can help find and retain talent, and there are several different ways technology might be used by recruitment teams. First off, it could be used to check whether an organisation's hiring strategy is working by analysing the retention rate of employees. Secondly, AI tools can sift through CVs and scan them to look for suitable people. Technology can also help with simple, time-saving tasks, such as optimising the schedule of interviews. AI displaces monotonous activities that don't require judgement, such as sifting through applications to look for basic criteria.
Since too much current data is biased and the technology is unregulated, experts say controls should be put in place, such as removing identifying details, other information on hobbies, which might be an indicator of their identity, to mitigate against bias.
In combination with name-blank recruiting, where identifying details are removed from an application, AI can eliminate bias, but automated systems are not exempt from prejudice as they are trained on historical data, which is not free from societal discrimination.
In 2018, Amazon famously ditched its AI recruiting tool after it discovered that it downgraded women, penalising those with details such as "women's chess club" because it had been trained on CVs submitted over ten years, the majority of which were from men.
For now, the use of AI in hiring carries risks as well as rewards. While there are tremendous opportunities, if the tech is not carefully monitored, it can exacerbate inequality. Strong regulation is essential to ensure it is used safely. The European Commission released its Artificial Intelligence Act, which sets out how to mitigate harm from AI while still encouraging innovation. While its scope covers the EU, it is expected to extend to much of the world.
As automation becomes more sophisticated, with regulation and careful curation, it may reach a point where it can be left largely to its own devices, it might even make applying for a job a much more tailored experience.
For now, however, AI making the final call in hiring selection is a long way off. After all, hiring is a social process, organisations can't relinquish it to technology. People will need to work as analysts alongside technological tools to look critically at the data and make sense of it.