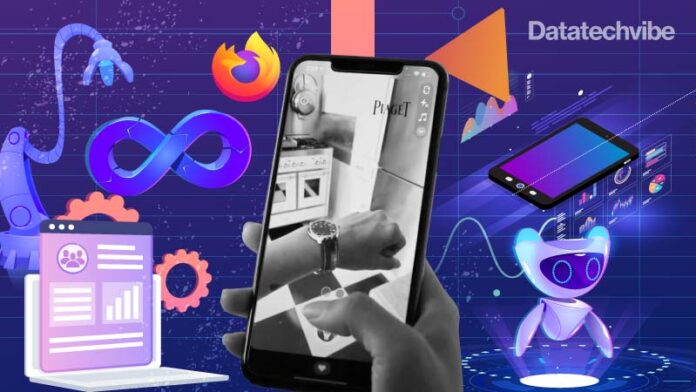 Here is our monthly round up of carefully selected news stories you may have missed.
From cloud and digital payment solutions to cybersecurity tools, February has been a month of technological growth across industries, especially in the eCommerce and banking sectors.
We've been keeping track of the major news announcements that we believe will play an impactful role in shaping the business industry. Here is our monthly round up of carefully selected news stories you may have missed.
We know that embedded analytics lets users monitor progress and outcomes in real time. Taking inspiration, SugarCRM introduced integrated playbook functionality to support guided selling and advanced CRM process automation. The no-code toolset enables business users to design, visualise, and automate sales, service, and marketing processes, creating playbooks and templates for sales plays, sales methodologies, guided selling, service processes, lead nurturing and more.
"This empowers sales, marketing, and customer success teams to boost buyer engagement, drive greater customer trust and satisfaction, improve win rates, and increase revenue," said Rich Green, SugarCRM's chief technology officer and chief product officer.
——————————————————————————————————
While customer service and customer relationships are on top priority, customer experience is still driving business today, and Augmented Reality is the future of shopping, no doubt. Jeremi Gorman, Chief Business Officer at Snap, said, "Augmented reality is changing the way we shop, play, and learn, and transforming how businesses tell their stories and sell their products. 
As a result, Snap launched catalogue-powered Shopping Lenses to make AR shopping simpler and more engaging for consumers, and easier to build, scale, and optimise for brands.
For brands, the updates focus on providing real-time results, such as instant feedback on which products are the most popular. Additionally, Snap is expanding the Lens Web Builder, allowing beauty brands to create Shopping Lenses in as fast as two minutes.
——————————————————————————————————
Meanwhile, in the Middle East, the rise of eCommerce is at its peak. Dubai CommerCity teamed up with eCommerce strategy consultant, Techies Infotech to develop customised eCommerce strategies tailored to the MENA region to spur growth for local and international brands in the region.
By designing, planning, and implementing an eCommerce strategy that supports Dubai CommerCity's customers' digital transformation journey, Techies Infotech will support its customers.
——————————————————————————————————
While customer experience is put on a pedestal, brands are realising that employee experience can have a strong impact on customer relationships. "As organisations across the globe are shifting from transactional to conversational business models, we believe that conversational CX and EX solutions will revolutionise the way they do business," said Birendra Sen, head of business process services at Tech Mahindra.
Yellow.ai is breaking ground with tech Mahindra to give enterprise customers a competitive advantage with greater efficiencies across business processes. This partnership will support a diverse set of solutions across various platforms, including conversational chatbots and voicebots for live chat, email support, and ticket management.
"Combining a conversational layer built on our rich [natural language processing] engine with Tech Mahindra's deep expertise in optimising day-to-day business activities, our objective is to transform the future of work across a broad set of industries," said Raghu Ravinutala, CEO and co-founder of Yellow.ai.
——————————————————————————————————
Let's talk about an unexpected partnership – Mozilla and Meta. While 2021 has exhausted the talk of the demise of third-party cookies, more alternative solutions are still yearned by advertisers. To address it, Mozilla and Meta collaborated on a conversion measurement solution that would allow advertisers to track campaign performance across devices and browsers without collecting data on individual users.
Called Interoperable Private Attribution (IPA), it has been designed as a solution that would work within the boundaries of browser-based and mobile privacy restrictions. According to Mozilla engineer Martin Thompson, this measurement technique is "crucial to advertising, and it hasn't been addressed by most privacy-compliant ad solutions so far.
IPA uses a match-key concept, in which an encrypted match key is created when a user logs into a browser on one device, which allows the system to connect the behaviour of that user as they bounce around different browsers and devices, provided they use the same login information and the solution is adopted by all browsers. Here's to hoping that the IPA proves to be a saviour in the advertising industry.
——————————————————————————————————
Another advertising solution was launched by The Trade Desk. Called Open Path, the product has been designed to provide advertisers with direct access to premium digital advertising inventory.
"OpenPath is an excellent example of industry leaders working together to advance an open market that ensures transparent price competition and maximises value for both advertisers and publishers. With that in mind, as OpenPath launches, The Trade Desk will turn off Google Open Bidding on its platform," said Jeff Green, co-founder, chairman and CEO, The Trade Desk.
Since its inception, the company has worked to increase supply chain optimisation and transparency on behalf of its advertising clients. While OpenPath is its most significant step yet in this effort, will it succeed in giving advertisers transparency and objective access to the very best digital advertising inventory? Time will tell.
——————————————————————————————————
We've heard of robotics enhancing customer experience in several business sectors, but how often do we think about a robot specifically made for advertisers? 
RoboAds, the AI robotics startup that developed the world's first advertising robot, launched its latest and most advanced robot – the RA-200.
The RA-200, is a sophisticated signage robot that has been designed to maximise the impact of the mobile indoor/outdoor advertising experience. 
Equipped with three 55inch 4K digital signage screens, the new robot can navigate on its own and learn its environment. The autonomous RA-200 is programmed to autonomously roam around freely, attracting attention, and engaging targeted audiences.
One of the most advanced features of the RA-200 is its innovative dual indoor and outdoor smart mobility. The RA-200 can be used at corporate events, conferences, malls, product launches, crowded public places and trade shows.
——————————————————————————————————
Now with the rise of the digital era, digital payment solutions are becoming a bigger deal worldwide. This month, Accenture was selected by the Central Bank of the UAE (CBUAE) to lead a consortium of companies to help execute its National Payment Systems Strategy.
In collaboration with SIA, now part of Nexi Group, and G42, Accenture will build and operate the National Instant Payment Platform (IPP) over the next five years.
"With the proposed model, the UAE can benefit from higher quality services at a competitive cost, a greater level of efficiency, and more innovative payment channels, acting as a benchmark in the region and driving the overall competitiveness level of the UAE financial landscape," said Talal Al Kaissi, CEO of G42 Cloud.
——————————————————————————————————
On the other hand, Etisalat Group partnered with banking giant First Abu Dhabi Bank (FAB) and UAE conglomerates ADQ and Alpha Dhabi Holding to launch a new digital bank called "Wio", the telecom operator.
The telecom giant has committed to making a cash investment of $173.96 million in exchange for a 25 per cent stake in the digital bank.
——————————————————————————————————
In the sports industry, technological innovations have been increasing. For instance, Sony AI, together with Polyphony Digital (PDI) and Sony Interactive Entertainment (SIE), announced a breakthrough in artificial intelligence (AI) called Gran Turismo Sophy (GT Sophy) — the first superhuman AI agent to outrace the world's best drivers of the highly realistic PlayStation racing simulation game, Gran Turismo (GT) Sport. GT Sophy aims to deliver new AI-powered gaming experiences to players worldwide.
GT Sophy is an autonomous AI agent trained to utilise a novel deep reinforcement learning platform developed between Sony AI, PDI and SIE. Each group contributed to the project's success by bringing together expertise in fundamental AI research and development, a hyper-realistic real-world racing simulator, and infrastructure for massive-scale AI training
——————————————————————————————————
Enhancing its Red Bull Racing partnership, Oracle's announced its new car for the upcoming season, the RB18.
The Oracle Red Bull Racing team will take advantage of the Oracle Cloud across its most significant areas of operation, including analytics-based race strategy, optimised engine development, AI and machine learning-powered driver training and a tailored fan experience.
This season, OCI will enable the Oracle Red Bull Racing Team to expand the volume and variety of data they analyse and increase the speed at which simulations run to predict tactics better. Such is the power of data today.
——————————————————————————————————
The month has also been "cloudy" with a chance of better business outcomes. Companies today need to serve users across regions and continents and ensure they provide the best experience to every user no matter the location.
Google Cloud introduced autoscaling for Bigtable, enabling users to automatically add or remove capacity in response to the changing demand of applications.
Autoscaling for Bigtable automatically scales the number of nodes in a cluster up or down according to the changing demands of usage. It significantly lowers the risk of over-provisioning and incurring unnecessary costs, and under-provisioning which can lead to missed business opportunities.
———————————————————————————————
In the UAE, NICE partnered with Etisalat Digital to launch the CXone cloud contact centre platform. It enables an end-to-end service experience, combining digital entry points, journey orchestration, smart self-service, prepared agents, and complete performance improvement, all embedded with purpose-built CX AI and based on a native open cloud foundation.
"CXone provides the essential technology businesses need to exceed today's customers' expectations in a unified cloud-native platform, fast-tracking digital transformations and digital fluency for companies of all sizes across the globe," said Barak Eilam, CEO of NICE.
——————————————————————————————
With increasing cloud solutions, cloud security is beginning to increase ranks in the priority list for businesses and government organisations. In Saudi Arabia alone, The National Cyber Security Centre (NCSC) recorded a total of 897 cyberattacks in 2021.
To address the growing issue, Trend Micro Incorporated, a global leader in cybersecurity solutions, announced a strategic security agreement with the Ministry of Communications and Information Technology of Saudi Arabia at LEAP 2022 in Riyadh.
This initiative is aimed to maximise investment in hybrid cloud security solutions, endpoint protection, network security, and extended detection and response against security threats, all through the launch of a Trend Micro local cloud data lake for cybersecurity SaaS solutions in the Kingdom.
According to the agreement, the ministry is to support the company's plan to expand its solutions by motivating decision-makers in government agencies and entities affiliated with the communications and information technology system to adopt its solutions and services.
These industry-leading innovations aim to protect the country's cybersecurity environments, including hybrid cloud workloads, endpoints, networks, improving detection and response against cyber security risks. We are optimistic that the agreement will develop the country's digital capabilities and enable IT professionals to reinforce the nation's security stance digitally.
———————————————————————————————
Even Google launched a new security feature for Google Cloud tenants that is meant to detect and block cryptomining operations that take place behind the owners' backs.
This comes after a report submitted by the Google Cloud team that stated that after analysing 50 recently compromised GCP instances, 86 per cent were found to be infected with cryptomining payloads that hijack tenants' resources such as the CPU or RAM to mine cryptocurrency for the attacker.
The new security tool, Virtual Machine Threat Detection (VMTD), is an agentless system that continually scans the memory of virtual machines deployed in Google Cloud environments for tell-tale signs of increased CPU or GPU usage — specific to cryptomining operations.
These are a few other news announcements that deserve a shoutout: IBM takes on the 5G era with the acquisition of telco consulting firm Sentaca, Apple inaugurated its first female developers academy in Riyadh, and Spotify rival Anghami skyrocketed over 80 per cent in Nasdaq debut.
———————————————————————————————
Finally, here is something to ponder on the state of technology today. "Information war is the feature of this era, in light of the development of communication technologies and digital communication tools. The more information systems develop globally, the more active countries, organisations, institutions and people become in penetrating those systems," said Saudi's Minister of Media Affairs Faisal Shboul. 
*We'd like to hear whether you find our monthly round-up reading helpful. Send us an email at editor@vibeprojects.com with your thoughts.
If you liked reading this, you might like our other stories

Can Blockchain Reduce Ad Fraud?
January Round-Up: All The Tech News You Need To Know