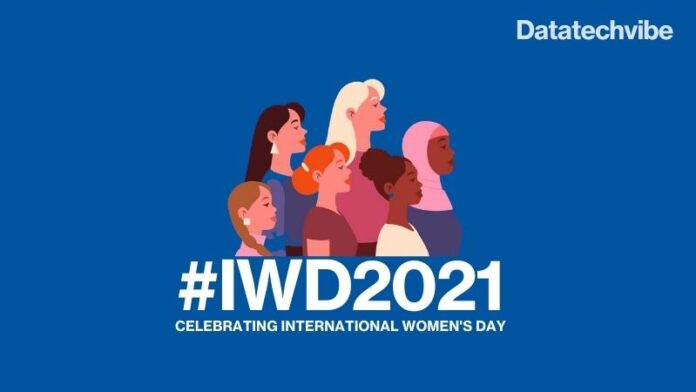 Compared to the 1950s, women have better access to education and the workplace. However, in the world of technology, especially in cybersecurity, there still seems to be a vast chasm to fill to fulfill this gender gap. The InfoSec industry spoke about the immediate need to bring more gender inclusivity in cybersecurity to fill a large number of potential vacancies that are expected to open up. 
Until now, women constitute only 20 per cent of the cybersecurity workforce worldwide, a number – that is not even close to the halfway mark. 
It is further expected that more than 3.5 million tech job roles in cybersecurity will be left unfilled by 2021. 
As Dr Roman V. Yampolskiy of the University of Louisville believes,

"Cognitive diversity is significant in any decision-making process. And a diverse cybersecurity tech workforce will initiate richer ways to secure enterprises and SMBs."
According to Statista still, some of the world's largest tech companies show that women are still in the minority in holding tech jobs. For instance, female employees make up between 28 per cent (Microsoft) and 42 per cent (Amazon) of the total workforce at America's largest tech companies, the colloquially termed 'GAFAM' group.
It's time to start looking more deeply at the 'Why' of this because multiple studies warn of the imminent workforce shortfalls in cybersecurity. According to studies, there will be a shortfall of at least 1.8 million workers by 2022.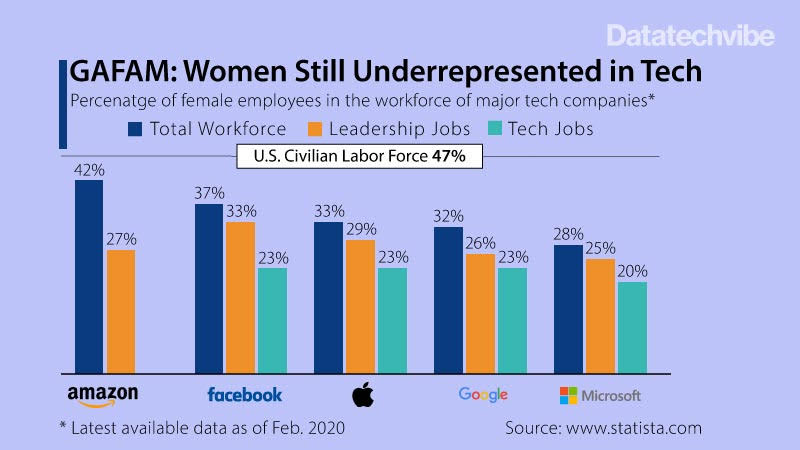 What are the Challenges Women Face as Cyber Security Tech Professionals?
To understand women's challenges as cybersecurity professionals, let's hear it from the women leaders from cybersecurity companies.
"There is no question that women face several challenges as cybersecurity tech professionals. At its roots, cybersecurity has been a profession dominated by men and obtaining positions in leadership and executive leadership is still a challenge.
One of the problems women face is, lack of early exposure to the industry and subsequently choosing a career path. Women need to see the potential opportunities in technology that they can also be pursued. This can happen through active mentorship programs and community/school groups as early as High School, so girls and teens can see the potential in front of them.
At Alert Logic, we see that conscious strides are being taken which advocate recruitment of women through STEM programs, including a partnership with Lone Star College, where we encourage all students to pursue STEM degrees and start their career with Alert Logic.
Cybersecurity is a male-dominated industry and sometimes, women in tech often have to speak louder to be heard. Organisations need to bring a level of consciousness to the importance of women in cybersecurity to provide a pathway toward leadership."
Karoline McLaughlin, VP, Global Brand and Communications at Alert Logic
"There is still some male prejudice in the tech sector – men start most tech companies, and most engineers are men. Some men still feel women don't have the technical understanding to compete in the cybersecurity workplace, but I would remind them that the very first person to recognise that computers could be programmed was a woman, Ada Lovelace."
Aimei Wei, Founder & SVP Engineering at Stellar Cyber
Fighting gender discrimination at all levels, whether for C-suite executives or entry-level women professionals, is critical for more tech women professionals entering the cybersecurity industry. In cybersecurity, problem-solving skills and a holistic view of a challenge are vital in resolving an issue. Having a team built up of diverse individuals can only work to improve the outcome of the teams.
Importance of Reducing Gender Gap in the Cyber Security Industry
Humans as we know are flawed and possibly hold a deep bias against anything that they feel threatens their space. It may be intentional or unintentional. But when we talk about the professional world, we need to be neutral. When companies focus on why it's critical to bring in gender inclusivity and industry leaders realise the need to look out for 'out of the box' ideas to take the team's thinking to a new level, these norms are bound to change. 
Similar kinds of arguments in favour of gender equality at the workplace hold true for the cybersecurity industry; diversity in perspectives, leadership, and experience is suitable for any business and includes cybersecurity. 
Here's what Aimei Wei has to say:
"For the same reason, it's important to reduce the gender gap everywhere – because women make up half the population and they should be equally represented in all industries, including cybersecurity. In my company, we have a meritocracy – we hire and promote based on a person's ability to contribute, not based on sex."
Aimei Wei, Founder & SVP Engineering at Stellar Cyber
"It's so important to reduce the gender gap to have balanced teams and bring different skill sets and perspectives to the table. Just think about the counterbalance that varied perspectives can bring to any problem or even a conversation. Women and men will naturally have different approaches to their positions – whether intuitively through managerial styles, knowledge or experience. Various voices from diverse team members greatly benefit organisations, their customers and provide more robust cybersecurity solutions.
When women seek a job in cybersecurity, it's essential to seek companies that embrace the balance and have high regard for equality and diversity."
Karoline McLaughlin, VP, Global Brand and Communications at Alert Logic 
How Are Enterprises Reducing Gender Gap in the Cyber Security Industry? 
The Women's Society of Cyberjutsu (WSC) is changing gender-related prejudices in corporate ITSec or start-ups or SMBs. Their efforts would ensure more women are included in risk, compliance and privacy. The ultimate aim is ensuring more young women can pursue their career in the cybersecurity field. 
Employment opportunities in the field of cybersecurity are expected to increase by nearly 20 per cent by 2024. Leading tech giants like Google, IBM, and Facebook, drive diversity and inclusion throughout their workforce. Women team members are increasingly filling in cybersecurity roles because diverse teams help identify and neutralise threats quicker.