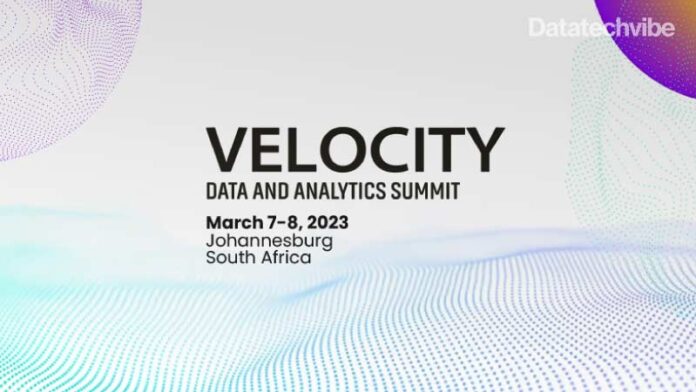 Data and analytics are a must-have and offer a competitive advantage in an evolving enterprise technology landscape. By 2025, the Middle East and Africa's big data analytics market is forecast to grow by 28 per cent annually, reaching revenue of $68 billion.
The fourth edition of Velocity's Data and Analytics Summit will be held on March 7 and 8, 2023 at the Hilton Sandton, South Africa. The summit will discuss the latest technology trends and enterprise challenges facing business leaders. Data and analytics takes away the guesswork, and steps in to help leaders make smarter decisions based on data-driven insights. The takeaways from the summit will assist business leaders to increase accountability, define core strategies to achieve scale, raise productivity, and make refined business predictions.
Here is a snapshot of the sessions that promise to deliver critical value;
The CDO's Playbook: How Top Leaders are Creating Business Value from Data
In the era of increasing complexities and information overload, Chief Data Officers have never been more critical towards business outcomes. Billy Odera – Chief Data Officer at Jubilee Insurance, Esther Munyi – Chief Data & Analytics Officer at Sasfin Bank, Nollie Maoto – Chief Data and Analytics Officer at FNB South Africa and Yomi Ibosiola – Chief Data and Analytics Officer at Union Bank of Nigeria will talk through how leaders can make time to innovate with data to drive growth.
How to Get Everyone Excited About Working With Data!
Mike Bugembe – Co-founder and CEO at Decidable Global Ltd, and author of Cracking The Data Code, will shed light on a tried and tested, scientifically-proven approach to getting cross-functional teams excited about using data for decision-making. It is through this transformational approach that insights inspire action and change.
Igniting the AI Engine With Data
AI is able to perform better when it has access to quality data. Panellists Nkululeko Thangelane – Executive Group Head of Big Data Science at Vodacom, Zjaen Coetzee – Head of Data Insights at Telkom, Olamide Jolaoso – Head of Data Analytics at Wema Bank and Murendeni Nemukula – Head of MI, BI and Analytics at Bidvest Bank will discuss how to use AI to create inclusivity in the organisation, and turn strategic data into an asset for everyone.
Unlocking the Secrets of Data: Advanced Techniques for Data Visualisation and Storytelling
In this session, Andrea De Mauro – Head of Data & Analytics at Vodafone Italy and author of Data Analytics Made Easy, will share a methodology to prepare and deliver data stories capable of convincing your audience and driving business actions. He will also share guides to grasp and maintain the audience's attention, and ultimately influence business decisions by creating engaging data-led presentations.
Maximise Your Data's Impact: Drive Smarter Business Decisions with Masterful Insights
Mike Bugembe – Co-founder and CEO at Decidable Global Ltd and author of Cracking The Data Code, will provide scientifically proven approaches to making data more engaging and valuable. Attendees will learn how to influence business decisions, and drive organisational change with the power of data storytelling.
Velocity – Data & Analytics Summit will take place on 7 & 8 March 2023 at the Hilton Sandton, South Africa. For more information and to register, Velocity – Data and Analytics Summit.