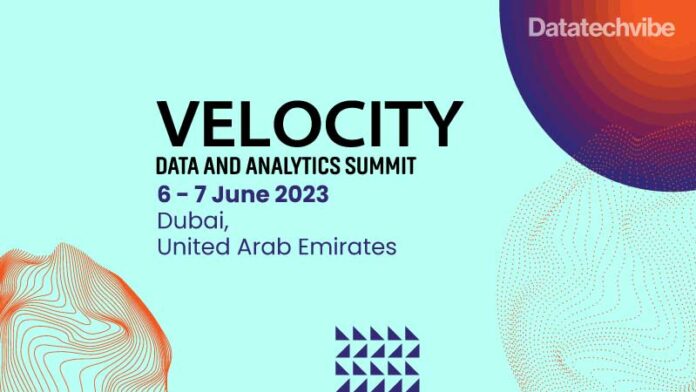 The third edition of Velocity – the Data and Analytics Summit will take place in Dubai, UAE, on June 6-7, 2023.
Enterprises in the Middle East are accelerating their data and analytics capabilities. According to research by the UAE Ministry of Economy, by 2027, 47% of businesses want at least a third of their core business decisions to be driven by AI and automation. Towards this goal, IT spending in the UAE is forecast to increase at 6.5% over 2020-2023 to reach a total of $8.2 billion, while the MEA big data analytics market is predicted to grow at a CAGR of 13.0%, from $12.87 million in 2022 to $26.82 million by 2028.
With the vision to help regional businesses embrace the power of data, analytics and AI, Datatechvibe is proud to announce the third edition of its flagship Data and Analytics summit – Velocity. The summit brings together the most key decision-makers with innovative minds, business prowess, a technology-first approach, and leading solution providers to discuss how data can drive smarter business decisions in enterprises. 
Over 250 data scientists, analytics experts, CTOs, CDOs, CRM experts, and senior government officials will be in attendance for the two-day in-person summit, which will focus on the latest trends and innovations in data analytics, and how to get the max potential from technology investments by aligning people, processes and policy. 
The agenda for the summit is packed with topics at the intersection of data, technology, and business. Industry leaders will lead conversations around predictive analytics, machine learning, and AI. The summit aims to facilitate a series of thought-provoking discussions, enabling attendees to gain a practical approach to improving accountability, developing core scaling strategies, increasing productivity, and making refined business predictions.
Key sessions at the summit include: Data Monetisation, creating a new architecture for decentralised data, digital twins, and predictive analytics, amongst others.
"Velocity brings together the sharpest minds leading the data dialogue in the region. With sound infrastructures in place, enterprise tech leaders are now looking to advance their data capabilities. For example, Big data and AI offers a predictive approach for business readiness in the face of dynamic market forces," said Abhinav Mishra, Director at Datatechvibe.  
An impressive line-up of data experts, data scientists, and CTOs will address technology trends impacting enterprises, common challenges in adoption and deliberate solutions to move ahead. This year's speakers include data leaders from Pearson, Dodo Brands, HSBC, Emirates, Aramex, First National Bank, Cigna, United Health, First Abu Dhabi Bank, McDonald's, and many more.
Lumenore, Snowflake, Vertica, Integrated Digital Technologies, and Fractal have joined as Gold Sponsors, while Denodo and SNP have signed on as Silver Sponsors. Solution BI will serve as the Lunch Sponsor, and ZainTech has joined as a Visiting Partner. ManageEngine, Altair, LexisNexis and Bluestonex have come onboard as Exhibit Sponsors.
Datafloq, Security Middle East, AI Time Journal, CIO INSIGHTS, International Business Magazine, and GRC Outlook have all come onboard as media partners.
To know more about Velocity and how to attend, click here.