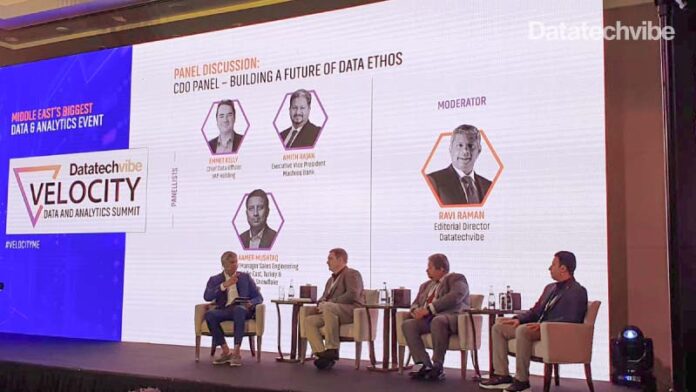 Experts at the ongoing

#Velocity 2022

suggest being flexible with technological advancements, integrate data securely across sources, and speak in a unified language when building a data ecosystem
If Darwinism were applied to data, it wouldn't be only about the fittest but also the most flexible. An expert panel of Emmet Kelly – Chief Data Officer at YAP Holding, Amith Rajan – Executive Vice President, Mashreq Bank, and Aamer Mushtaq – Regional Manager Sales Engineering (META) at Snowflake discussed how enterprises could prepare themselves for the data economy at the Velocity, data and analytics summit, which kicked off in Dubai.
From YAP Holdings, a neobank focused on improving the digital banking experience, Kelly explained why teams fail. "If you are a company that is more than five years old, you will inevitably have data silos. These companies bought the software a while ago when it was much more expensive. The software then locks customers into their system. It is not anyone's fault. It's something that happens."
This leads to interoperability, data quality, compliance, and security common challenges, which may seem like a technology-related problem, but it is a business challenge, said Rajan. Data now has a seat at the table, meaning technologists no longer need to convince business leaders to invest in data and analytics, but Rajan suggests approaching tech stacks based on how the enterprise plans to use them. "Data governance should be a focus," he said, adding in today's fast-paced market it's easy to run faster than governance can keep up, and this would be a "mistake".
Banking is a heavily regulated industry, but it's best to self-regulate. "Determine a code of data ethics based on purpose, privacy, and transparency. If organisations don't respect data or AI ethics, you risk losing the customer's and the regulator's trust."
Transparency is a team responsibility. Data scientists need to be invested in the idea. "Around 80 per cent of the job is data wrangling," said Ranjan, adding it's best to stay away from black-box models. "Be clear about what you want to do with the data when you ask for it, communicate this plan to customers, and tell them what you are doing to fight fraud."
Mushtaq reiterated the need to invest in people. "Focus on creating a data leadership role like a CDO who owns the strategy and the implementation. Define the role. Enable employees across the board with data literacy. This is not restricted to specialised IT roles. Build a community internally to share best practices and experiences."
There has been a shift in how technology solutions are marketed and sold to an enterprise in the last five years. It is about building an ecosystem that acts as a central node connecting different software. Data flows and software work together, explained Kelly.
This collaborative approach must extend to the way teams function and work with data seamlessly and securely. "Data clean rooms work to enable data that may be stored in one place to be used in multiple functions for many teams. Create a common language within the organisation. Building terminology to refer to data can help in data cataloguing and work towards data democratisation," added Mushtaq.
Key learning from the pandemic-induced operational challenges for enterprises is the need to be agile. It's not enough to be the fittest or the fastest; flexibility will ensure enterprises are prepared to act swiftly to changing market dynamics with a team and technology stack that works in sync.