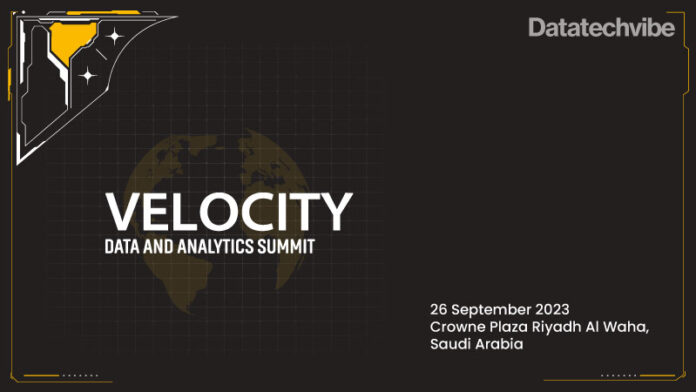 The 6th global edition of Velocity – Data and Analytics Summit will take place at Crowne Plaza Riyadh Al Waha, Saudi Arabia, on September 26, 2023.
Data and analytics leaders and their teams have shown perseverance, creativity and ingenuity in a disruptive global environment. As companies push to transform and accelerate data and analytics, leaders must execute purposeful strategies that maximise capabilities, scaling cohesive ecosystems across the organisation while using AI to manage data and privacy ethically. 
The 6th global edition of Velocity – Data and Analytics Summit will address the most significant challenges that data and analytics leaders face in empowering the innovative and adaptable organisations of the future. 
The Middle East and African AI, cyber security and big data analytics market was valued at $11.78 billion in 2020, and it is expected to reach $28.36 billion by 2026, registering a CAGR of 20.4% during the forecast period. Also, the data and analytics market size is set to achieve $329.8 billion by 2030, growing at 29.9% CAGR.
The summit is expected to feature 20+ experts and 15+ research-driven sessions. The upcoming one-day in-person summit will attract over 180 attendees, including data scientists, analytics experts, CTOs, CDOs, CRM specialists, and esteemed government officials. 
The full summit agenda features six comprehensive tracks that deep dive into various topics, including leadership skills, data management, analytics, data science and machine learning/AI, and governance and privacy.
Key sessions at the summit include:
Driving organisational transformation through data and analytics

Data mesh demystified: building a new architecture for data management

The business value of monetising data: from cost centre to profit centre

The intersection of data and public policy: harnessing the power of analytics to deliver value for citizens

Seeing the unseen: uncovering data patterns and narratives
Abhinav Mishra, Director at Datatechvibe, expressed his enthusiasm for Velocity, stating, "This summit brings together the brightest minds shaping the data dialogue in the region. With solid infrastructures already in place, tech leaders in Saudi Arabia are now seeking to advance their data capabilities. Big data and AI, for instance, offer predictive approaches to enhance business readiness in the face of dynamic market forces."
Velocity boasts an impressive roster of esteemed speakers, including data experts, data scientists, and CTOs from renowned organisations such as Outra, SABIC, GIG, Riyad Bank, Tawuniya, Abdul Latif Jameel, Artificial Intelligence Society, Government Cloud Office Digital Government Authority, Standard Chartered Bank, Ministry of Transport, Communication, and Information Technology Oman and Booking.com.
The summit has attracted prominent sponsors, with Denodo, Dataiku, Snowflake and In516ht as Silver sponsors, CentroCDX as the Networking Session Partner and Alteryx, ManageEngine, Veraqor, Nagarro and Alnafitha IT and Altair as Exhibit sponsors.
To know more about this upcoming event: Velocity – Data and Analytics Summit.