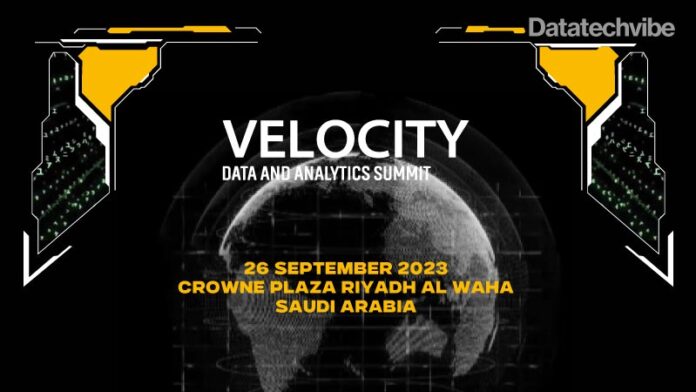 The 6th global edition of Velocity – Data and Analytics Summit will take place at Crowne Plaza Riyadh Al Waha, Saudi Arabia, on September 26, 2023.
Velocity – Data and Analytics Summit is thrilled to announce the participation of esteemed sponsor partners for its highly anticipated KSA edition. The summit, taking place in the heart of Saudi Arabia, will bring together industry leaders, experts, and innovators to explore the latest trends and advancements in data and analytics. 
In this edition, the Summit aims to dive deeper into five key topics that are shaping the future of data-driven decision-making:
Driving Organisational Transformation through Data and Analytics –

The strategies and best practices for leveraging data and analytics to propel organisational growth and innovation.

Data Mesh Demystified: Building a New Architecture for Data Management –

The power of data mesh and its potential to revolutionise data management frameworks, enabling scalability, agility, and improved collaboration.

The Business Value of Monetising Data: From Cost Centre to Profit Centre –

How organisations can shift their perspective on data from being solely a cost centre to becoming a valuable asset that drives revenue and creates new business opportunities.

The Intersection of Data and Public Policy: Harnessing the Power of Analytics to Deliver Value for Citizens –

The critical role data and analytics play in informing public policy decisions, fostering transparency, and delivering enhanced services to citizens.

Seeing the Unseen: Uncovering Data Patterns and Narratives –

The fascinating world of data patterns and narratives and how they can be leveraged to gain deeper insights, make informed decisions, and drive innovation across industries.
Building upon the success of previous editions, Velocity – Data and Analytics Summit, Saudi Arabia is proud to introduce a diverse range of new sponsor partners who will be exhibiting at the event. These esteemed organisations will join the ranks of long-term supporters, creating a vibrant and collaborative environment for attendees. The list of new sponsor partners includes Denodo, Dataiku, Snowflake and In516ht as Silver sponsors, CentroCDX as the Networking Session Partner and Alteryx, ManageEngine, Veraqor, Nagarro and Alnafitha IT and Altair as Exhibit sponsors.
Don't miss the opportunity to network with industry leaders, gain valuable insights, and stay at the forefront of the data and analytics revolution.
To know more about this upcoming conference: Velocity – Data and Analytics Summit.