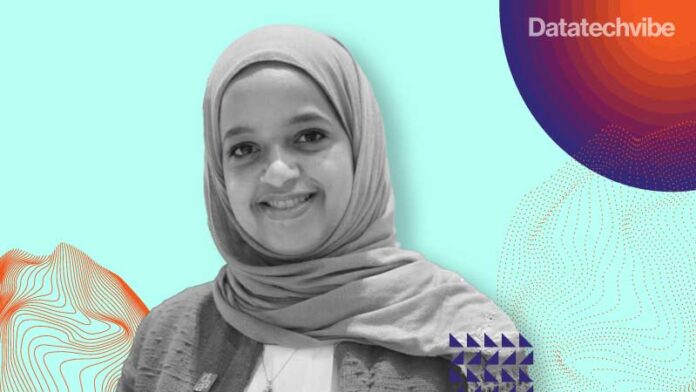 Mai AlOwaish – Chief Data & Innovation Officer – Gulf Bank, talks about the organisation's efforts towards empowering employees to think critically and be data-minded towards every function. 
In an interview with Datatechvibe, Mai AlOwaish, Chief Data & Innovation Officer at Gulf Bank,  talks about how Gulf Bank is building capabilities within businesses to leverage data more deeply to improve its revenue opportunities.
Excerpts from the interview;
How can technology leaders in the BFSI industry ensure data compliance in an evolving landscape of privacy laws?  
With the right data protection strategy, data can bring a unique advantage while keeping privacy and compliance in mind. The BFSI industry has a lot of proprietary data about the customer that can be utilised to personalise the customer experience without trying to track and record additional data that goes against privacy regulations. The need for such strategies prompted the rise of data protection officers (DPOs), who will be another partner of the CDO to help execute projects and processes that involve customer data in compliance with applicable data protection rules. The DPO will ensure organisations have a Data Protection strategy and policy to guide CDOs into proper data usage.
Tell us about how Gulf Bank is building capabilities within businesses to leverage data more deeply to improve its revenue opportunities.
At Gulf Bank, we take pride in developing our internal talent in critical disciplines such as data science through specialised programs such as our Data Ambassadors programme, which is now in its second edition and aims to build data experts within every business department. As part of the program, one out of ten employees in each team was trained on key concepts, including data quality, analytics concepts, and Tableau training for data visualisation. As we progress with the rollouts, we are excited to reap the many benefits that will follow from empowering our employees to think critically and be data-minded to bring innovative and data-driven solutions to our customers.
We have also rolled out Data Literacy for everyone else in the bank, including branch and call centre teams, through a bank-wide workshop in which all staff across departments will learn about the impact that they have on data and how data quality can enable Gulf Bank to be more innovative, profitable, and successful.
It is worth noting that the Data Ambassadors curriculum was developed completely in-house by Gulf Bank's Data and Analytics office and is the country's first stand-alone Data & Analytics program. The curriculum, developed primarily by Kuwaiti talent, has also been endorsed by world-renowned data expert Dr Thomas Redman, whose books and articles have been featured in respected periodicals, including MIT Sloan and Harvard Business Review.
How can professionals increase their data skills to add relevance to their roles?
In a dynamic field like data, it's important to continuously sharpen your skills through learning, networking, and staying up to date with industry changes. Attending events is a great way to hear directly from experts and network with like-minded people. Articles and technical journals are also great sources to stay relevant. Most importantly, be willing to try new things and be adaptable to change.
For more information and registration, visit Velocity UAE.