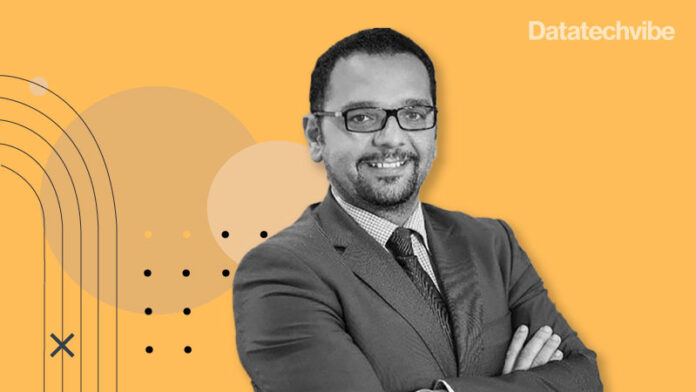 Technology can create great products, but it's human responsibility to make them more inclusive.
Emerging technologies are disrupting the enterprise landscape, and companies are investing in technology. Amid this fast-pacing revolution, it is pivotal to take a pause and plan strategically.
Datatechvibe spoke with Rami Lahoud, General Manager at Accord Business Group, about how the BFSI industry can accelerate AL and ML capabilities to tackle challenges and realise the true value of tech investments.
The ABG group carries expertise in financial compliance, AML, and fraud supporting BFSI, Telcos, and government sectors across the Middle East and Africa region. Lahoud says the existing governance rules make it challenging for the financial sector to introduce technologies like AI. He sheds light on how regulators must broaden their understanding of the topic to make way for experimentation.
Excerpts from the interview;
What emerging technologies do you see disrupting the enterprise landscape in the near future?
Innovative technologies have always disrupted the enterprise landscape for the past decades. Today, we are witnessing exponential growth in computing capabilities and an explosion of data collection points. The combination of both phenomena combined with advanced AI and deep technologies is opening horizons to multiple possibilities in the advanced processing of data at the source of any technological output.
What challenges can the Banking and Finance industry tackle by accelerating their AI and ML capabilities?
Challenges in embracing and accelerating any innovation or new technologies have always been understanding where that technology lies in the existing landscape of customers and understanding the interaction and touch points needed between humans, processes, and technology. Since then, this combination has ruled the success of any new technology adoption in the workplace, and it will not change going forward. The existing governance and compliance rules make AI/ML introduction within the financial sectors challenging, which might prevent innovation adoption. For that, regulators will need to understand the added value of such technologies and allow some space for adopting a more lenient approach towards experimentation with those new ways of doing.
This has already been seen in the surge of a new wave of digital banks, for example, which is nothing else than embracing the full stack of technologies to replace all the known classic touch points established between the bank and its clients.
In summary, adopting and deploying any new technology has always been a human and organisational challenge rather than a technological one.
For the formula to succeed, the following ingredients are necessary:
Vision and strategy alignment from the top
C-level engagement, sponsorship and empowerment
Allowing room for experimentation, failure and quick learning/fixing
Organisational and process re-engineering to adapt to what technology brings in as a change
If all of the above is met, accelerating adoption becomes easier for organisations.
Can technology help create more inclusive products?
Technology can create great products; it's human responsibility to make them more inclusive.
In another sense, technology knows no boundaries. Inclusiveness is about building the right product for usage and addressing all target audience segments. Creating inclusive technological products is the delicate equation of understanding, in order of priorities, what customers want, how businesses can serve them and how technology can make it better, faster or more fun. The right formula requires the collaboration of multiple skill sets unified by a single clear vision. For that, team creation and collaboration are the essence of any future success.
How would you advise companies to scale up their digital transformation efforts in KSA?
Focus on business needs first before jumping and adopting any technological trend.
Organisations today have access to a full stack of technologies, and choosing which is best for them becomes challenging. The first step is assessing the company's existing setup and capabilities and producing a gap analysis on these points, identifying areas of improvement and preparation ahead of undertaking any initiatives. On business analysis and alignment to the company strategy, identify the different initiatives with their impact on the business and their difficulty to implement from a budget/timelines perspective. The key to success remains in teams allocated to execute a plan and set up the right priorities, which will impact the business promptly. From there onwards, it's a continuous improvement cycle and scale-up to match management expectations.
How can companies realise the true value of their technology investments?
Any technology adoption follows a curve of adoption and reaches a level of stability once its leveraged to the fullest within the organisation. We have witnessed many investments being shelved or not leveraged fully, which might be due to multiple reasons, from the lousy implementation of the solution to lack of usage of users; the spectrum is broad and can vary from one customer to another.
The main element to leveraging a technology lies in its complete alignment to the business needs and its friendliness and usability by end users, who should be incentivised in one way or another to be thoroughly trained and use the technology for enhancing day-to-day operations.
What advice would you give to technology leaders to inculcate a data culture in their organisations?
Organisations of the future are the ones who are going to embrace a large amount of data at their disposal, whether internally or externally. Along with that, a common trend is rising to turn organisations into data-driven ones. For that, the culture must first be addressed to harness data as a mandatory non-negotiable element of any project, initiative, and discussion within the organisation.
A typical example of this approach's success would be Amazon, which broke down its internal processes to leverage data points at each development gate of projects. It's a dual side sword, where the need for data should be combined with its availability and quality.
Here we are touching on the element of Data Strategy, which should be clear and well-defined, allowing total leverage across the organisation. From there onwards, lifting the data literacy of employees through intensive enablement and training, followed by a disciplined approach to include data across all processes internally, will lead to a better data culture adoption in future organisations.
If you liked reading this, you might like our other stories
Low-code Development Is Your Shortcut To Everyday AI
Seven Skills For AI-ready Supply Chain Professionals