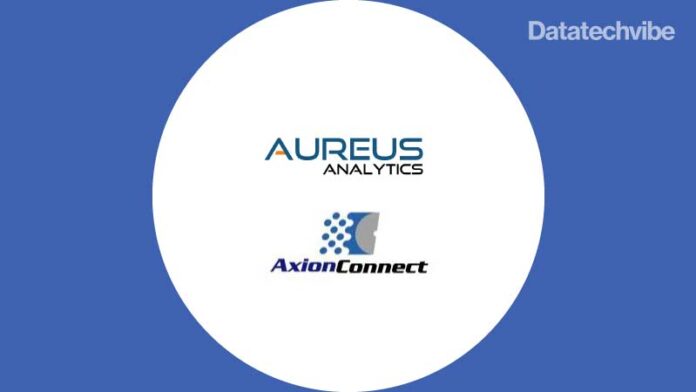 Business processes are becoming more agile thanks to cloud technologies, while artificial intelligence and machine learning significantly impact business outcomes and decisions. The partnership between Aureus Analytics (India) and AxionConnect brings together the power of both.
This partnership between Aureus Analytics and AxionConnect InfoSolutions Pvt Ltd will allow the two companies to better understand customer needs and market trends in the BFSI sector by combining Aureus' expertise in insurance customer experience analytics solutions with AxionConnect's expertise in analytics services serving BFSI clients. As a result of the combination of analytics capabilities of both companies, a more comprehensive set of analytics solutions and insights will be available to their customers, improving customer satisfaction and experience.
"We see this partnership as a perfect combination of Aureus' core expertise in data science and its proprietary product platform, coupled with AxionConnect's expertise in data engineering, business reporting, and policy automation across the BFSI industry," said Sanjay Rao, CEO of AxionConnect InfoSolutions Pvt Ltd. "Together, we will be able to provide a broader range of services. In the future, our customers can expect to engage with us on more comprehensive end-to-end solutions such as ML/AI models, Data Warehouses/ODSs, Business reporting, Policy automation, and Digital Transformations. Additionally, we will be able to leverage each other's operations in countries such as the United States, Singapore, and the Middle East. I am equally excited about this collaboration, which will provide our customers with access to our broader service offerings."
"This partnership is in response to our customers' request to expand our capabilities and offerings so that we can work with them across several more business areas within their organisations. We are very excited to partner with Sanjay and his team, whom we have known and respected for a long time. Our combined offerings will drive tremendous benefits to our customers by delivering them a unique combination of technology and skills," said Anurag Shah, CEO and Co-Founder of Aureus Analytics.