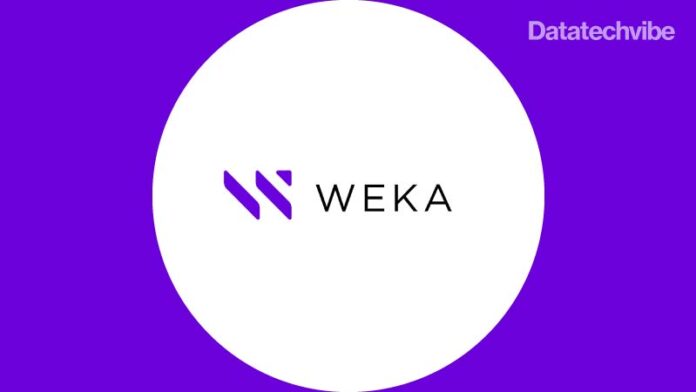 WekaIO™ (Weka), the fastest-growing data platform for artificial intelligence/machine learning (AI/ML), life sciences research, enterprise technical computing, and high-performance data analytics (HPDA), announced that it has been selected as the winner of the 'Overall Data Storage Company of the Year' award in the 2021 Data Breakthrough Awards program conducted by Data Breakthrough, an independent market intelligence organisation that recognises the top companies, technologies, and products in the global data technology market today.
Weka has built an innovative solution designed to ease the management of petabytes of data in a single, unified namespace to improve the performance of HPDA, AI/ML, and life sciences research applications. The Weka Limitless Data Platform™ is built on a shareable, scalable, and distributed file storage system (WekaFS™).
Also Read: Is Gesture Control Ushering A New Era of Touchless Technology?
Designed to help future-ready clients' data centres and enable digital transformation, the breakthrough WekaFS solution was architected to leverage the performance benefits of flash, high-speed networking, and compute acceleration technologies (like GPUs) whether the data resides on-premises, in the public cloud, or a hybrid model. WekaFS stands out as a leader because gives clients the leverage to get more value out of their compute resources, providing a full enterprise-grade solution with advanced security and full cloud integration.
The Data Breakthrough Awards is the premier awards program founded to recognise the data technology innovators, leaders, and visionaries from around the world in a range of categories, including Data Analytics, Big Data, Business Intelligence, Data Storage, and many more. The second annual Data Breakthrough Award program attracted more than 1,450 nominations from across the globe this year.
Weka has partnered with leading private and public cloud providers to deliver complete, fully validated, and performant storage solutions. Certified solutions include AWS S3, AWS Outposts, Cloudian HyperStore®, Hewlett Packard Enterprise (HPE), Hitachi Content Platform (HCP), IBM Cloud® Object System (IBM COS), Quantum ActiveScale™, Scality RING, and Supermicro.