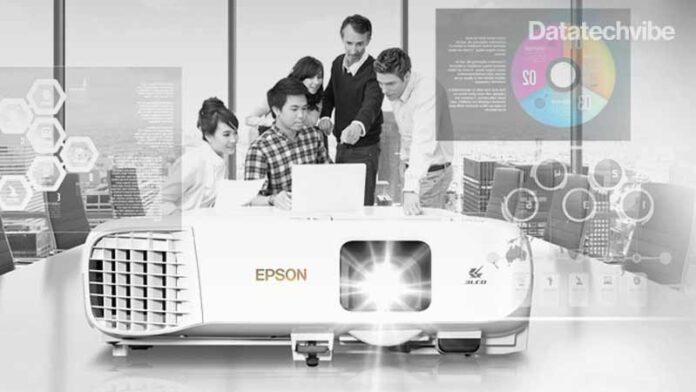 Epson will showcase smart, sustainable switches at GITEX Technology Week 2021 which will help Middle East organisations make changes that increase their efficiency and cost-savings, while decreasing their eco-footprint.
Epson is also underscoring its position in home technology solutions during the event with an automotive racing challenge and a chance to win an Epson EF-11 projector.
"Epson is leading the way in enabling both businesses and consumers to make simple technology switches within a range of sectors. Whether it's delivering an optimal hybrid learning or working environment, or the most dynamic immersive entertainment experience, Epson aims to enhance how the region's companies drive their business dynamically," said Jason McMillan, sales director, Epson Middle East.
Epson's interactive display solutions, such as projectors and visualisers, can support physical distancing in meeting rooms and create more engaging presentations for remote workers. Organisations that adopt interactive display solutions, business scanners and business inkjet printing solutions, can optimise their costs, efficiency, and sustainability.
A majority of Middle East organisations in the retail and hospitality sector are looking at ways to advance and digitise processes. Epson offers several products such as TM-m30II-S mPOS devices and ColorWorks C6000 label printers that can transform point-of-sale and customer experiences, improve brand communication, and reduce cost and paper waste. Showcasing agile switches to low-cost retail solutions, the Epson stand will also display digital signage solutions such as the EB-800F ultra-short-throw display solution and Lightscene EV-105 lighting projector.
Also on display will be educational solutions as these institutions continue with hybrid learning environments. Epson will feature innovation that helps to support the changing roles of the teacher as well as creative collaboration and social distancing in the classroom. Epson's simple educational switches include interactive display solutions, education document cameras, inkjet printers and scanning solutions for an optimal learning environment.
The company will also showcase compact and affordable home solutions, including EcoTank printers, the economical alternative to traditional ink cartridge printers, that can enhance efficiency and reduce the environmental impact of remote working.
Epson will also launch scalable and cost-effective streaming solutions for home viewing and gaming experiences. The new line-up includes the stylish ELPSC35 ultra-short throw projector screen supporting laser TV projection and EH-LS500W laser projector, which allows for 4K streaming via HDMI.
Also Read: The Need for Sustainable and Green B2B Branding in Today's Environmentally Conscious World
Epson will also showcase its effort towards sustainability, which is a high priority as the company aims to make a difference in overcoming global environmental issues through its innovative technologies. Its pioneering range of printers with Heat-Free technology help customers and business partners switch to eco-friendly solutions and lower their environmental footprint, requiring less energy and fewer replacement parts without compromise.
In addition, Epson will officially launch PaperLab to the region, which is the first in-office, paper secure recycler in the world, that turns waste paper into new paper.  It helps businesses securely destroy sensitive information, recycle, reduce environmental impact and take control of paper supplies.
"Epson is delivering solutions that address the specific needs of the Middle East's fastest-growing and recovering sectors, including education, retail, entertainment, and corporates that are welcoming colleagues back to the office," continued McMillan.  "GITEX provides the platform to demonstrate our innovation and commitment to accessible, environmentally-aware solutions that meet the highest standards of our customers."