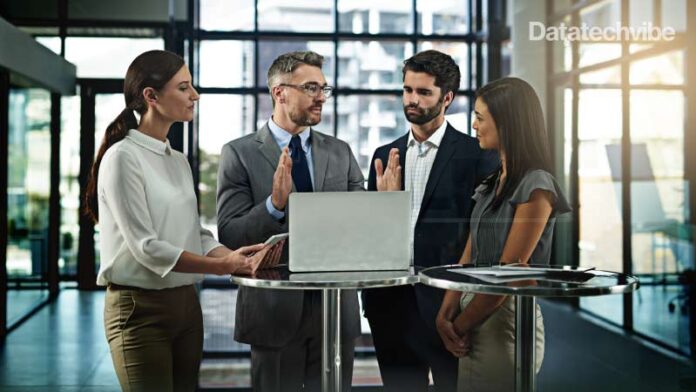 New competencies and partner offerings available across Edge, Hybrid Cloud, and AI.
Hewlett Packard Enterprise announced updates to HPE Partner Ready Vantage, the program designed to better enable partners to deliver as-a-service solutions. The updates include comprehensive Centers of Expertise, new competencies and an evolved competency framework, and tools and offerings that drive repeatable profitability and foster long-standing customer relationships for partners.
"HPE Partner Ready Vantage is a game changer for partners looking to unlock margin-rich opportunities across professional services, managed services, and customer success," said Simon Ewington, Vice President of Worldwide Channel & Partner Ecosystem, HPE. "Partners can now leverage HPE's IP, tools, and resources to enable business growth further and increase revenue across the HPE GreenLake  as-a-service portfolio as customers look to them to deploy solutions to enhance and manage their information and data."
New Partner Tools and Offerings
Built on the foundation of the award-winning HPE Partner Ready program, HPE Partner Ready Vantage is organised into three tracks – Build, Sell, and Service – and features focused Centers of Expertise for partners to enrol and further develop their expertise.
The Build track enables partners to develop, integrate, and create workloads and solutions with HPE GreenLake and comprises the Solution & Development and Technology Validation Centers of Expertise. The Sell track provides partners with opportunities to grow recurring revenue and comprises the As-a-Service Center of Expertise. The Service track empowers partners to enhance customer experiences by deepening their services and comprises Customer Success, Managed Services, and Professional Services Centers of Expertise. 
In addition to the current offers available in the various Centers of Expertise, the following tools and offerings are now available to partners enrolled in HPE Partner Ready Vantage:
Rapid migration tool

, which integrates HPE's industry-leading consulting experiences, automation, and tools to enable end-to-end application migration to hybrid cloud. Partners can now make unbiased assessments and workload placement recommendations to customers. Currently, VMware migrations are available, with additional capabilities to come. The tool is available to partners enrolled in the Professional Services Center of Expertise.

Partner-led services experience for HPE GreenLake

enables partners to lead their customers' HPE GreenLake experience. Partners can now layer their services and customisation on top of HPE GreenLake. This experience is available to the Managed Services Center of Expertise partners. 

New and expanded consulting services for HPE Aruba Networking partner practice building,

which includes business planning and service discovery workshops for Solution Providers and Managed Service Providers, guided walk-throughs on developing NaaS or HPE Aruba Networking as-a-service business plans, and a new practice accelerator tool to help partners

assess the strength and maturity of their HPE Aruba Networking NaaS managed services practice. These services are available to partners enrolled in the Customer Success or Managed Services Center of Expertise.

HPE Aruba Networking partner selling resources and training

includes a new outcome-based selling webinar series, refreshed as-a-Service training and playbook, and a customer success partner lifecycle campaign designed to incubate partners from onboarding through to accreditation. These resources are available to partners that are enrolled in the As-a-Service Center of Expertise. 
Evolved Competency Framework
HPE competencies have evolved to include a curated set of learning activities enabling partners to promote their own solutions and create better visibility of their offerings. The new framework has an increased focus on partner understanding of HPE technology and how to apply it to a variety of customer challenges. Partner competency will now be end-to-end including technical, sales, solutions, and industry expertise, providing a choice to partners to develop their path based on their specific business model.
Today, HPE has several competencies available for partners to participate in, which are aligned to HPE's strategy for Edge, Hybrid Cloud, and AI. These competencies are also available to HPE Partner Ready and HPE Partner Ready for Networking partners with additional competencies being announced in 2024.
The competencies are as follows:
Edge

HPE Aruba Networking Central

HPE GreenLake for Networking

HPE Aruba Networking ClearPass

HPE Aruba Networking SD-WAN

HPE Aruba Networking Data Center

Hybrid Cloud

HPE GreenLake 

HPE Storage and data services* 

Data protection and disaster recovery solutions

Private cloud solutions*

Hybrid cloud solutions*

HPE solutions for VDI

AI and Data Analytics

HPE solutions for SAP HANA

More competencies to launch in 2024
First-Hand Partner Experience
HPE Partner Ready Vantage is now open and available to all partners looking to enhance differentiation, build stronger practices, and deliver complete solutions to support a variety of business models. First announced at HPE Discover 2022, the program addresses customer needs and accelerates as-a-service partner growth across HPE's Hybrid Cloud and HPE Aruba Networking portfolio. Since being announced, HPE has received overwhelmingly positive feedback from partners of all sizes enrolled in the program.
Hear what partners are saying:
"The Professional Services Center of Expertise shows how DataVizion can take hold of what's being presented in Aruba Central or HPE GreenLake for Aruba and work to monetise it as value to our customers…. [it] creates more efficiency in our offering and enables us to provide higher levels of customer satisfaction." –

Kevin Reid, DataVizion (North America)

"In terms of sales and growing our company, we're looking to [HPE Aruba Networking] as a partner to open doors to new products. And that's where we'll need the Professional Services Center of Expertise." –

Frank Eckenfels, CEO (EMEA)

"We always had that support-first, customer-first mentality but the [HPE Aruba Networking Customer Success Center of Expertise] helps take it to the next level and helps us to ensure we're firing on all cylinders, from training and understanding the company's products to utilising its programs…The days of just pushing hardware, installing it and then saying 'see you later, call us when you need us' are gone – customer success is now its little organisation within Laketec." –

Matt Burns, Laketec (North America)
HPE is committed to supporting partner expansion and growth, meeting partners wherever they are on their journey and continuing to offer resources for developing unique solutions and increased market differentiation.