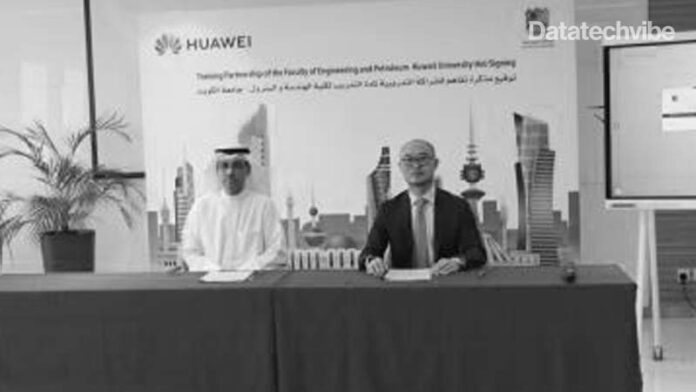 Huawei, a global provider of information and communications technology (ICT) infrastructure and smart devices, has signed a Memorandum of Understanding (MoU) with Kuwait University (KU) to empower and nurture local ICT talents through several training programs including internships, field training, and establishing Huawei ICT Academy and lab on campus.
The agreement ultimately contributes towards building a talent ecosystem and boosting the development of the ICT industry in Kuwait.
The MoU, which was signed by Rico Lin, CEO of Huawei Kuwait and Dr Osama Al-Omair, Acting Dean of Engineering and Petroleum at Kuwait University, in the presence of senior executives and staff from both parties, aims to provide Kuwait University with cutting-edge technologies and advanced training programs to boost digital ICT skills amongst students through Huawei Authorised Network Academy Program (HAINA). Huawei will also provide training for the College of Engineering and Petroleum students, with a focus on artificial intelligence, data centre facility and cloud services.
Rico Lin, CEO, Huawei Kuwait, said: "We are honoured to be collaborating with a prestigious educational institution such as Kuwait University as part of our ongoing efforts to empower local youths and support Kuwait in its economic transformation efforts, including developing world-class talent for key industries. Through the partnership, we will provide world-class capabilities and advanced technologies to enable future generations to lead the digital transformation journey and advance the economic growth in Kuwait as part of Kuwait Vision 2035 goals."
Also Read: Ready For These Top Cyber Threats Coming In 2022?
Dr Osama Al-Omair, Acting Dean of Engineering and Petroleum at Kuwait University, said: "As the leading university in Kuwait, empowering our students with the latest ICT skills prepares them for the future where digitisation will play an increasingly crucial role. As we collaborate with a world-leading technology company such as Huawei, we will be able to provide Kuwait University students with the necessary exposure to the best technology practices and global experiences in line with the rapid technological change."