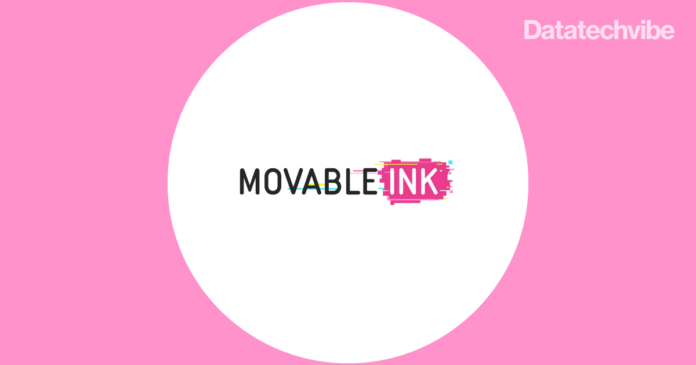 Access, Activate, and Integrate Data from Any Source to Generate Personalised Email, Mobile, and SMS Content
Movable Ink, the AI-powered content personalisation platform, announced its new Universal Data Activation capabilities. These allow marketers to access and activate any data point from any source to generate hyper-personalised experiences across email and mobile channels. Productised integrations with leading martech vendors include Adobe Experience Platform, Braze, and Twilio Segment.
"Martech is no longer monolithic. Today's marketers can piece together a best-in-class tech stack to address the unique needs of their organisation. It's the connectivity between the technologies. However, that has continued to be a struggle," said Vivek Sharma, CEO and Co-founder of Movable Ink. "With Movable Ink, marketers can finally unlock the full potential of their marketing stack, leveraging data—from wherever it lives—to dynamically personalise content for every customer, across any touchpoint."
With Movable Ink's Universal Data Activation, brands can:
Access any data from any source: Stream any element of data (customer, behavioural, product or catalogue, transactional, business, etc.) from any source (CDP, website, mobile app, or homegrown solution). For example, any behavioural event captured in a CDP can now automatically generate a unique piece of personalised content. By tapping into additional sources of real-time data, clients can unlock more sophisticated and higher ROI use cases – adding new elements of customised content to increase revenue, conversions, and clicks.
Activate data without IT: Movable Ink automatically maps and transforms each data point, alleviating the need to modify current data setups or schemas to personalise content. With significantly reduced implementation and setup times, marketers can deliver higher-quality content faster.
Integrate across the martech ecosystem: Movable Ink seamlessly integrates with your existing martech stack. With the new product partner integrations, transferring data from other systems to be activated into personalised content via Movable Ink is faster and easier than ever. These integrations ensure marketers maximise ROI from existing investments without disrupting daily workflows.
"As a leading CDP, we are thrilled that our customers will now have the ability to easily access customer data in Twilio Segment and activate it into real-time, personalised content with Movable Ink," said Kathryn, Senior Vice President, Product & Design at Twilio Segment. "Movable Ink and Twilio Segment now allow marketers to collect, unify, and activate customer data to power real-time experiences."
Earlier this year, Movable Ink rolled out its new Mobile Software Development Kit (SDK), allowing native capture of behavioural events that occur in the app. Clients can then use this new data to create sophisticated targeting logic and power 1:1 behaviour-based content across email and/or mobile channels. The Universal Data Activation launch expands on Movable Ink's commitment to delivering cutting-edge data access capabilities, enabling brands to generate personalized content at scale.