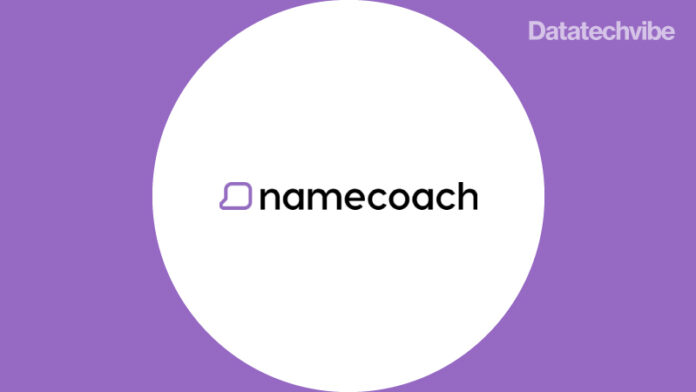 The latest update takes Namecoach's solution to the next level to support accurate name pronunciation in more places.
Namecoach, the technology company solving name mispronunciation in critical settings, announced that its latest product update is now available.
Namecoach's groundbreaking features capitalise on powerful AI technologies to provide novel and engaging pronunciation experiences that empower users to communicate more thoughtfully, accurately, and inclusively.
The product updates consist of several additional pioneering capabilities within Namecoach, including:
AI Pronunciation:

AI-powered technology allows users to generate name pronunciations for any name based on an evolving set of demographics – not just the spelling.

Anonymised Pronunciation:

Namecoach can extract pronunciations from user-generated audio files, changing the voice from the user to an AI pronunciation.

Recommended Pronunciation:

When users launch the application, namecoach will now provide a recommended pronunciation. Users can choose if that is correct or if they would like to record the pronunciation of their name.

Personalised Voice Recording:

Users can use their voice or the "Namecoach voice" for their pronunciation recording.



To support and simplify user adoption, Namecoach provides an in-app walkthrough that teaches users how to make the most of these new features. 
These enhancements are positioned to take accurate name pronunciation to the next level by offering exciting new capabilities within Outlook. This capability is also available through Namecoach's API per request.
"With the rollout of our product updates, we are not only advancing our technology but also our mission to solve the common problem of name mispronunciation and gender pronoun communication in as many critical settings as possible," said Praveen Shanbhag, CEO of Namecoach. "Leveraging the power of AI, these updates enable our users to communicate with greater precision, empathy, and understanding. Whether it's the seamless integration with Outlook or the personalisation of using the 'Namecoach voice,' these enhancements symbolise our commitment to innovation and dedication to making interactions more meaningful and respectful. We believe that names matter, and this update reinforces that belief by providing tools that are as thoughtful and unique as the names they help pronounce."