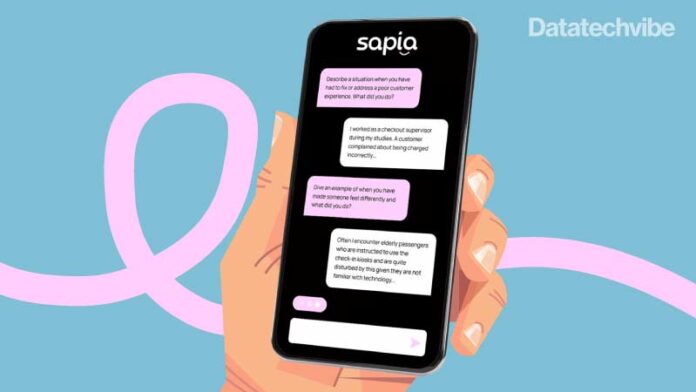 Sapia.ai, the creator of the AI Smart Interviewer, has released a new iteration of its market-leading Talent Insights product – a talent intelligence solution that completely removes the need for resumés and cover letters in hiring.
The product centres around a new way of screening and comparing candidates: focusing solely on soft skills and aptitude. According to leading recruiters and executives – including LinkedIn CEO Ryan Roslansky – skills are what truly matter in differentiating candidates, especially for roles where hard skills and work experience do not determine performance.
Sapia CEO and founder Barb Hyman said that this product has come at a time of unprecedented candidate power and choice. For hiring managers to succeed in 2023, Hyman says, they must make fast, clever hiring decisions with no room for doubt.
When candidates interview with Sapia's AI chat interview tool, a Talent Insights profile is created for hiring teams that helps them understand and compare candidates. "Our AI Smart Interviewer can uncover a candidate's personality traits, behavioural competencies, and communication skills. We turn that into practical, versatile insights for hiring teams. Individual candidate profiles can tell recruiters and hiring how well suited to the role that candidate is, as well as giving them information that helps them identify other roles that might match the candidate's traits profile."
"For roles in retail or customer service, or for those who early in their career, it's not the experience that a person has that matters. It's who they are as a person. Are they adaptable, driven, can they work in a team? The resumé can't tell you these things, but our Talent Insights product can."
The product promises: reduced turnover, better sales performance, greatly improved diversity, etc.
"AI is here to stay. We can see that ChatGPT has taken the world by storm and opened mainstream eyes to a world of possibilities. We've had smart chat for five years now, and it's enterprise ready. It's time organisations said goodbye to the resume once and for all, and embraced a new, better way of hiring."