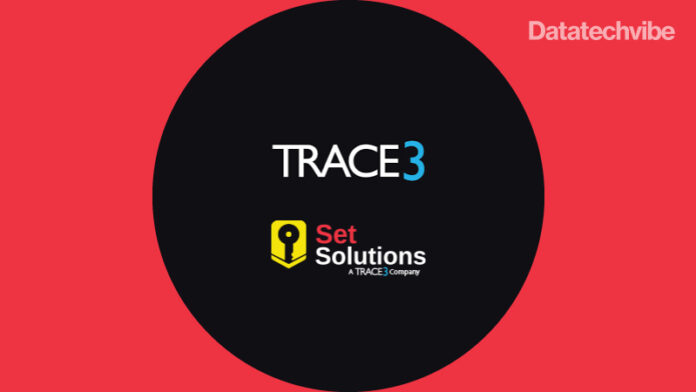 Trace3 has acquired Set Solutions, an advanced cybersecurity consulting and procurement solutions provider. The acquisition continues Trace3's strategic expansion plan.
The investment allows the combined companies to deepen cybersecurity capabilities to drive success for commercial and enterprise clients.
Set Solutions has long alleviated challenges technology leaders encounter in the ongoing evolution of the cyber threat landscape. Trace3's security portfolio is strengthened by Set Solutions' specialised expertise in cybersecurity and its focus on mature and emerging technology-based solutions. In addition, this acquisition expands Trace3's footprint in the southern part of the United States.
By joining the Trace3 organisation, Set Solutions clients gain access to Trace3's technology portfolio. That includes cloud, security, advanced data centre, and data and analytics expertise.
Combination Creates Advanced Cybersecurity Portfolio
Rich Fennessy, Trace3's CEO, said for years, his company has promised to always innovate with an "intense commitment" to the client experience.
"Combining the solution offerings and talent of both businesses creates an advanced portfolio of software, hardware, consulting, and professional and managed services," he said. "Set Solutions teammates add strong engineering, sales and management talent to the Trace3 team."
Sandy Salty, Trace3's chief marketing officer, said Set Solutions brings 170 unique clients in the Fortune 2,000 to Trace3's portfolio of partners.
"We also look forward to the added security prowess by way of skillsets and partners that Set Solutions brings to Trace3's wide base of clients," she said. "We believe that our comprehensive consulting portfolio in cloud, data, management consulting, and contact centre and collaboration will actually give Set Solution's partners and clients the most powerful competitive advantage a company in our space can have, which is being able to create a truly holistic enterprise-grade technology strategy. Companies cannot afford to plan through a single lens anymore, the most successful understand the value of convergence."
John Marler, Set Solutions' CEO, said his company is a relationship-driven organisation that delivers outcomes for clients and partners.
"We found an incredible fit with Trace3 and the company's unwavering commitment to the same levels of client satisfaction and organisational values," he said. "This is an exciting time for our business to join forces with Trace3 to meet more of our clients' needs and meet them faster."
Last month, Trace3 acquired LaSalle Solutions, a business division of Fifth Third Bank. This is to enhance further the tech portfolio available to clients of both companies. It also significantly increases Trace3's national footprint.