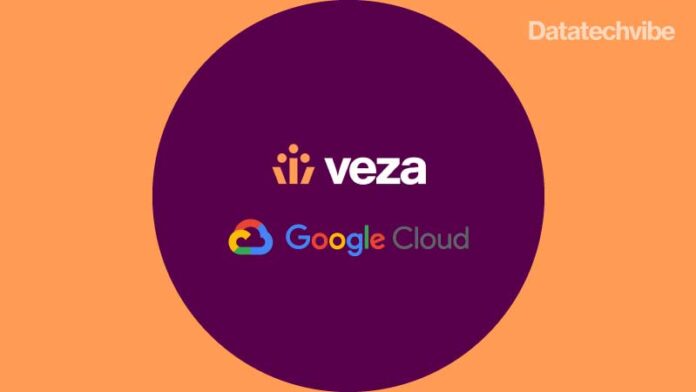 The new alliance and product integration provides a unique, data-centric, identity-first and relationship-based data security solution for Google Cloud customers
Veza announced that the company has entered a partnership with Google Cloud, including product integration that enables its customers to harness the capabilities of Veza's data security platform across their multi-cloud ecosystem.
Veza makes it easy to understand, manage, and control who can and should take what action on what data. With this new integration, Google Cloud customers can now directly access the capabilities of Veza's authorization-based data security platform integrated with Google Cloud Policy Analyzer to identify, manage, and control external identities and service accounts to Google Cloud services (Looker, BigQuery, and more). This partnership furthers the relationship between Google and Veza, which began in 2021 when GV led the Series B investment in Veza and GV Partner Karim Faris joined Veza's Board of Directors.
"The cloud is quickly becoming the primary footprint for organisations. By prioritising and investing in security, Google Cloud has earned a differentiated position in the market. The initial product integration between Veza and Google Cloud, publicly demonstrated at the Google Cloud Security Summit in May this year, is a powerful example of how intelligence from Veza's Authorization Graph can bolster the data security of Google Cloud customers. It shows how identity-to-data relationship insights from the Veza platform can be pulled directly into the Google Cloud Policy Analyzer, allowing customers to secure both Google Cloud data (Looker, BigQuery, Google Storage Buckets, etc.) to which multi-cloud identities (AD, Azure AD, Okta, etc.) have permissions and multi-cloud data (AWS, Snowflake, etc.) that is being accessed by Google Cloud identities," said Tarun Thakur, Co-Founder and CEO, Veza.
"Securing cloud environments and data from cybercrime and threats is a key priority of organisations across the globe. With Veza's platform now available alongside Google Cloud's secure and global infrastructure, customers will be able to quickly deploy the solutions they need to understand better, control, and securely take action on their data across their multi-cloud environments," said Sunil Potti, General Manager and Vice President, Cloud Security, Google Cloud.
Veza's data security platform aggregates identity information from humans, service accounts, and cloud IAM entities, and authorisation data from apps and data systems, giving organisations a centralised, SaaS-based control plane to visualise, manage, and control data access controls through Veza's Authorization Graph. Veza integrates with cloud identity providers, SaaS and custom apps, and data systems and translates system-specific entitlements and permissions into a standard, human-understandable business language, visualised in the platform as effective permissions.
The platform brings a novel approach to data security by enabling organisations to address key data security use cases across access reviews and certifications for SaaS apps and data systems, privileged access management to data and apps, data lake security and governance, and management of cloud entitlements, and much more. It delivers prioritised insights, provides access workflows, and actionable recommendations for remediation of over-privileged accounts, enabling security and IT teams to correct anomalies and right-size their organisation's permissions to protect against ransomware and other data breaches.
Veza and Google Cloud already have several joint customers deployed across the industries of SaaS software, marketing technology, and media, including Vox Media.