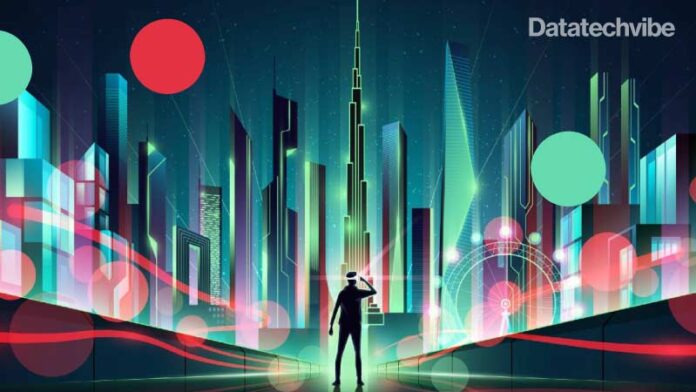 From huge 3D talking heads to the latest prototype in flying cars and automated taxis, GITEX Global 2022 launched in Dubai with an array of new science and technology innovations for enterprises to explore.
One of the world's largest tech shows offers an opportunity for companies from across the region to showcase their latest innovations alongside some of the global tech giants. For others, it's an opportunity to show what the future will look like.
Government departments showcased how the Metaverse can help with urban development by simulating the planning of new areas via a digital twin of Dubai. Dubai Municipality displayed how low-altitude corridors and vertiports for unmanned drones are being developed to provide new services in air mobility, air freight, logistics and aerial surveys.
Dubai Electricity and Water Authority (DEWA) showcased how it would use its Mwafeq four-legged robot to inspect and audit stations and read meters in remote areas. When we asked the experts participating in GITEX what technologies do you see disrupting enterprises in the future – everyone had two responses in common: Metaverse and AI.
Next generation of flying cars
While the prototypes have been around for ages, an actual commercial flying car has been elusive. Is this the one we've been waiting for? Chinese electric vehicle company XPENG AEROHT has launched what they've dubbed the safest electric flying car. The two-seater eVTOL X2 looks like a flying machine from one of those sci-fi flicks. The Dubai International Chamber hosted the launch at Dubai's GITEX Global 2022 event.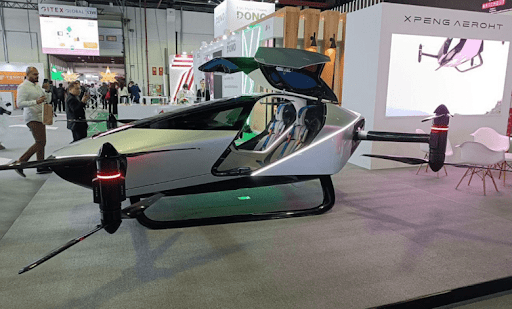 This marks a new era in short-haul flights and AI-driven mobility solutions. The autonomous two-seater car is capped at 760 kg take-off weight and weighs 560 kg without occupancy. It can achieve a maximum speed of 130 km per hour and offers a 35-minute flight. Built of premium carbon fibre, the flying car is equipped with an airframe parachute. Wonder if that would work in low-altitude emergencies! What makes this vehicle unique is that it emits zero carbon.
XPENG AEROHT was founded in 2013 in Dongguan, Guangdong, China. In 2018, the company achieved the first successful manned flight of its prototype flying car. In 2020 the company unveiled its first two-seater; in November, a single-seater was developed and tested. The two-seater XPENG X2 completed its test flight in June 2021 and the following month, a successful manned flight. In 2021, the company achieved unicorn status with its $1.5 billion valuation. The company calls itself a 'low-altitude air mobility explorer'. The use cases for the vehicle are several in an urban metropolis.
Autonomous vehicles are on the way
Dubai's first driverless taxis were displayed at GITEX, with the Roads and Transport Authority-branded Cruise Origin vehicles on show.
Mattar Al Tayer, the authority's director general, said they would be deployed in limited numbers next year, with plans to expand their numbers over time. Another autonomous vehicle on display during the exhibition was the Taxi Minibus, due to be used for the first time during the Etihad Airways Abu Dhabi Grand Prix on 26 November.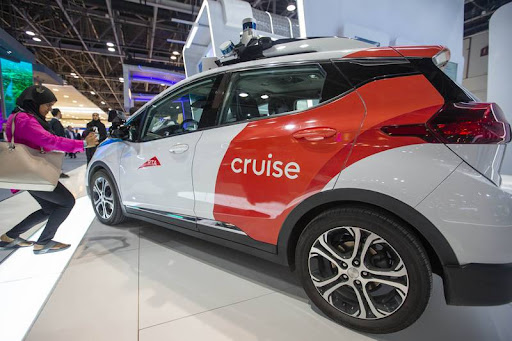 The bus will stop off at eight points on Yas Island and seat up to seven passengers at a time. LED screens inside the cabin show passengers a route map with stop-off points; another will screen entertainment.
Safwan Ibrahim, from the specialist transportation systems management department of the Abu Dhabi Department of Municipalities and Transport, said a smaller vehicle the size of a normal saloon car would be used to transport individual passengers. "It will stop at the main entertainment spots on Yas Island," he said.
"During the next testing phase, we will operate the Minibus on Sadiyaat Island in 2023. It will be free of charge, as we want to encourage more people to use this transport.
Meet humanoids and delivery automatons
While some took on a more humanoid form, others were built with service in mind and to take the manual labour out of menial tasks.
Here are the top five robots to look out for:
Swiss-Mile surveillance robot
This four-legged friend can take on even the most rugged of terrain at speeds of up to 20 kilometres per hour. It can stand on two legs in humanoid mode and can be used commercially in surveillance in large-scale inspections of buildings or search and rescue.
It can carry up to 100 kg and can be used for last-mile delivery. It is also waterproof up to a metre depth with a battery life of up to 10 hours. The robot costs about $200,000.
"It is perfect in a situation where you would not want to send a human, such as a building on fire or one that is unstable," said Marko Bjelonic, from Zurich-based Swiss-Mile. "We are working on autonomy so it can climb anywhere and go from A to B without being told where to go."
Mwafeq Robot, by Dewa
Similar to the Swiss Mile robot, Dewa uses its four-legged Spot Robots to detect faults and test connection points of high-voltage cables. It can also be used safely to detect leakage in water pipes, conduct security and monitoring patrols and ensure construction works are aligned in hard-to-reach areas. Specifications included multiple-angle cameras.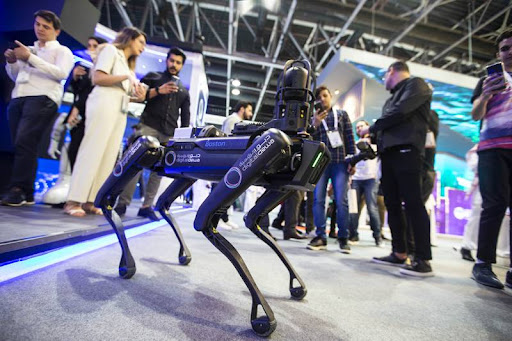 Ameca humanoid
Described as a platform of the future, Ameca is the world's most advanced human-shaped robot representing the forefront of human-robotics technology. On display in the Etisalat exhibition of GITEX, the android-type machine is explicitly designed as a platform for development into future robotics technology. Ameca is the perfect humanoid platform for human-robot interaction and mimics human responses, using artificial intelligence to learn.
Ottobot by Ottonomy
This delivery robot has proved a hit at airports in Cincinnati and Rome, where it delivers food and duty-free to waiting passengers. Businesses can hire delivery robots with a subscription and custom-build them to add refrigeration or heating to keep food and beverage at the desired temperature. The fully autonomous robots can deliver groceries and packages to kerbside, last mile and even indoor environments.
BHS technology robot microscope
A specially developed head-mounted display (HMD) allows a surgeon to interact with a robot arm that carries a microscope to allow more precision and speed during complex surgery. The RoboticScope and HMD detect the head gestures of the surgeon and control the robot camera accordingly.
The surgeon has two digital micro displays right in front of their eyes, presenting a real-time 3D image of the operational field, while sensors in the HMD interpret the head movements of the surgeons; the robotic arm and camera head then carry out the corresponding movements with high precision. It speeds up surgery and allows for a better patient and doctor experience.
Web 3.0 innovations enthral audiences
Diverse industries from gaming, retail, fashion and sports are looking to explore an increasingly vast and rich virtual ecosystem in Web 3.0, with Dubai Metaverse Strategy envisioning more than 40,000 new virtual jobs by 2030 in the Emirate.
To help propel the Web 3.0 economy, the 42nd edition of GITEX GLOBAL features X-VERSE, sponsored by TMRW Foundation in collaboration with Decentraland.
At Global DevSlam 2022, Saqr Bin Ghalib, Executive Director, UAE Office of AI, Digital Economy, and Remote Work Applications, announced the launch of the region's first Pycon, in collaboration with the Python Software Foundation. PyCon is the world's largest Python developer conference, and PyCon MEA will provide a unique platform for networking and collaboration to the developer community. He reinforced that the Global DevSlam is an important initiative that supports the National Program for Coders, which aims to make the UAE a global hub for the development of coders.
DIFC Courts launches global digital vault 'tejouri'
Dubai International Financial Centre (DIFC) Courts has launched 'tejouri', a global digital vault at GITEX Global. Attendees witnessed live demonstrations showcasing the new platform's functionality and security protocol features at the show.
The new digital vault will enable the upload and secure storing of documents ranging from insurance contracts, title deeds, wills, and financial certificates, to images and multimedia files and can be utilised by all individuals globally.
All uploaded life admin files will be secured under the highest standards of security regulation, using multiple factors of authentication, encrypted data, personalised biometric information and safe-keeping ledgers through advanced cryptography.
Using distributed ledger technology (DLT), tejouri can ensure the transmission of your entire portfolio to your designated stakeholders, or loved ones, at a key time. It provides a unique platform that functions simultaneously as a cloud vault and an online safe for data, supported by an onsite DIFC data centre and a secondary UAE-based backup data centre.
Access to all data will be restricted to the 'vault holder' and the listed intended recipients, guaranteeing zero knowledge-proof privacy principles.