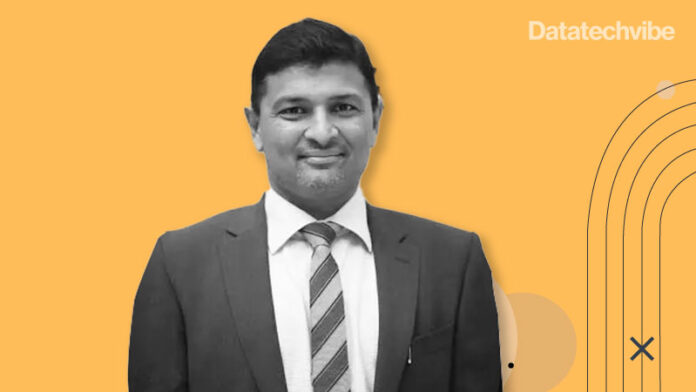 Tally Solutions showcased its innovative products and solutions catering to SMEs' needs at GITEX 2022. In business for 36 years now, the company has a global presence with a user base of above two million.
Based in India, the organisation has had a significant expansion in the Middle East for 15 years, spanning across Saudi Arabia, Bahrain, Qatar and Kuwait. In an interview with Datatechvibe, Vikas Panchal, General Manager at Tally Solutions in the Middle East, explained more about the company's operations globally and in the Middle East and highlighted how it helps SMEs achieve growth with their business management software solution.
Excerpts from the interview; 
Which key solutions did Tally present at GITEX?
This is the ninth consecutive year we have participated in GITEX. Our focus was on our next-gen product – Tele Prime, a product meant for SMEs but not limited to SMEs. We have a lot of customers in large enterprises already using it. The key feature is that it is easy to learn and use – that is what SMEs are looking at. They want solutions they can implement immediately and start using with the most ease. 
One of the key benefits of Tele Prime is – secure access anywhere, anytime. It allows a business person to be in touch with the business at any time, giving them the flexibility of making faster decisions. Tele Prime is making the life of SME owners much easier and ensuring they can grow along with Tally.
What are the challenges the company helps enterprises solve?
One of the key challenges most businesses face is the ease of implementation and use. That is one of the major benefits of using Tally. If you see our logo – it says "Power of Simplicity." For the SME owner, it should be effortless to implement. 
Businesses don't function in isolation — you don't require different models to be implemented for a business. You can't only have accounting and not inventory, or you can't only have one module and not another. So with Tally, one of the key things we have been looking at is 'One for Growth' – one software for all your accounting-related queries.  
Tally provides one software which takes care of all business needs. It includes your accounting, payroll, and compliance in one software. You don't need to buy different modules and keep investing and integrating them differently. As and when required, you can start using the model already built into the product. 
You buy one software and be assured you will take care of all your business. It is one of the easiest software to use – it gives you all the support. We have a dedicated toll-free number and a screen sensor to help available in the product. We have a vast network of partners who are always willing to help you with it if there is any challenge or assistance you need. 
What are the challenges ahead of accounting software developers, and how are more sectors adopting this solution to take their business operations digital?
Businesses don't need to learn Tally to run their business. This software is so intuitive and easier to use that it should just be able to implement and start going with the business. 
The software's job is not to make the life of a programmer easier but to make the client's (businessman's) life easier. Developers should absorb all the complexities and give ease to the users.
How are changing taxation regimes and compliance norms worldwide challenging developers like Tally?
For over three decades, we have managed compliance in a country like India, which has the most varied compliance scenarios. As and when any new requirement comes into compliance, Tally has always provided that solution differently. 
Even when VAT was introduced in GCC, we were among the first to provide VAT compliance to all users. We have been serving SMEs to make their lives easier and ensure they remain compliant. If anything is getting introduced from a compliance perspective, Tally would be the first to implement it. 
Apart from providing software solutions, we have taken a lot of initiatives where we take it upon ourselves to educate SMEs. When VAT came along, we started educating SMEs a year before; we conducted many workshops and sessions where we guided them on how they could implement the compliance scenario.  
We enter into affiliations with many chartered accountants to see how SMEs can learn from their expertise. With more and more compliance coming in GCC, we are confident that we'll be able to serve all SMEs in a much better way to ensure they remain compliant forever.  
How has the response been to the event?
The response has been overwhelming. The figure for visitors we saw this year was much better than the Covid-19 levels. Many visitors from across GCC, India, African countries and others were there who wanted to benefit from understanding the new things coming up. The response was much better than anticipated, and we were delighted to be a part of this event.