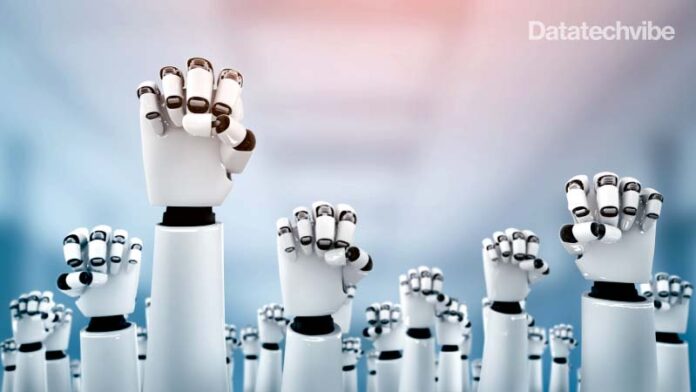 Not just to save money and time, robots, increasingly used in the hospitality, manufacturing and healthcare industries, are valued for their precision. Robot adoption is a critical determinant of productivity growth
Alibaba's FlyZoo hotel in Hangzhou, China, is straight out of the future. There are facial recognition doors, robotic arms at the bar, and robots deliver items to guest rooms. And, of course, everything is cashless.
The hospitality industry has seen a clear uptick in the adoption of robots since robots were used in hotel service for the first time in 2015, in Henn-na hotel, Nagasaki, Japan. Different players in the hospitality industry have adopted the use of these machines to varying degrees, from chatbots and robot assistants to allowing guests to use kiosks to check in themselves to room service.
What's more, the hungry customers at the McDonald's on the 58th Street in New York City are welcomed not by a cashier waiting to take their order, but by a "Create Your Taste" kiosk. This automated touch-screen system allows customers to create their burgers without interacting with another human being.
Hotel of Tomorrow, an industry-leading think tank composed of hotel brands, owners, operators, consultants and suppliers, recently came up with five "big ideas" on how the industry needs to change. New technology, including robots, are a core part of the equation.
In Dubai, Terminus Technologies, a leading artificial intelligence (AI) smart service provider, is partnering with Expo 2020 Dubai to deploy more than 150 programmable robots to interact with visitors to Expo 2020 Dubai. These robots will include Opti, one of the Expo 2020 mascots.
Fitted with features such as multi-touch displays, 5G network capability AI-driven object mapping and object detection, Opti will carry out duties as Expo 2020's site-wide goodwill ambassador, including greeting visitors, providing assistance, and helping with food and beverage delivery and hospitality services.
Robots aren't limited to hospitality — it's used in manufacturing, healthcare and agriculture as well. Robot adoption is becoming a critical determinant of productivity growth and can reshape global supply chains.
Amazon, the e-commerce giant, has provided a glimpse of the future within many of its fulfilment centres, where robots work to get packages to customers on time. The e-commerce giant runs 175 fulfilment centres worldwide. In 26 of them, robots work to pick, sort, transport, and stow packages.
Amazon started using robotics after its 2012 acquisition of Boston-based Kiva Systems, which is renamed Amazon Robotics. The acquisition was a strong signal of the company's intent to lead the way in creating automated environments.
A recent report from the World Economic Forum (WEF) predicted that by 2025 the next wave of automation would disrupt 85 million jobs globally across 15 industries and 26 economies.
Meanwhile, COVID-19 has accelerated the arrival of the future of work. Case in point: Qatar's Hamad International Airport deployed disinfectant robots –  they are fully autonomous mobile devices — emitting concentrated UV-C light to reduce the spread of infectious microorganisms in high passenger flow areas.
The WEF report added that roles in data entry, accounting, and administrative support are decreasing in demand as automation and digitisation in the workplace are increasing. More than 80 per cent of business executives are accelerating plans to digitise work processes and deploy new technologies, and 50 per cent of employers are expecting to accelerate the automation of some roles in their companies.
Meanwhile, Australian company Fastbrick Robotics developed a robot, the Hadrian X, that can lay 1,000 standard bricks in one hour. And Swedish agricultural equipment manufacturer DeLaval developed cow-milking robots for small dairy farms. The system allows cows to come and be milked on their own when they please.
Also Read: Let the Software Robots Take Over
Robots not just save money, time and are scalable, they are easy to program as well. One no longer has to learn complex programming languages to teach robots. Modern robots can be taught by offline programming, letting a user model a complete cell, or work area, and develop the sequence of moves for a task.
And secondly, robots can be taught with a programmer or engineer, who simply has to guide the robot through a sequence of steps. With some fine-tuning, the instructions are stored. The robot runs through the program slowly to check for collisions with objects or humans. After multiple successful test runs, the robot is able to operate at full speed.
Companies around the world are increasing their use of robots. According to the International Federation of Robotics (IFR), the global average for industrial robots per 10,000 manufacturing workers grew from 66 in 2015 to 113 in 2019.
The industrial robotics market is valued at $16.2 billion according to IFR, forecasted to grow with a 14 per cent CAGR in 2021
Performing tasks like welding, assembling, shipping, handling raw materials, and product packing, manufacturers are leveraging robotic automation for a wider number of applications.
Industrial robots are a "next step" in automation — for unloading a finished part from a machine tool and loading a blank part ready for processing. The second step in automation is production cells, where a robot has been set up for unloading and loading several machines. Typical examples of automation solutions can be found in automotive manufacturing in paint production lines because the job is highly toxic and needs to be consistent over a large area of paint. Another example is electronics, where production is highly automated and takes place in lights-out, clean-room environments.
While robots in manufacturing, healthcare and agriculture perform repetitive, monotonous, or intricate tasks under human's guidance and control, these machines' precision is valued more than speed, as is the ability to be reprogrammed for specific tasks of different sizes and complexities. 
Robotic manufacturing technology is also becoming safer to operate. Cameras, sensors, and automatic shut-off capabilities enable robots to sense and stay clear of humans in the workplace.
According to a study by Markets and Markets, increasing adoption of industrial robots is fuelling growth in the global machine vision market. With better machine vision and better sensors, robotics promises to see significantly improved pricing and performance over the next decade.
Exoskeletons, or human-robot hybrids, that are connected to the human body to support heavy-duty process steps have great potential, too. The idea is to boost human performance augmentation in defence, rescue and disaster relief, ergonomic support for reducing loads on the spine, hips, and shoulders when lifting heavy weights at work, particularly in logistics.
In healthcare, for patients who have suffered strokes or spinal cord injuries, or who are paralysed, exoskeletons are assisting and guiding them during rehabilitation. In addition, it can help nurses lift patients who are elderly or immobile.
Robot companions, such as robotic seal Paro, are increasingly used in dementia care due to the positive effects that interaction with these robots can have on the well-being of these patients.
Most importantly, advances in robotics are changing surgery. The da Vinci Surgical System, a robotic surgical system made by the American company Intuitive Surgical, utilises the hand movements of the operating surgeon to control tiny, precise instruments inside the patient's body. This allows for minimally invasive procedures in surgeries such as cardiac, colorectal, gynecologic, head and neck, thoracic, and urologic.
Robotic deployments are becoming smarter, more efficient robots are capable of collaborating with other robots and working safely alongside humans. Developments in motion control, sensor technologies, and artificial intelligence is giving rise to an entirely new class of robots aimed primarily at consumer markets.
Don't ask will robots change our lives in the future? They're changing our lives now in so many ways, and they have been for years. Well, at least, since the time toaster popped up by itself. The question for the businesses now is, when are you hiring a chief robotics officer?