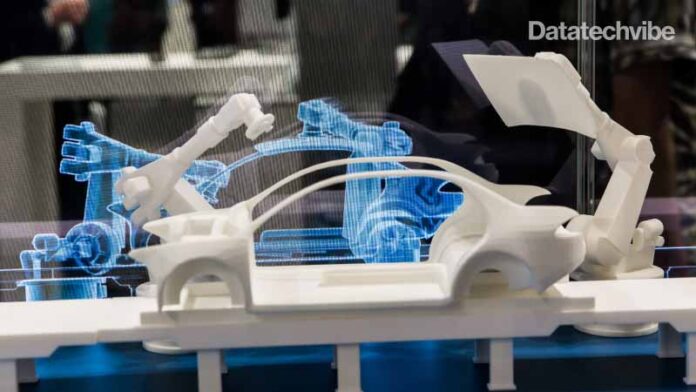 Digital twins are multiplying as their capabilities and sophistication grow. For business, not only can the technology help with efficiency and optimisation, but it can also help digital transformation 
It's not a stretch to say that digital twins — a virtual replica of any physical product — give us a glimpse into what is happening or what can happen in the future. 
Moving beyond manufacturing and merging worlds of the Internet of Things, artificial intelligence (AI) and data analytics, digital twin technology has expanded to include buildings, factories and even cities. 
IDC projects that by 2022, 40 per cent of IoT platform vendors will integrate simulation platforms, systems, and capabilities to create digital twins, with 70 per cent of manufacturers using the technology to conduct process simulations and scenario evaluations. Access to larger volumes of data is making it possible to create simulations that are more detailed and dynamic than ever.
In 2017, Gartner named digital twins one of its top 10 strategic technology trends, saying that "billions of things will be represented by digital twins within three to five years, a dynamic software model of a physical thing or system". A year later, Gartner once again named digital twins as a top trend, saying that "with an estimated 21 billion connected sensors and endpoints by 2020, digital twins will exist for billions of things in the near future."

As more complex "things" become connected with the ability to produce data, having a digital equivalent gives data scientists the ability to optimise deployments for efficiency and create other what-if scenarios.
In essence, a digital twin is a program that takes real-world data about a physical object or the system as inputs and produces as outputs predictions or simulations of how that physical object or system will be affected by those inputs.
Digital twins may take many forms, but they all capture and utilise data that represents the physical world.
According to MarketsandMarkets research, the digital twins market is projected to reach $35.8 billion in 2025.
Today, companies are using digital twin capabilities in a variety of ways, its capabilities are more accessible to organisations large and small, across industries. 
Use cases
Using 3D simulations and human-computer interfaces such as augmented reality and virtual reality, engineers can determine a product's specifications, how it will be built and with what materials, and how the design measures against relevant policies, standards, and regulations. It helps engineers identify potential manufacturability, quality, and durability issues — all before the designs are finalised. Thus, moving into producing more efficiently and at a lower cost.
Aircraft engines, trains, cars, offshore platforms and turbines can be designed and tested digitally before being physically produced. Technicians could use a digital twin to test that a proposed fix for a piece of equipment works before applying the fix to the physical twin.
Digital-twin business applications:
Manufacturing
Together with technologies, such as the Internet of Things (IoT), AI, machine learning, process and data mining, and even augmented reality, digital twins are transforming manufacturing. In manufacturing, rollouts of digital twins are more, with factories already using digital twins to simulate their processes — product testing, adding manufacturing capacity, monitoring a plant infrastructure, asset maintenance, aftermarket service and supply chain. A digital twin could be a virtual version of a tire or a passenger vehicle, the methods for how these items are built or the entire production line. It could even be an entire factory, a network of plants or the end-to-end supply chain. But refining the technology will become more important as more autonomous vehicles hit the road.
Healthcare
New pharmaceuticals, treatment regimens, and surgical procedures require multiple rounds of tests. Since working with human patients is costly, and in some cases, unfeasible, digital twin technology help make these processes more efficient and safe. It also helps in designing customised medical devices that are compatible with an individual's unique anatomical and physiological systems.
Digital twins are also proving to be especially useful in the context of Covid-19 when travelling to in-person trials is risky. Technology has picked up significant media attention over the course of the pandemic.
Also Read: Can AI Lessen Brand Identity Gap?
Energy sector
Oil field service operators are capturing and analysing massive amounts of in-hole data that they use to build digital models that guide drilling efforts in real-time.
Digital twins can transform the way companies perform predictive maintenance of products and machinery in the field. Sensors embedded in the machines feed performance data into a digital twin in real-time, making it possible not only to identify and address malfunctions before they happen but to tailor service and maintenance plans to better meet unique customer needs.
In 2020, Royal Dutch Shell started on a four-year project to construct a digital twin of its petrochemical manufacturing site in Singapore to improve operational efficiency, productivity, reliability, safety, prevent downtime and reduce maintenance and maintenance costs. In 2018, Chevron launched digital twin tech for its oil fields and refineries to save millions of dollars in maintenance costs. Digital twins are used by GE to configure individual wind turbines for specific locations before construction.
City Planning
In 2018, a digital twin is being built for the 200-hectare gated site for the Expo 2020 in Dubai. And in a remarkable feat of smart-city management, Singapore uses a detailed virtual model of itself in urban planning, maintenance, and disaster readiness projects. Dubai Municipality's Geographic Information Systems (GIS) Centre aims to provide a Digital Twin of Dubai in the form of 2D and 3D maps of the emirate's assets, landmarks and structures. This digital edition, enhanced with IoT technologies and linked to real-time information, provides all the information necessary for planning and managing the city and providing effective smart services.
Logistics and transport
Instead of mapping equipment or a business, a digital twin can be used to create a virtual model of an entire ecosystem. In logistics, this is seen in the oversight and efficiency of supply chains. In transport, train schedules can be optimised, and in the maintenance optimisation of routes, or building timetables to the real-world conditions of a track. PwC's Customer Transport Simulator, a digital twin of public transport networks, was used by Transport for NSW, Australia,  in their COVID-19 response to identifying potential hotspots and test alternate recovery strategies.
Also Read: How AI Is Transforming Renewable Energy
Digital twins Players 
In contrast with many emerging technologies, commercial digital-twin offerings are actually coming from some of the largest companies in the field. For instance, GE, which developed digital-twin technology internally as part of its jet-engine manufacturing process, is now offering its expertise to customers, as is Siemens, another industrial giant heavily involved in manufacturing. Not to be outdone by these factory-floor suppliers, IBM is marketing digital twins as part of its IoT push, and Microsoft is offering its own digital-twin platform under the Azure umbrella.

With advances in AI algorithms, real-time data from affordable and increasingly ubiquitous sensors, digital twins technology is as close as it has ever been before to predict the future. From duplicating processes and procedures, to prototyping products and recreating complex systems, digital twins promise to take the risk, cost and time out of making essential decisions for the future of your business.