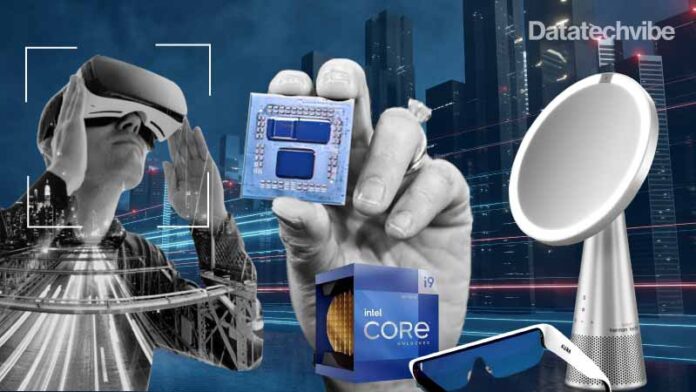 The 52nd edition of the event is set to take place at the Las Vegas Convention Center between January 5th and 8th
The Consumer Electronics Show (CES) 2022 is all set to bring a bevy of new devices from all the major players in the industry. Exciting announcements from tech giants including Amazon, Facebook, Google, and Intel are expected at the 52nd edition of the event, set to take place at the Las Vegas Convention Center between January 5th and 8th. CES is famous for showcasing the latest innovations to media and analysts, and fueling tech debates before it hits the market. With more than 1,000 companies participating in the event, it's a tough task to choose. Datatechvibe presents the top 5 futuristic announcements that could have a major impact on enterprises in 2022.
ICON.AI's Sound Mirror
ICON.AI's new SOUND MIRROR is both a full-sized bathroom smart mirror and smart speaker, or as ICON.AI calls it, an "Acoustic Mirror." Available in a circle or horseshoe design, it looks like a large, traditional mirror, aside from what appears to be a speaker grill that occupies the bottom quarter of the mirror face. The technology recently got a nod from CES 2022, already winning an award. ICON.AI is hardly the first company to merge mirrors with AI, as it makes use of Alexa to control the mirror's lights and other smart IoT devices at home. SOUND MIRROR is IPX6-rated, which makes it virtually waterproof. The announced voice-activated mirror has gained much of the hype due to its ability to answer queries while managing users' music requirements.
UAI Anonymizer by Understand.ai
Understand.ai recently announced that it would release a new version of its high-throughput image anonymisation tool, the UAI Anonymizer, at the CES Las Vegas 2022. The AI-powered technology is designed to handle the exponential growth of recorded data volumes in autonomous driving. The new upgraded version's anonymisation rate is said to be 4x as high as that of its predecessor. The underlying deep learning model in the new version of the Anonymiser has been trained with images of people in masks to reflect the reality of a Covid-19 world. It reportedly has an almost 100 per cent identification rate for faces with and without face masks.
The UAI Anonymizer is cloud-based and much more versatile in terms of camera perspectives, lens geometry, and resolution. With this new version, Understand.ai expands its cloud offer to all three major cloud services providers; Google Cloud, AWS, and Microsoft Azure. The upgraded data exchange methods enable faster and more flexible data processing that aligns with the variety of customer data infrastructures. Understand.ai will also be presenting its data annotation, data anonymisation, and scenario generation portfolio that will showcase the company's developments in cutting-edge technology.
Intel Alder Lake 12th-gen CPUs
Intel's first 12th-gen laptop processors are expected to be announced at CES 2022, where we could also see the desktop CPU lineup expand. Intel was one of the most active companies at last year's CES 2021, announcing four new families of processors. Among them was the 12th-gen desktop chips, codenamed 'Alder Lake'. This year, Intel is expected to finally reveal the CPUs that will be powering the next generation of laptops. From a total of 60 processors from Intel's 12th-gen range, only six have launched so far, all as standalone CPUs for desktops.
Alder Lake will bring big changes to Intel silicon as these are the first CPUs to move beyond the 14nm process that the company introduced back in 2015. The new 10nm process has been rebranded as Intel 7, part of a new architecture roadmap announced in July. The three core chips range, i5,i7, and i9, will now offer 16 PCIe 5.0 lanes and 4 PCIe 4.0 lanes for a total of 20, alongside DDR5 memory up to 4,800MT/s and L3 & L2 cache sizes. Two separate lineups are expected, Alder Lake-P for laptops and Alder Lake-M for other less powerful devices. Rumours suggest that the 13th-gen Raptor Lake processors, expected to launch in 2022.
Kura Gallium AR headset
The Kura Gallium's specification outperforms most augmented reality headsets in the market and features a striking eyeglass-style design that significantly improves the bulky look of most other devices. Kura Gallium's most eye-catching specs are its 150-degree field of view and a resolution of up to 8K. Both are well above and beyond specs offered by other rival headsets, which typically max out at a 52-degree FOV and 1080p resolution. Its display is 95 per cent transparent, allowing the displayed image to blend more seamlessly into immediate surroundings. Kura Technologies' website claims that the headset doesn't suffer from ghost imaging, an undesirable effect that makes the displayed image look duplicated, blurry, or both. This is made possible due to the inculcated deep neural network within the AI software and eliminating it as a potential problem is a definite step forward for AR tech.
AMD Next-gen Zen 4
AMD is set to share more details on its future Zen 4 processors at CES 2022. Promising better performance and power efficiency due to its 5-nanometer manufacturing process, the Zen 4 line is expected to also include a wealth of new technology. The new 5nm process has an 80 per cent higher transistor density improvement over its older 7nm process, which AMD currently uses for its Zen CPUs while reducing the chip size between 35 and 45 per cent.  Another design feature expected on the Zen 4 CPUs is the new 3D V-Cache stacking technology. It involves vertically stacking additional level 3 (L3) cache memory on top of the existing L3 cache to improve performance. The Zen 4 CPUs are expected to have far higher performance than the current Zen 3 versions. Rumoured speculations state that the new CPUs will have a 40 per cent performance increase and 25 per cent more instructions per cycle (IPS).
If you liked reading this, you might like our other stories
Top 6 Retail Tech Trends in 2021
Ready for Crypto-as-a-Service?