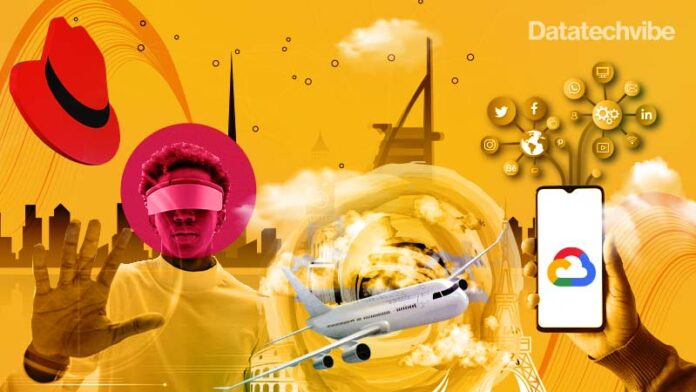 Technology investments and innovations continue, as companies worldwide try to enhance customer experience.
Shark Tank star Robert Herjavec recently stated that the cloud would change everything we know about cloud computing. And he can't be more right. A slew of cloud integrations and partnerships has kept industries busy and innovative for some time now. 
On the other hand, Web3, the current hype, expands at lightning speed. Innovators worldwide are putting their heads together to develop a comprehensive structure and use the underlying technology for unique immersive experiences. 
And as industries are rapidly advancing towards a customer-centric business with cloud, AI, and Adtech solutions, here's a round-up of this month's major tech news that you may have missed
It's always cloudy
Ericsson and Intel are pooling R&D to create high-performing cloud RAN solutions. The Ericsson-Intel Tech Hub is already operational, and the focus includes power management and performance, joint work on the cloud, and RAN containerised network function (CNF) applications on upcoming generations of processing platforms.
In today's digital era, customers demand quick customer support across channels. Over 70 per cent of consumers say that a single contact centre interaction can impact their feelings about a brand. With such high expectations and constant pressure, organisations try to improve customer service but also struggle with agent turnover.
To help solve this issue, Qualtrics integrated Qualtrics XM Discover's AI and ML capabilities into SAP Service Cloud. It can help customer service teams resolve problems, increase resolution rate and improve customer satisfaction.
Prefect Technologies, the company behind the open-source data workflow automation platform, partnered with Snowflake. Prefect enables customers to automatically populate, extract, and analyse data more quickly and reliably.
Red Hat and Kyndryl, the IT infrastructure services provider, partnered to help customers embrace open, differentiated automation technologies and managed services to modernise core business applications and IT infrastructure. It enables scalable enterprise operations and greater resilience with advanced security capabilities. They will offer integrated services and solutions to automate critical workloads from the enterprise data centre to the edge and public clouds.
Meanwhile, Google Cloud also made several headlines this month. During its Google Cloud Summit, the company unveiled its plan for an invisible security journey that can help companies secure their software supply chain and accelerate zero trust architectures. It launched a new tool called Assured Open Source Software to enable enterprises to view the OSS packages Google approves and uses within developer workflows. 
The solution also enables administrators to monitor users through the Chrome dashboard and ensure users in BYOD, remote, or hybrid working environments aren't at risk. 
In other Google news, the brand has authorised the use of Lotame's Panorama ID within its supply-side platform (SSP). With these integrations and multiple data partners supporting the Panorama ID, Lotame extends its cookieless data connectivity capabilities for marketers and publishers to 41 SSPs, including OpenX, PubMatic, Sovrn, Smart AdServer, and Sharethrough.
The Metaverse fever
Introducing Meta Arrow. The venture aims to transform the way virtual reality (VR) works and create a futuristic portal of boundless possibilities. Their hyper-realistic platform will be an abode for their #MetaClan and #ArrowGens. The Arrowverse is set on three focal pillars: social, entertainment and commerce.
Dubai's Virtual Assets Regulatory Authority (VARA) entered the metaverse with Metaverse HQ in the Middle East –  the first regulator to have a presence in the emerging digital space.
The Dubai Metaverse strategy aims to increase the contribution of the metaverse sector to the emirate's economy to $4 billion by 2030. Current estimates expect business revenues to grow from $180 billion to $400 billion by 2025.
The Museum of the Future announced that it is developing a range of virtual assets and will pioneer development in the crypto-technology space. 
The tourism industry takes over the pandemic reign
Post-pandemic, the tourism and aviation industry has begun to address traveller demands. This month, Emirates and the Department of Culture and Tourism – Abu Dhabi signed a Memorandum of Understanding to boost tourist numbers across the airline's global network. 
In addition, Tripadvisor, a travel guidance platform provider, launched Tripadvisor AdExpress, adding new features to its self-service tool. It gives businesses control over their cross-platform advertising and enables them to define their desired audiences, budgets, and advertising formats and upload their creative assets. 
What's new in social media marketing?
According to a recent Unsupervised survey, many marketers believe social media marketing is their desired area for growth and the tools they would want to use.
Meta announced new options to help brands utilise its messaging tools, including improved ad creation on WhatsApp, the merging of WhatsApp messages into the Meta Business Suite inbox and quote requests on Instagram. TikTok launched an interactive insights platform, enabling brands to use a range of filters to discover key data points on their target market.
Meanwhile, Snapchat partnered with celebrity video creation platform Cameo, allowing advertisers to pay Cameo members and create short video ads for their marketing efforts.
And have you tried the flying machine yet? The brand also rolled out a pocket-sized camera, Pixy, that can fly a few feet to take photographs and videos before landing on the palm of the owner.
The tech haul continues
Today, enterprise data scientists and domain experts spend over 80 per cent of AI development time gathering, organising, and manually labelling the training data for ML models. 
To help enterprises accelerate AI application development 10-100x with automated data labelling, Snorkel AI, the data-centric AI platform company, announced the availability of the world's first data-centric AI platform, Snorkel Flow. 
Meanwhile, IT teams are struggling to be proactive. Managing cyber threats and hybrid work is taking its toll. While unplanned downtime and outages can interrupt employee productivity, customer service and revenue, 45 per cent of IT leaders state that responding to disruptions is the top network challenge.
Industries need a way to predict network issues better, proactively avoid problems, and ensure the best possible experience. Cisco combines predictive technologies with a portfolio of observability, visibility and intelligence to improve reliability and performance across all operational scenarios. 
Finally, Dentsu's customer experience management company, Merkle, launched the Inflation Resilience Dashboard to help business leaders and marketers with critical consumer insights to influence marketing and business decisions.