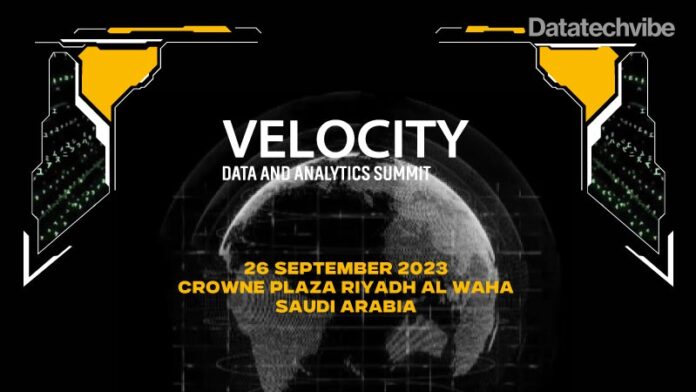 The sixth global edition of Velocity – Data and Analytics Summit will take place at Crowne Plaza Riyadh Al Waha, Saudi Arabia, on 26 September 2023.
Data analytics has become a driving force for businesses and governments across the Middle East, and Saudi Arabia is at the forefront of this trend. The Kingdom's commitment to modern technologies, including data analytics, has made it a major player in the global market.
Velocity – Data and Analytics Summit is a platform for business and technology leaders to share the stage as they discuss how data and emerging technologies are impacting the future of enterprises. 
Here are five compelling reasons to secure your seat today;
Meet data leaders across the industry 
Attendees can learn from real-world experiences of data and analytics leaders. According to Dr Jassim Haji, President of the Artificial Intelligence Society, "Metrics such as better customer experience, employee adoption rates of the new technology (indicating its user-friendliness), reduced employee error rates, and shorter project life cycles are all significant indicators businesses should track. These metrics provide valuable insights into the success rate of tech investment, highlighting its positive impact on the company's operations and outcomes."
Velocity boasts an impressive roster of esteemed speakers, including data experts, data scientists, and CTOs from renowned organisations such as Outra, SABIC, GIG, Riyad Bank, Tawuniya, Abdul Latif Jameel, Artificial Intelligence Society, Government Cloud Office Digital Government Authority, Standard Chartered Bank, Ministry of Transport, Communication, and Information Technology Oman and Booking.com.
Maximise tech investments
Every enterprise is on a digital transformation journey, but the metrics are unique to measure success. Factors like the nature of the business, the size of the organisation, geographical span of operations and revenue capabilities play a significant role in how people and processes can align with business goals. 
Learn from key sessions such as;
"Driving Organisational Transformation through Data and Analytics," which will host Edosa Odaro, Chief Data & Analytics Officer at Tawuniya and Hesham Saad Al Ghamdi, Chief Data & Analytics at Abdul Latif Jameel. 

"How Data Governance Drives Business Growth" by Kamran Ahmed, Vice President of Data Quality at The Saudi National Bank and Ayman Sieny, Senior Vice President of the Enterprise Data Management Department at Riyad Bank.
Unlock the business value of monetising data
Velocity's agenda is carefully curated to explore the real-world challenges of professionals and is designed to offer practical takeaways that can be actioned. 
Check out the "From Cost Centre to Profit Centre" session to learn how organisations can shift their perspective on data from solely a cost centre to a valuable asset that drives revenue and creates new business opportunities.
Take a look at how data is impacting public policy  
Dr Salim Al-Shuaili, Director of AI & AT Projects Unit at the Ministry of Transport, Communication and Information Technology Oman and Dr Khaled Alhazmi, Managing Director, Government Cloud Office – Digital Government Authority, will take the stage to discuss how analytics works at a population level to deliver added value for citizens.
Meet technology partners that share your priorities
"A unified understanding among stakeholders regarding technological applications is established. This is a foundation for recognising interdependencies and reaching consensus on shared objectives. A robust enterprise architecture cultivates cross-functional collaboration and the essential synergy to optimise technological investments," said Ayman Sieny, Senior Vice President of the Enterprise Data Management Department at Riyad Bank. Sieny will be part of a panel discussion on the topic "From Compliance to Competence: How Data Governance Drives Business Growth" at the summit.
Technology leaders will outline the parameters that businesses must consider, keeping the nature of their business and unique requirements in mind. For example, business leaders will do well to identify technology partners that provide comprehensive frameworks, enforce access controls, employ encryption for data at rest and in transit, and comply with regulations like GDPR. 
Know the right questions: Do you anonymise and mask sensitive data, conduct security audits, and provide thorough employee training? What does a solution provider's breach response plan look like? How can it help to meticulously monitor data access to prevent unauthorised changes? And more.
Sponsor partners include Denodo, Dataiku, Snowflake and In516ht as Silver sponsors, CentroCDX as the Networking Session Partner and Alteryx, ManageEngine, Veraqor, Nagarro, Alnafitha IT and Altair as Exhibit sponsors.