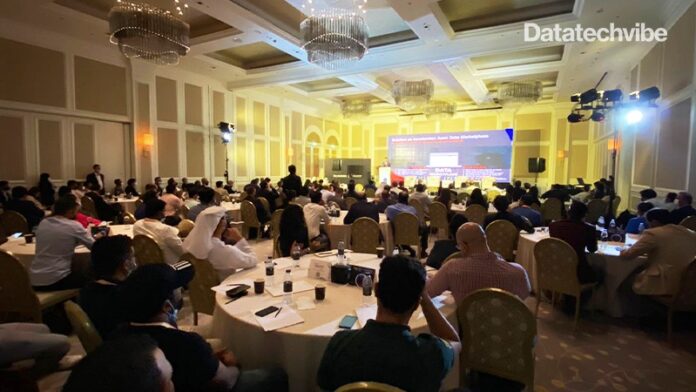 We can't predict the future, but we can be ready for it. Velocity, the region's largest in-person conference focused on Data, Analytics and Strategy, brought together data and analytics leaders to share how they're using data to help them adapt to change. The theme "Data Is Everything" was carried throughout the event, with speakers focusing on various topics from advanced data analytics projects and tooling to data governance and democratisation. In addition, the professionals gave insights on how business must change to keep up and where the tech is going over the next few years.
Businesses that were able to think data first are now able to grow and scale up their operations. The summit, which was attended by over 150 delegates, offered content for every member of the data and analytics team — from technical to senior-level strategy to gain the skills to build and execute a world-class strategy.
Data scientists, analytics experts, CTOs, CDOs and CRM experts and senior government officials focused on how and why data-informed decisions are critical for organisations and how to bridge the gap between what businesses need, want and what their current bandwidth allows them to do. 
The leading speakers at the summit included keynote speaker Sara Al Zarooni – Director, Dubai Data Establishment, UAE; Jerome Couzy – Data Governance & Privacy Expert, Informatica, UAE; Ibrahim Al Najjar – Director Information Technology, DP World; Alexey Sidorov – Data Management Director & Chief Evangelist Middle East, Denodo, UAE; Vivek Sahabadi – Group Head Data & Analytics, Apparel Group, Dina Mohammad Laity – Data Science Leader, UAE and Hafdi Salah, Co-founder and Managing Partner, BBI Consultancy were part of a panel discussion on decision intelligence. 
Maciej Kaliszka, Chief Data Officer, ABSA Group, South Africa, talked about how to keep data and database at the centre of transformation, and Samir Boualla, Chief Data Officer, ING, France shared his insights on how better data quality increase trust.
Vishal Soni – Product Evangelist, Alteryx, UAE, talked about pathways to analytic maturity, and Ammar Alfayoumi, Senior Solutions Engineer, Cloudera, UAE, emphasised the importance of embracing a new data management paradigm. 
Sanjeev Madavi, Group Digital Transformation Officer, Khimji Ramdas, and Mohammed Jamal, Head of Data Science, Aramex, UAE, in a panel discussion talked about real-time data analytics.
While Brice Leporini, Senior Solutions Engineer, Confluent, UAE, talked about the importance of data in motion, Tim Carmichael, Chief Data Officer, Chalhoub Group, UAE, in an engaging session, talked about starting with the challenge and using data to find a solution. In the last session of the day, Janne Liuttu, Chief Data Officer, Ramboll, France, tackled the big question about how the data revolution will power the future of construction and manufacturing.
The industry veterans talked about the innovative approaches their companies are taking to solve today's critical challenges in data management — from technical possibilities and challenges of new and emerging technologies to using Big Data for business intelligence, analytics.
The summit's agenda included Data Analytics in Government: Securing and Streamlining processes, Governed Data, essential for value creation in the Analytical world, Data Democratisation, Decision Intelligence — Analytics creating the right support and management infrastructure and Data Analytics & Cloud.
Velocity was produced by Datatechvibe, MENA region's only media platform focused on Data Landscape, Policy & AI. Launched in 2019, its mission is to map the fast-paced change in the data industry and provide the information to navigate the future. The sponsors include Informatica, BBi, Cloudera, Denodo, Alteryx and Confluent, Beinex and CData.
*Detailed session coverage and videos are coming soon.