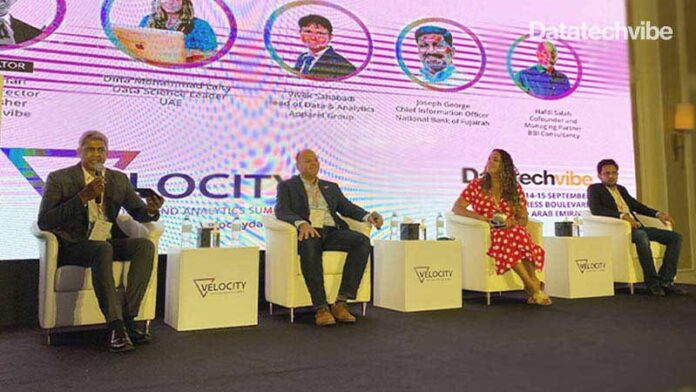 Learning to extract data's fundamental value and using it has enormous rewards. In a digital economy, especially in the time of a pandemic, data is more valuable than ever. It's the key to the smooth functioning of everything from the government to local companies, the speakers at Velocity, Data and Analytics Summit, underlined.
As organisations reimagine their approach to risk in today's complex, interconnected risk environment, embracing tech-driven data and analytics is a crucial advantage.
A  leader in transforming smart cities and training the next generation of data-driven government leaders, Sara Al Zarooni, Director, Dubai Data Establishment, opened the summit speaking about building data infrastructure. Recounting Dubai Data Establishment's role to extract the value out of city data started in 2000, she said the department took several steps to set up infrastructure, laws and governance to allow ease in exchange of data between stakeholders and use data to improve decision making. It started with taking government transactions online, offering a paperless experience.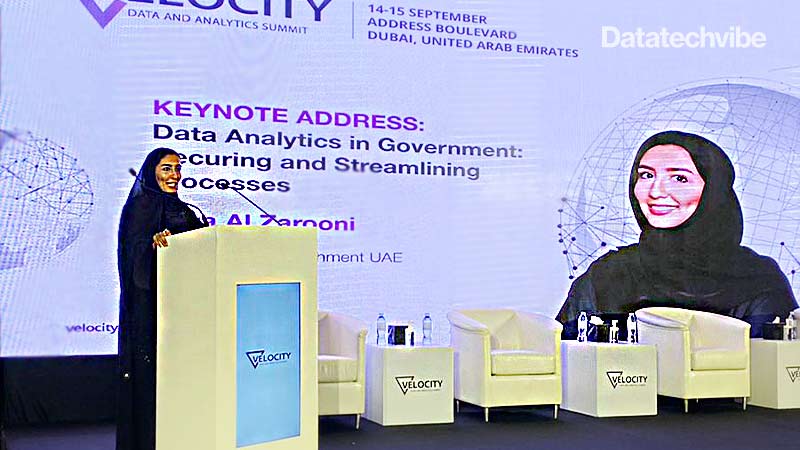 "During COVID-19, we were able to showcase the true potential of data in high-level city decision making. We utilised data brought together by all government entities including Dubai Healthcare, Authority., And created a dashboard with Live data that predicted where cases would increase and used it to implement strategic lockdowns in those areas. A similar use case was seen with food security and economic curves. City leaders were able to take action based on the insights from these dashboards," added Sara.
In a world where digital transformation is the only path and where competition is increasing every day, the key to market differentiation is data, said Jerome Couzy, Data Governance and Privacy Expert at Informatica. "Although a lot of organisations are investing a huge amount in data and analytics tools, most are not successful…it's important to understand the business drivers that drive value to your business."
"Data analytics saves cost by reducing manual data processing, and reduces the time to access data. Analytics in customer's data helps to understand customer behaviour, which helps businesses to serve them better. It also helps businesses to mitigate risk," added Couzy, who was joined by Hafdi Salah, co-founder and Managing Partner at BBi, UAE.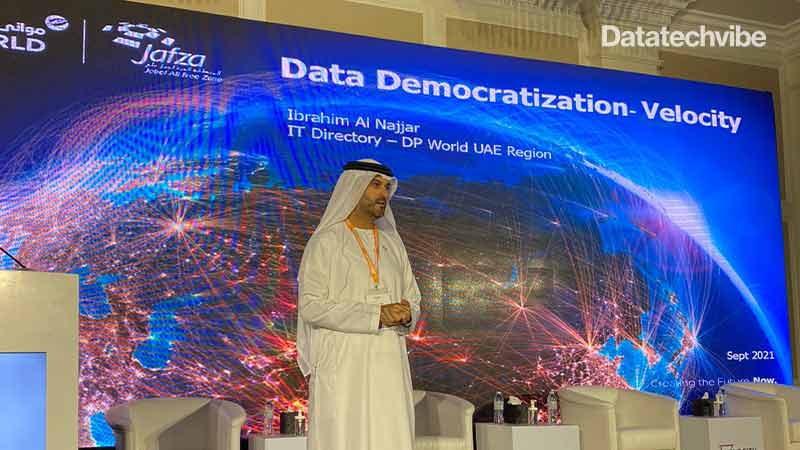 Data democratisation is another aspect crucial to every business, and strategic decisions depend on it. Talking about the urgency of data democratisation and augmented analytics was Ibrahim Al Najjar, Director of IT, DP World. Citing the transportation and logistics industry, Al Najjar discussed the circumstances that arise in different verticals — operational or financial — and emphasis on productivity.
Experienced in digital transformation and innovation, with a demonstrated history of working in the end-to-end logistics and supply chain industry, he said, "Ninety per cent of everything around us is transported and shipped by sea." The massive operational data available creates the need for all data action to happen in the fastest turnaround time, for which dependency on technology is ubiquitous.
"Operational or financial, every function has its own data practices, they have their own tools, and efforts. And the dependency on technology is pervasive. Technology adoption is accelerating in this industry," Al Najjar added.
Taking effective operational decisions requires resources from containers, trucks and human resources. "Here data rather than just being statistical, are broken and extracted from data repositories and warehouses for a more correlated view. Having this visibility will allow decision-makers to engage in transactions, maximise and optimise operation efficiency," he added.
Emphasising the importance of analytics, Hafdi Salah, co-founder and Managing Partner, BBi, said, "Analytics is not a supporting role — it is core to making smarter business decisions. The CDO, data team and the data itself are all worthy assets," Salah was joined by a panel of experts including Vivek Sahabadi – Group Head Data & Analytics, Apparel Group, and Dina Mohammad Laity, an independent Data Science leader, to discuss decision intelligence and the role of analytics in creating the right support for management. 
"People use statistics in the same way tired people use lamp posts — for support not illumination. Decision intelligence tools need a framework that encompasses people and governance. People have cognitive bias in making decisions. What you need is a good framework," said Dina.
The first step to set up an analytics system for an enterprise is understanding what the company wants to gain out of it. Next is to control the quality of data and connect data-points in a format that makes it understandable. "A proper platform is to ingest and maintain accuracy. If a company is growing, the platform should be scalable. Think about how the company will move in five years. Proper visualisation and self-service are important to set up in the beginning," said Sahabadi.
Encouraging business leaders to focus on the value data, Salah said using analytics helps to learn and discover business opportunities. Dina concurs that leaders need to not pursue data science to simply boast about their capabilities but instead leverage it to solve business problems. 
According to Sahabadi, C-suite needs to consider the ROI into technologies. "Every business and success story is different. In the food and beverage industry, supply chain is important. While in fashion, focus is on what to buy and how to replenish. eCommerce has a lot of data and higher marketing spends. Here, we use analytics to determine the value of a customer. We use data and analytics to understand where to expand and which product lines would work," he said.
How to find if your analytics strategy is a success? According to Salah, everything is about the customer. If you end up with insights about your customer — that's a big win.
Talking about keeping data and databases at the centre of transformation — databases being critical to innovation strategies and growth — Maciej Kaliszka, Chief Data Officer at Absa Group, South Africa, said data needs to be truly embedded in an organisation. "When you focus on data value, you create value in the business, you build new skills and data literacy. Don't underestimate the value of chain management. People in the organisation must understand data is the business."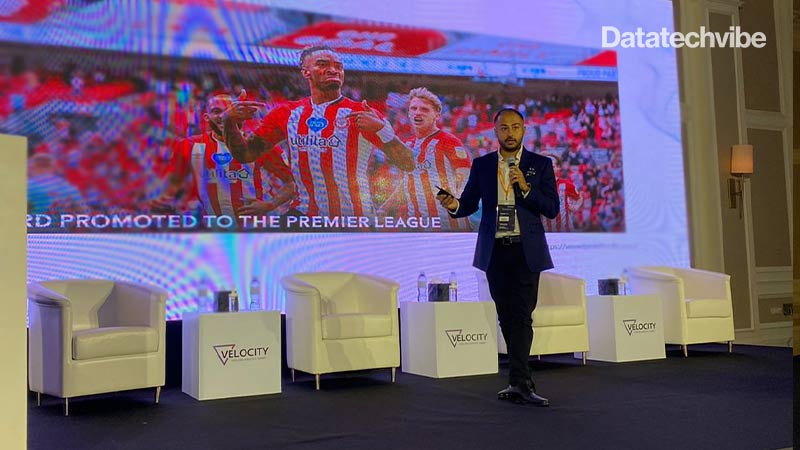 Data is a critical pillar for digital transformation as well — every interaction in the digital world generates data. For Vishal Soni, Product Evangelist at Alteryx, UAE, there's magic in driving insights from data. "For digital transformation, the first step is to understand the process. If you don't go through the data sitting in your database or data lakehouse — you will not be able to understand the story data tells you. Ultimately, the data is really where the magic happens. It will tell you which customer bought which products, what's the cash flow this quarter and what might be in the next quarter."
"In order to make the digital transformation smooth, data synchronisation with the process and people is crucial," Soni added.
Having over two decades of experience in data management and business data handling, Alexey Sidorov, Data Management Director & Chief Evangelist Middle East, Denodo, UAE, spoke on data anti-gravity forces. Citing the pros and cons of centralised data and single data link through a portrayal of paradigms of data gravity and Charles Darwin's theory of evolution, he explained its relevance and applicability in business data storage. "You might think it is an academic talk, but it is the most practical of all." The evolution from cassettes to Netflix was referred to as an example of passage of time and this was in the context of "pace".
"No one wants to know about yesterday but all are eager enough [to know] about tomorrow," added Sidorov, emphasising on the importance of preserving the authenticity of the data presented.
Data is everything. It is turning business models upside down, while guiding the world through its economic challenges. But it is not enough, unless you can trust it. Why trust data? "Role of data in trust and security is not only for the stakeholders but for the customers, too," said Samir Boualla, the Chief Data Officer, ING, France. "Data quality is the key element and misinterpretation can cause bad impressions," he added, touching upon how degraded data quality leads to loss of trust and financial losses. "Data quality is not a one-shot, it's a continuous process."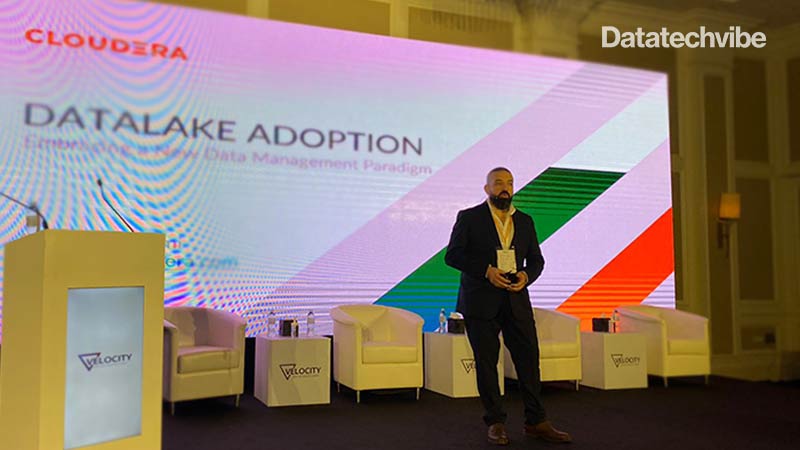 Diving deeper into the data management paradigm shift was Ammar Alfayoumi, Senior Solutions Engineer, Cloudera. "Data Lakehouse adoption is crucial for every organisation today. The question is, what is going to be the strategy?" he asked.
Organisations today need powerful insights to keep track of their operations and create better business strategies. 
Oftentimes, companies decide on a single synchronised analytics database to run all the analytics but in every step of the way, new requirements pop up from third-party solutions to run analytics, an operational store, a data search engine, and a data streaming platform. "What do they end up with? They come back right to the siloed version of the Stone Age architecture in a more renovated way. The lesson we learn is to run away from siloed architecture."
Alfayoumi said the best solution is data lakehouse, an end-to-end data lineage through an enterprise data platform. "You can run hundreds of tests and use cases on a single platform without the need to plug on third-party applications. We do not want to go back to the siloed system as the future is going for hybrid cloud architecture." 
Meanwhile, the amount of data continues to grow exponentially, and the faster organisations are able to turn all of this raw data into useful insights, the better they can identify and respond to trends in performance. Counting the benefits of real-time data analytics, Sanjeev Madavi, Group Chief Digital Transformation Officer at Khimji Ramdas, said, "The foremost principle we should understand, as we try to infuse operational efficiencies and better customer experience, is that the bottom line for all  businesses is the same. We are all accountable for numbers. Data analytics can bring new revenue to the table. It can also help in cost reduction by introducing effective operational expenses." 
"We should consider data analytics as a crucial chain that connects the entire operational efficiencies as well as employee productivity. It's eventually the customers' engagement and having the customer come back to you again and again. This is the bottom line of a data analytics plan." Madavi was joined in the panel by Mohammed Jamal, Head of Data Science, Aramex, UAE, and Alexey Sidorov, Data Management Director & Chief Evangelist Middle East, Denodo, UAE. 
Explaining how running simulations on real-life scenarios with predictive analysis reduces costs, Jamal said, "For instance, if a shipment is coming from New York to Dubai, in real-time we need to identify through which route we should travel, should we go via Hongkong or London? Should we send the shipment via flight or ship?"
Also Read: Is Security Key To Your Cloud-Native Strategy?
To answer that, Jamal said two primary aspects need to be considered — cost and time. "To optimise these two aspects, testing plays a crucial role. But can we test in real-time? No, it will be quite expensive. So to ease the pockets, we can build a simulator, which is powered by actual data. The simulator will take into consideration those two aspects and help in predicting the benefits and losses. It helps us in testing and optimising findings."
Data is the new order, and elaborating on the strategic importance of data in motion was Brice Leporini, Senior Solutions Engineer, Confluent. While tech giants have garnered success by leveraging data, the digital acceleration of 2020 has brought everybody on the race tracks. "Taking advantage of data is not only for digital native organisations. Traditional businesses can also take advantage to gain a competitive edge."
The industry has been growing on the basis of legacy platforms all these years but in the digital era, they are faced with the challenge of being unable to share data with the different ecosystems. "There are lots of organisations that have had to accelerate their digital transformation in order to stay sustainable. So what does it mean in the context of data analytics? Data is something that increases drastically all the time."
So how do we deal with real-time processing data? "It's with data in motion," said Leporini. 
Sharing data is an important requirement in all organisations, and setting data in motion is critical. Some might think databases do the trick, but they are far off. "The way we design applications is we build them on top of databases. You can run complex queries but there is a specific space where databases are not doing great – it's to share data." He talked about integrating with a system like Kafka that acts like a central nervous system, offering seamless integration of legacy applications.
Skipping the presentation format, Tim Carmichael, Chief Data Officer at Chalhoub Group, transformed the conference hall into a cricket pitch and tossed a ball around to involve members of the audience. "Everyone is a player, we have different roles to play," he said. "The first step is to know the game you are playing, the size of your team, your position and the time left in gameplay."
Also Read: Are Companies Getting The Cloud Payback?
He spoke about the role of a data professional, expectations from business teams, challenges and the need to innovate constantly. If you are doing the same thing again and again and not getting the results you want, it's not working. It may be time to innovate, he said.
"I like to ask myself a set of questions to validate an idea. What's the value, how feasible is it to deliver, how scalable is it, who is the sponsor, and will it resonate with the rest of the business. If you get good answers, you have a great initiative on your hands." 
Carmichael took the analogy through to the end, saying defenders work on data governance, the heavy-lifters are the DevOps team, and the coach is the leader who must make business decisions.  
In the end, Janne Liuttu, Chief Data Officer, Ramboll, France, tackled the big question about how the data revolution will power the future of construction and manufacturing. The construction industry is a big contributor to CO2 emissions. So, the use of data and technology to optimise resources, using green materials and tracking progress has a significant impact. 
"We are doing everything digitally. Visualisations are so close to the real thing. The more accurate the digital prints, the easier it is to test to see if assets are working as it is intended. We can predict and make more informed decisions before we construct anything in the physical world. This reduces the wrong decisions we make. It cuts cost, time and waste which is how we will achieve our sustainability goals. We then create a feedback loop between what was simulated and what was designed," said Liuttu.   
During the pandemic, automation and remote sensing helped construction and manufacturing teams to work remotely and safely. In the future, automation and data usage will play an even bigger role. 
So, will machines take over human work in the future? Not at all, said Liuttu. "We have researched this, and studied the pace of automation in industries. We are freeing the time to focus on more specialised, complicated or creative tasks. Human labour will be focussed on providing context and expertise." 
Written By: Khushbu Raval, Yolande D'Mello, Chandni U, Suparna Dutt D'Cunha and Sreya Paul