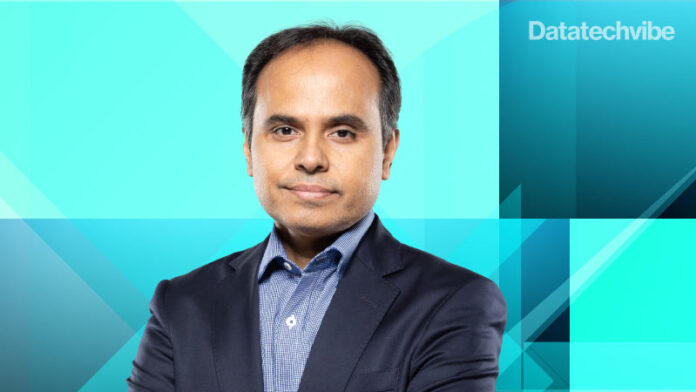 Rather than accumulating a multitude of tools, Srikanth Velamakanni, Co-founder and Group Chief Executive of Fractal, emphasises the significance of driving adoption among users. 
Datatechvibe spoke with Srikanth Velamakanni, the Co-founder and Group Chief Executive of Fractal, who shares insights into the company's product roadmap and its alignment with the dynamic data and workplace trends. As the world of AI evolves, Generative AI has emerged as a pivotal trend, and Fractal's roadmap embraces this technology to empower decision-making across its diverse product offerings.
Fractal's unique approach to data-driven solutions involves thinking about decisions in reverse. Velamakanni elaborates on the five fundamental questions companies seek to address, from improving customer alignment and operational efficiency to enhancing product innovation and responsiveness. He also reveals the secret sauce behind their success –client-centricity and a long-term orientation.  
Excerpts from the interview;
Tell us about Fractal's product roadmap, and how your products evolve with the changing data and workplace trends.
The world of AI is constantly changing, and Generative AI has emerged as one of the hottest and most important trends in this field. Fractal's product roadmap is adapting to the evolving nature of technology, with a clear focus on empowering decision-making across all of Fractal's products.
Instead of approaching data-driven solutions, we believe in thinking about decisions in reverse. Companies face five essential questions that they strive to answer. 
First, how can I better align my business with my customers, reduce friction, and improve personalisation? 

Second, how do I enhance the productivity of my business, increase marketing and supply chain effectiveness and overall operational efficiency? 

The third question pertains to improving products and services, reducing the failure rate of innovation, and ensuring the successful creation of new products. 

The fourth question revolves around aligning the business to become faster, more agile, and more responsive to customer needs, ultimately leading to improved decision-making and reduced latency. 

Finally, the fifth question involves increasing the sustainability and future-proofing of our business.



Enterprises address these five fundamental business questions through analytics and AI. 
As Fractal's roadmap evolves, it aligns with these five priorities, leveraging generative AI technologies to deliver even better solutions for these challenges.
What advice would you give business leaders about finding the right tools to invest in and then aligning people and processes to get the maximum value from that investment?
The world of AI is expanding quite rapidly, offering a plethora of choices in terms of tools and techniques, as well as products. I would advise reducing the number of tools you purchase and, instead, increasing the focus on driving adoption. This involves understanding the users of these tools better, comprehending their decisions, and then working backwards from those decisions.
Rather than buying new tools, increasing the design quotient of the products you already possess is wiser. This approach will be far more useful, as having fewer tools with greater adoption is a better path to success than accumulating numerous tools.
Only 2% of all startups get to celebrate their tenth anniversary. Fractal has completed two decades. What's the secret sauce?
I'll admit that we've been fortunate. Two things have worked for us; the first is client-centricity. Building a business by being client-centric is easier said than done, but being extremely client-centric means serving them well and thinking ahead regarding their needs. So, inventing and investing on behalf of clients has worked for Fractal. 
The second is a long-term orientation. Long-term orientation means taking a long road to build culture and developing people. How do you hire, how do you retain, and how do you treat people even after they leave the company? Moreover, how do you treat your clients? Not only when they are onboarded but also when they decide to leave. The same applies to how you treat investors when they invest and even after they divest. This approach has worked well for Fractal and helped us scale this business over the long term.
AI is a general-purpose tool. How do you see it altering the future of work? How can human resources prepare for this shift? 
AI is a very powerful general-purpose technology, and like all powerful general-purpose technologies, it comes with inherent risks. It can be used for good or evil, so companies need to harness the power of AI responsibly while transforming the way they work today. AI will dramatically transform how people solve problems, interact with data, make decisions, and even engage with each other.
Given this transformative change, an HR team within a company can play a crucial role in preparing the talent to be AI-ready. One of the implications is upskilling employees to ensure they possess greater expertise in areas where AI cannot fully replace human capabilities. This becomes a significant consideration for companies in a world where basic expertise can be completely automated with AI or generative AI.