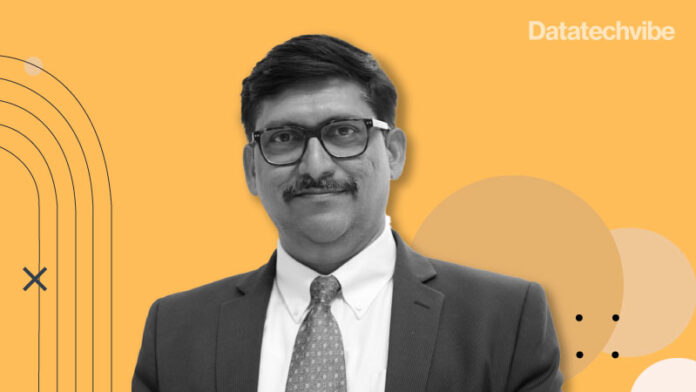 What helps a customer is creating digital services faster and with less skilled developers is an innovative and intuitive platform which allows you to use the drag-and-drop features
Uday Shankar Kizhepat is the Vice President and General Manager for the MEA region at WSO2, an open-source technology provider founded in 2005. It offers an enterprise platform for integrating application programming interfaces, applications, and web services locally and across the Internet. He is a senior sales leader with significant experience driving strategic deals and marquee IT transformation projects across the MEA region. Datatechvibe spoke with him during GITEX 2022 about the opportunities for API integration in the region, the challenges WSO2 is helping the customers in the region to solve, and the outlook for the growth of on-premise solutions.
Excerpts from the interview;
Tell us about your journey.
For the last two decades, companies have run their transformation. WSO2 was founded by Sanjiva Weerawarana and Paul Fremantle in 2005. Sanjiva is a CEO, software developer, and open-source software evangelist. We have been in the business for the last 17 years, helping companies transform themselves, and we have offices in around nine countries.
We are supporting customers across 70+ countries. We are backed by Robot Capital and Goldman Sachs in Edge and Cisco – some of our company investors. With the right tools, we have been helping customers run their digital journeys and helping customers build better digital experiences for their partners and end customers.
Which key solutions are you showcasing at GITEX?
WSO2 has a digital platform encompassing API manager, digital integration, and identity access management. This forms the core of any digital transformation journey, and these are the key products we offer on-prem and on the private cloud. We have also introduced a SaaS version, our digital platform services – Choreo and Customer Identity-as-a-Service – Asgardeo. These are the two versions we are introducing to this market during GITEX, giving the customer the entire suite of options to pick from.
What challenges are you helping customers in the region to solve?
The Middle East region is riding the digital transformation wave. Customers are in various stages of their digital journeys, which we help them drive using our tools for API management and digital integration management. What helps a customer is creating these digital services faster and with probably less skilled developers because the platform itself is innovative and intuitive, which allows you to use the drag-and-drop features and create those digital experiences.
What is the opportunity for API integration in the region?
There is a need for API services to be integrated into multiple solutions and applications, and it has to be used for numerous technologies and security mechanisms. This tool helps you take care of complexities, and the developers just need to focus on the digital logic. Apart from that, the digital products customers create need to be monetised – the tool helps you do that. You have the means to monetise support, build engine integrations and great limiting services.
How have you kept pace with customer demands as they have digitised over the last year?
Every customer is in various stages of the digital journey, and API management used to have limited protocols, like REST and SOAP protocols. But now, many new protocols, like GraphQL protocol and event-based systems, have come up. So, the product helps you address all these areas and helps customers create those 'wow' digital experiences.
Will there be a collaboration with companies working on cloud deployments?
We already have partnerships with the leading hyperscalers. Our API can be deployed on any native cloud platform because we also have the humanities and cloud-native support. Our latest SaaS models, like Choreo and Asgardeo, run on Azure.
Discuss the focus on creating a cloud-native programming language.
If you consider cloud-native integration, there is no complete programming language for that. The real answer to that is Ballerina, developed by WSO2. It is a cloud-native programming language which helps developers design and develop their integration flows. Ballerina powers the SaaS platform Choreo. So, customers can use drag-and-drop features and a graphical editor to help them automate their deployment pipeline.
What is the outlook for the growth of on-premise solutions?
On-premise will be there – the future will be a hybrid model. There is a massive shift in the cloud journey with the advent of hyper-scale in the region. But, it's also critical that certain priorities be considered, especially for government institutions where the data resides and confidentiality concerns exist. So on-prem will continue to be there, and what I see as a future will be more and more of a hybrid model.
What is the key message for CIOs and CISOs visiting GITEX?
The challenge in front of every CIO is how to differentiate themselves. Every company is now like a digital software company. They need to create those raw experiences to differentiate themselves.
The WSO2 platform helps CIOs and CISOs create better digital experiences, helping them to reduce the time to market. It is about exposing their API quicker and faster to the market. It gives them flexible business models and a chance to monetise some of their APIs and do all this with probably fewer skill resources.
If you liked reading this, you might like our other stories
The Future of Auto is Driven by Digital Experiences
How Will Businesses Manage Data Deluge in 2021?