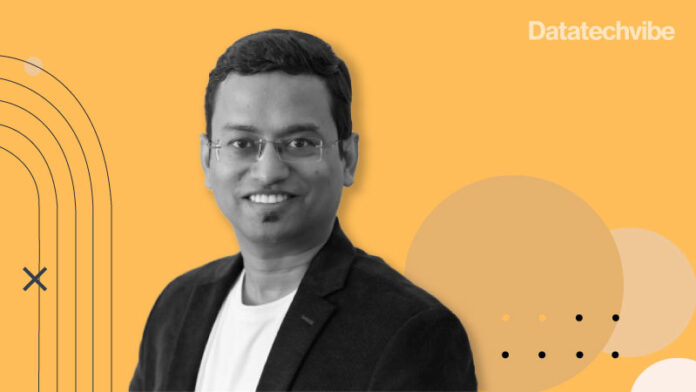 "Amid big data, it is very easy to get lost in the noise that comes with it because one of the most important and time-consuming tasks for any data scientist is data processing and data preparation. So if you can identify from the very beginning the relevant data you can use and solve a problem, it helps minimise that noise," says Deepesh Jain, Director, Data Science at Visa, UAE.
A key speaker at Velocity, the data and analytics summit, Jain talks about how BI trends such as data literacy and democratisation and data visualisation and storytelling can help senior leadership, short on time, make quick and more effective decisions.
Excerpts from the interview:
What technological advancement are you most excited about?
I come from the payments and technological space, and there are a couple of areas I am excited about and see how they turn out to be in the near future. One of them is BNPL, which is the Buy Now Pay Later option available to the customers through the various payment channels and partners like through the issuers or other Fintech partners in that space.
The other one is crypto. It is mostly used as a mode or an asset class for investment purposes, but I am looking forward to seeing how it evolves as a medium of payment and exchange.
Visa partnered with some leading Fintech players in this space, like Klarna. As per our internal surveys and other surveys, there's a lot of increased awareness about BNPL, especially in making payments for high ticket items. Many customers are also willing to use BNPL, and some of them are already using it, but more people want to jump onto the bandwagon and start using it in the crypto space.
We did a survey in about eight countries back in 2021 and found around 94 per cent of the people are aware of what cryptocurrency is. But it would be interesting to see how it is used as a medium of payment against an asset class for investment purposes.
What data trends can strengthen BI and help make better decisions?
BI has been around for a while, helping businesses make smarter and intelligent decisions, which are data-driven. But there are a few areas where advancements can further strengthen businesses to make better decisions. One of them would be data literacy and democratisation. Data literacy and democratisation mean everyone in the organisation should be able to speak, understand and communicate in terms of data. Every decision that is made should be based on data. We all have business judgments and intuition, but to have data that speaks the same thing adds confidence to it. Data-driven decisions help businesses achieve competitive advantage and improve efficiency and effectiveness.
The other trend is data visualisation and storytelling. Decision-makers are senior leaders and the top management, who may not be very tech-savvy or have enough time. Since they are always short on time, they will look for quicker and more meaningful insights.
So analysis that the data scientists or BI analysts do is to create a storyline or narrative, aided with smart and intelligent visuals. So it would make good decisions quite intuitive and let the story flow with intelligent visualisations.
This helps the audience gain insight into what is being communicated and draw the most meaningful and actionable insights and recommendations from the discussion. It helps senior leadership make quick and more effective decisions.
What advice would you give professionals starting their career in data analytics?
I see many people who are still in colleges and universities reaching out to seek advice on what they should be doing to have a successful career in data science, and people who are already seasoned professionals in other industries want to jump into the data analytics space.
Data science is an evolving field. Many advancements are happening, and the key is to keep ourselves updated with the recent advances. The second thing is to stick to the basics. We see a plethora of resumes coming in from potential candidates who have listed down tons of experience in data science and deep learning, natural language processing, and other spaces.
But the basics are missing. So, I would strongly recommend anyone venturing into data science start with statistics, probabilities, distributions, and machine learning algorithms.
Because if you have these backgrounds, these are the foundational pillars of your career development. So if you have the foundation strong, you can go as far as you want, or like you, as you desire.
And the third element would be able to connect business analysis or analytics problems that you're trying to solve to business insights or to be able to support business decision-making and make appropriate recommendations. So many times, a data scientist or a data science professional can be developing a beautiful model, which is doing well, but it may not be implementable or put those models into production because of certain assumptions that they may have made, which may not be relevant in real-life applications.
It's important to understand the problem statement from the business or the end-users of your solution and to communicate with them so that there is no disconnect and you can develop a solution that meets the business expectations and delivers the expected outcomes. So these are the initial three things that I would strongly suggest to anyone jumping into the data science profession.
Tell us about your session at the Velocity data analytics summit.
I'm part of a panel discussion around Right Data Over Big Data. With everything going smart, tons of data are available and getting created every second. But not every data is relevant for every use case that we have. So the key is to work with the right data coming in at huge velocity and various sources in the form of text, music, and audio.
Not all use cases would need all data elements, So the idea is to pick the right data, which is more relevant to the use case or the business problem that you're trying to solve and work with. Amid big data, it is very easy to get lost in the noise that comes with it because one of the most important and the most time-consuming tasks for any data scientist is data processing and data preparation.
So if you can identify from the very beginning the relevant data you can use and solve a problem, it helps minimise that noise. And then, once you can do that, you will be able to identify and pick the right signals from the data, provide insights or recommendations, or develop predictive models of prescriptive models, which will be helpful to the business.
* The second edition of the Velocity Data And Analytics Summit will be held on May 17 and 18, 2022, in Dubai. For more information and to register, please visit: https://velocityda.com/
If you liked reading this, you might like our other stories
Is AI Disrupting BI?
Let Augmented Analytics Do Your Heavy Lifting