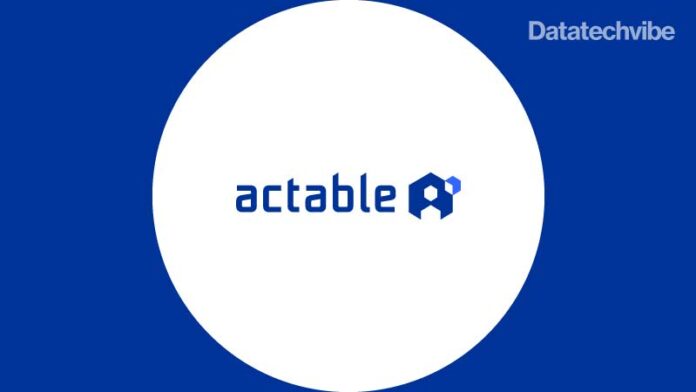 Customer data consultancy, Actable announced the launch of their predictive modelling product, Predictable, an end-to-end suite of predictive models that drive business outcomes for marketers. Predictable integrates directly with a cloud database or CDP for easy implementation and rapid time to value.
Actable, a customer data consultancy, announced the launch of its new product, Predictable. Incubated out of Actable and driven by client demand, Predictable is an end-to-end suite of plug-and-play predictive models designed specifically for marketers. Predictable's AI models provide intelligence into key business outcomes, such as purchase propensity, customer churn, 2nd purchase, product recommendation and lifetime value.
Live in-market today and powering predictive outcomes for over 25 brands. Predictable is built to integrate with a composable architecture – directly with marketers' cloud data warehouse or CDP, enabling rapid time to value with no coding or data sciences expertise required to deploy. Current integrations include Segment, mParticle, Lytics, Google Cloud, Amazon Web Services, and Snowflake.
"Predictable is a powerful, easy button for marketers looking to harness the power of AI to drive business growth," said Matthew Greitzer, Co-Founder and CEO of Actable. "Our suite of predictive models is trained against marketing outcomes and allows marketers to make data-driven decisions about their customers to drive increased value and retention. Predictable create better marketing outcomes that produce better results."
Predictable includes five key models today, built to address key business goals for transaction-oriented marketers, including:
Propensity

– Predicts which prospects are most likely to become customers, allowing marketers to laser-focus their acquisition investment.

Churn

– Predicts which customers are likely to churn, allowing marketers to take proactive measures to retain them.

Second Purchase

– Predicts which customers are likely to make a second purchase, allowing marketers to optimise retention and loyalty incentives better.

Lifetime Value

– Predicts the lifetime value of each customer, allowing marketers to allocate resources more effectively.

Product Recommendation

– Predicts which products are most aligned with one another, allowing for better personalisation and messaging.



Predictable is easy to implement and leverages an enterprise's existing tech and data stack. Predictable models are deployable by marketers without any coding or data science background required and are also customisable, allowing marketers to tailor them to their specific business needs.
"At Predictable, we believe that machine learning should be accessible to everyone, not just data scientists," said Craig Schinn, COO and Co-Founder of Actable. "Our suite of predictive models is designed to be easy to deploy and integrate, so marketers can start making data-driven decisions right away."