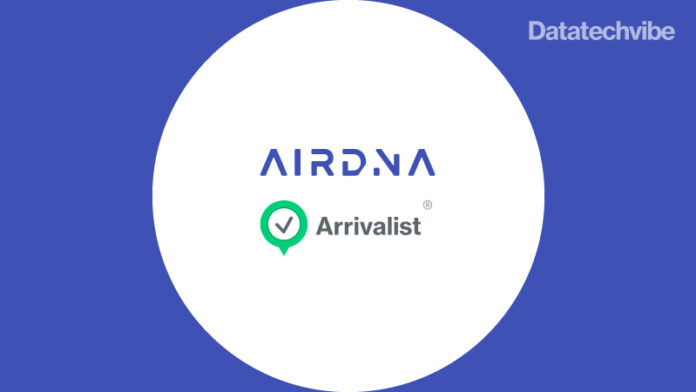 AirDNA, a short-term rental (STR) data provider, announced the acquisition of the pioneering location intelligence platform Arrivalist. This strategic acquisition marks an important milestone in AirDNA's commitment to elevating the standard of data-driven decision-making within the hospitality industry. AirDNA and Arrivalist will sit within predictis, a family of leading software-enabled data businesses. Predictis is a portfolio company of Alpine Investors, a people-driven private equity firm that invests in software and services businesses.
"By welcoming Arrivalist to AirDNA, we're accelerating our growth trajectory and reinforcing our commitment to delivering industry-leading insights to our customers. The union of our powerful data platforms will provide businesses with unrivalled intelligence, empowering them to strategise with increased precision," said Demi Horvat, AirDNA's CEO.
AirDNA's acquisition of Arrivalist also marks a key next step in Predictis' journey to build a world-class investment and operating platform for data founders and entrepreneurs. "AirDNA's acquisition of Arrivalist represents a blueprint for continued add-on acquisitions to supplement organic growth and capitalise on derived data opportunities from adjacent data sets," said Jean-Marc Levy, CEO of Predictis.
Arrivalist pioneered the use of location data in the travel industry, using its patented technology to create bold insights into the way travellers interact with destinations. The company's Calibrated Data, Arrival Lift, and other proprietary technologies have won the trust of 200+ travel marketers in 46 of the 50 states since its inception in 2011.
In addition to the expanded insights gained, the acquisition unites two highly talented teams. AirDNA and Arrivalist possess exceptional technical talent, including data scientists, data engineers, and account managers with deep industry expertise. The integration of these teams will propel the development of state-of-the-art solutions that meet the evolving needs of the industry.
"We're delighted to join with AirDNA to bring customers even more insights, resources, and innovative products. Bringing together these two powerhouses creates tremendous opportunities for future growth and continued innovation," commented Cree Lawson, CEO of Arrivalist. "This partnership with AirDNA and Predictis will create unprecedented new value for our customers.
AirDNA and Arrivalist have established themselves as integral players in guiding decisions for Destination Marketing Organisations (DMOs), hotels, and other customers. The acquisition is expected to bring customers access to a broader range of products and services, improved support and expertise, and enhanced innovation. Customers of both companies can expect a seamless transition during the integration process.