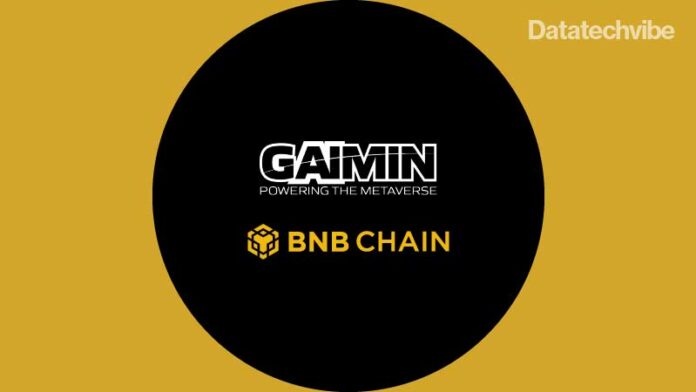 GAIMIN, the world's leader in delivering decentralised, distributed data processing power, harnessing the underutilised resources found in gaming PCs, has today announced its partnership with BNB Chain, the world's largest smart contract blockchain in terms of transaction volume and daily active users, for Web3 esports growth initiatives.
With the global blockchain gaming market projected to grow from $4.6 billion in 2022 to $65.7 billion in 2027, GAIMIN is at the forefront of delivering blockchain technology and solutions to the gaming industry to facilitate their transformation to in-game Web3 technologies.
GAIMIN and BNB Chain will be working together to accelerate the growth of blockchain technology in the gaming sector by helping developers build blockchain-based games that will be launched to gamers globally.
Martin Speight, CEO of GAIMIN said, "I am delighted to be working with BNB Chain to deliver Web3 technology to the gaming community. Our technology is designed to enable games developers to convert their AAA Web2 games to Web3 and allow the incorporation of blockchain functionality and services into their games."
Walter Lee, Partner Growth and GameFi leader at BNB Chain, commented, "We selected GAIMIN to become our first Partner for Web3 Esports Growth Initiatives following our review of its business model and its ability to reach the global gaming community. We are particularly excited by GAIMIN's approach to developing Web3-based technologies that benefit games developers and, most importantly, gamers from this growth market."
Martin concluded, "Over the next few weeks, we will be making further announcements relating to our technology development, associated services and, importantly, how GAIMIN's esports team, GAIMIN Gladiators, will be supporting and promoting this partnership. These are exciting times, not only for GAIMIN and BNB Chain but also for gamers and the gaming community. We are at the start of this paradigm shift in this emerging industry and we are excited about how through this partnership, we can support its growth".