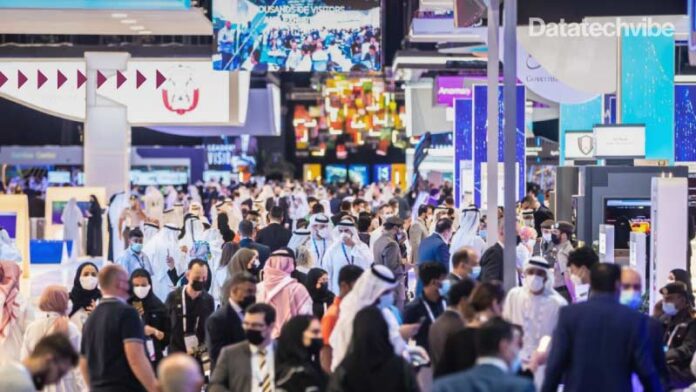 The annual five-day event, GITEX Global 2022, will feature a line-up of global companies and start-ups showcasing ground-breaking applications in the metaverse, AI, Web 3.0, blockchain, 6G, cloud computing, fintech, and big data.
The GITEX 3.0 edition to unite the world's most influential ecosystems advancing business, economy, society and culture.
"As the curious audience attempts to make sense of the real versus virtual world we are creating, GITEX Global takes the helm in partnering with global tech leaders to empower, enlighten and enthuse everyone on the metamorphosis of the digital economy," said Trixie LohMirmand, Executive Vice President of Events Management at Dubai World Trade Centre, GITEX Global's organiser.
"GITEX Global will cut through the hype and emotions, gathering the best minds in all businesses around the world to debate, challenge and rationalise the impact of this tech fusion on society and our future. This is GITEX 3.0."
A look into the digital universe
GITEX Global presents its 3.0 edition with AI Everything, North Star Dubai (formerly GITEX Future Stars), Fintech Surge, Future Blockchain Summit, and Marketing Mania.
Two new events will be launched this year, selling out to a global audience within two months: Global DevSlam, and X-VERSE.
According to GITEX Global organisers, the Global DevSlam is set to be the Middle East's largest ever coder and developer meetup, connecting 10,000 coders alongside developers from the world's biggest tech companies, including Anaconda, AWS, Google, Instagram, Microsoft, Oracle, and Red Hat.
Meanwhile, the X-VERSE will feature real-world case studies and never-seen-before virtual experiences across manufacturing, gaming, education, healthcare, retail, and the future of work.
Championing start-up entrepreneurship
Launched as GITEX Future Stars in 2016, the newly renamed North Star Dubai in 2022 will bring together more than 800 exhibitors from 60 countries with over 600 investors in a thriving, innovative entrepreneur ecosystem.
North Star Dubai also introduces 'Africa Fast 100', the largest ever gathering of African start-ups to be hosted outside Africa, connecting investors with Unicorn prospects from the world's fast-rising tech incubator.
A platform for the biggest names in tech
GITEX 3.0 also welcomes the biggest names in the global tech world, shaping imminent trends and industries, including Microsoft, Huawei, IBM, Dell Technologies, Ericsson, Avaya, Honeywell, Hewlett Packard Enterprise, e&, Lenovo and Cisco.
Vast international footprint
GITEX Global will feature new national pavilions from Cyprus, Ethiopia, the European Union, Kuwait, Uganda, and Turkey. The United States, France, Germany, the UK, India, Pakistan, Saudi Arabia, Morocco, Nigeria, and Brazil, are among those with increased presence to showcase their national technology prowess and leading innovations.
It will also provide visitors access to insights and unparalleled knowledge sharing through its 14 dedicated conference tracks and deliver more than 500 hours of thought-provoking talks, case studies, industry trends, and workshops.
A stellar line-up of more than 1,000 government ministers, global technology leaders and experts will share their perspectives on major trends, from A.I., cloud computing, crypto, 6G, and the metaverse, to the new frontier of future mobility, from flying cars to electric aircraft.