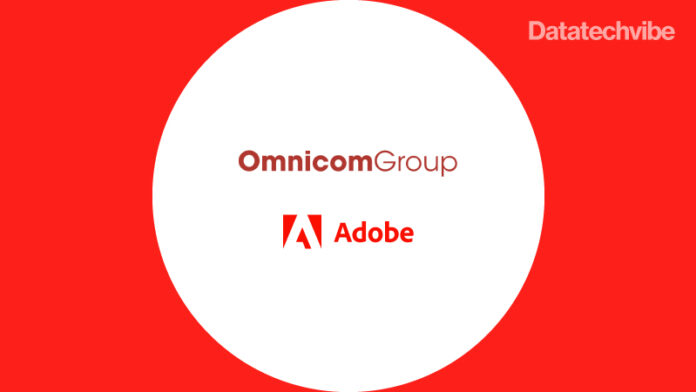 Content Supply Chain solution allows Omnicom to deliver impactful customer experiences at scale for clients
Omnicom Group, the marketing communications company, is partnering with Adobe to reinvent the creation and delivery of creative content through an enterprise licensing deal of Adobe's new Content Supply Chain solution.
Through the solution, Omnicom agencies across the globe will now have a unified view of every step of the content process, from planning and production to activation and optimisation. The end-to-end solution will enable Omnicom's agencies to efficiently produce creative content that delivers the most effective customer experiences for Omnicom's client roster of the world's top marketers and brands.
The newly launched Adobe Content Supply Chain solution brings together an array of Adobe's industry-leading creative and experience applications, such as Adobe Creative Cloud, Adobe Workfront and Adobe Experience Manager. Omnicom will connect features of Adobe's solution with Omni, Omnicom's end-to-end marketing operating system, providing streamlined workflows, enhanced automation and increased operational efficiency – major value adds for Omnicom's agencies as they work together to service shared clients. In 2022, 100 of Omnicom's largest clients were served on average by more than 50 agencies across disciplines and geographies. Adobe's Content Supply Chain solution further connects the people, processes, and technology necessary to provide these specialised, integrated client services.  
"This partnership brings together the most creatively awarded holding company and the leader in creative and marketing tools," said Paolo Yuvienco, EVP, Chief Technology Officer at Omnicom Group. "The two of us share a goal of providing integrated solutions to brands, and our collaboration brings it to life. Through this offering, our agencies from different disciplines and geographies will remain connected throughout the entirety of the content supply chain, helping to transform our clients' businesses faster and more effectively."
The comprehensive solution by Adobe will help Omnicom agencies meet growing content demands as clients look to provide customers with a larger quantity and variety of personalised content. Adobe Firefly and Adobe Sensei GenAI – the company's new generative AI capabilities will assist in the rapid development of content. By utilising Firefly and Sensei GenAI, Omnicom's deep expertise in artificial intelligence and machine learning, the the companies will enable Omnicom agencies to deliver powerful experiences at scale that translate to business value for clients.
"Omnicom is a valued Adobe partner and customer and we're excited to work together to transform the process of producing and delivering content across their business — and for our shared customers," said Anil Chakravarthy, President, Digital Experience Business at Adobe. "By combining Omnicom's creative expertise and audience-driven capabilities with Adobe's content supply chain solution and generative AI capabilities, we can empower creative teams to work more efficiently and effectively and deliver even more impactful outcomes for the world's largest agencies and brands."