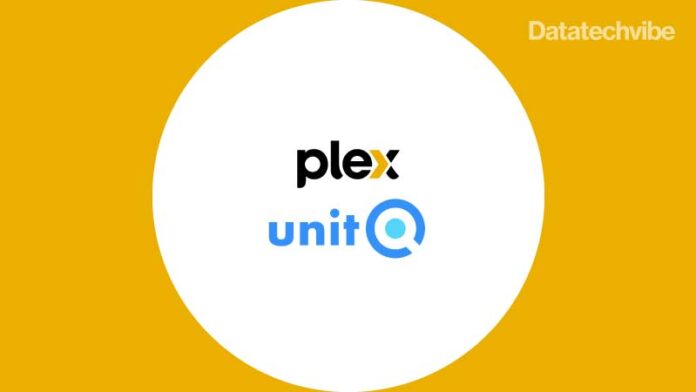 unitQ, the leading AI platform empowering organisations to take a user-centric, real-time data-driven approach to enhance the customer experience, announced today that free global streaming media giant, Plex, is embracing unitQ to supercharge the user experience for millions of global users.
Plex, the most comprehensive entertainment platform available today, is a one-stop destination to stream movies, TV shows, sports and music. Available on almost any device, Plex is the first and only streaming platform to offer free ad-supported movies, shows, and live TV together with the ability to easily search—and save—any title ever made, no matter where it lives. Using the platform as their entertainment concierge, 16 million monthly active users count on Plex for new discoveries and recommendations from all their favourite streaming apps, personal media libraries, and beyond.
"unitQ's real-time Voice-of-the-Customer platform is helping us understand and gain actionable insights from our growing user base so we can take a data-driven approach to enhance the quality of our promotions and overall entertainment experiences that we offer," says Janae Andrus Cox, Director of Community Development at Plex. "Advanced AI technology and machine learning from unitQ are empowering Plex to keep our finger on the pulse of our users' needs to power growth and engagement and to reduce churn and build brand loyalty."
Becoming a user-centric organisation requires a deep and personal understanding of the people using today's products. Powered by machine learning and AI, unitQ captures user feedback in more than 100 languages from dozens of sources — including Amazon, the Apple App Store, Discord, Google Play Store, Reddit, Twitter, TikTok, Facebook, Instagram, YouTube and more. In addition to parsing user feedback in real-time for unitQ customers to help them inform their decision-making along every touchpoint of the customer journey — unitQ also integrates with productivity tools such as Jira, PagerDuty, Slack and Zendesk to alert users on key customer issues in any language, location or platform.
"We are humbled that Plex is able to build exceptional experiences with the AI-based actionable insights generated from unitQ," said Christian Wiklund, unitQ Co-Founder and CEO. "unitQ combines user feedback into a single source of truth and enables leading organisations like Plex to gain a complete view of user feedback in real-time to bolster brand reputation and drive growth."