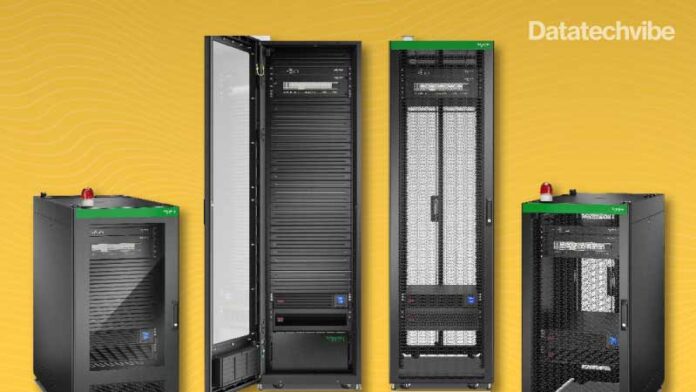 Schneider Electric, the leader in digital transformation of energy management and automation, has announced it has expanded its Micro Data Centre solutions portfolio with the introduction of the Easy Micro Data Centre Series for standard IT and commercial environments.
Available immediately in Europe, South America, East Asia, the Middle East and Africa, Easy Micro Data Centers are designed to contain and deliver all compute, storage and necessary infrastructure to support edge computing applications, combining speed, reliability, and affordability.
Furthermore, Easy Micro Data Centres are network enabled for web-based remote monitoring and include add-on options for Schneider Electric's EcoStruxure IT software, delivering secure, real-time intelligence and visibility from anywhere.
Schneider Electric Easy Micro Data Centres are standardised on its recently launched Easy Racks and Enclosures. Pre-integrated at the factory-level and shipped direct to site, they come complete with Schneider Electric's Easy UPS range of uninterruptible power supplies (UPS), Easy Power Distribution Units (PDU), environmental sensing and cooling.
Their high-level of pre-integration and testing simplifies the design and deployment phases, enabling IT solutions providers, systems integrators and value-added resellers (VARs) to specify and deliver Easy Micro Data Centres to site within 2-to-4 weeks, making them ideal for fast deployment by organisations who prize flexibility, reliability, cost and speed of response.
Also Read: It's All About Data Analytics
Key benefits of the range include:
Fast, reliable, and affordable: Available within 2-4 weeks, Easy Micro Data Centres are integrated with power and cooling infrastructure components and can be deployed rapidly with up to 48 per cent less cost.
Flexible, agile and easy to install: Easy Micro Data Centres provide the perfect fit for low-latency applications in Banking and Finance, Retail, Local Government, Healthcare, Hospitality and Education.
Software and Digital Services: Offer supports remote monitoring and management made easy with Schneider Electric's award-winning EcoStruxure IT, cloud-based software suite as an optional configuration.
Additional security features: Easy Micro Data Centres come complete with environmental sensing and physical security to help safeguard against tampering and unauthorised access.