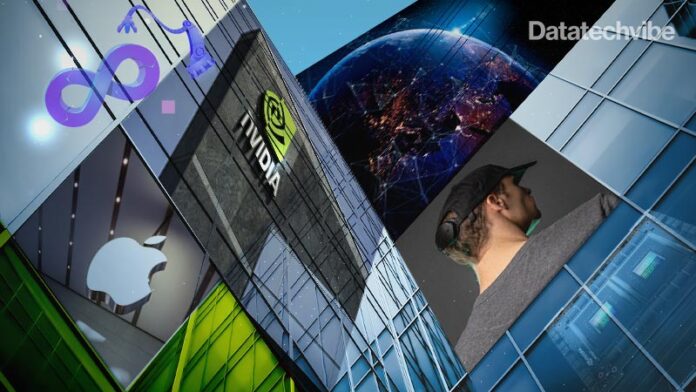 Acquisitions, EU tech regulation and Nvidia data breach are highlights of the month
Show me a big tech player who says it doesn't get excited by acquisition, and I'll show you a liar. After all, who wouldn't want a company that could double in value in a year or propel them to become some of the most potent behemoths in the world? Small wonder, then, Apple and Snap went shopping this month. 
Big tech companies have been acquiring smaller companies over decades. What does that mean for competition, and how does this fit into the broader market? The US has been keen to clip the wings of major tech firms that have long faced criticism that they use their market dominance to squeeze out the competition; the European Union (EU) agreed to take action this month. Curbing the dominance of tech kingpins such as Apple, Facebook, Google, and Amazon, with the Digital Markets Act, the EU introduced a new set of regulations that aims to rein in some of the business activities of those companies in Europe.
It's been business as usual for hackers, with cyberattacks, ransomware, and various data breach risks rising. In March, while Nvidia Chief Executive Jensen Huang unveiled a slate of new products at its annual GTC conference, hackers stole sensitive data from its networks, including employee credentials and proprietary company information.
Here's a round-up of this month's biggest tech news that you need to be aware of:
Apple's acquisition of Credit Kudos, a UK fintech startup developing software that uses consumers' banking data to make more informed credit checks on loan applications, has set tongues wagging across the industry. What is Apple's plan? It is not clear what Apple has planned for Credit Kudos. Still, the company's technology could likely aid Apple with the launch of the Apple Card in the UK, as the country is among Apple's most important markets, possessing the largest number of Apple Stores outside the US and China. 
It could also be that since Credit Kudos's technology is based on the UK's open banking framework, it is possible that Apple could modify Credit Kudos's technology to work with the US' growing open banking sector to strengthen ‌Apple Card's credit checker. There's also a possibility that Apple will accelerate its move into payments technology and products such as buy now, pay later. 
Snap acquired neurotech startup NextMind, a company known for creating a $400 pint-sized brain-computer interface (BCI). The startup has built a self-titled controller, utilising brain signals to move images on a PC interface. With metaverse gaining ground, Meta and Apple building augmented reality glasses, it is likely that NextMind's technology will be incorporated into future versions of Snap's Spectacles AR glasses.
Snap's purchase of NextMind is the latest in a string of AR hardware-related deals, including its biggest-ever acquisition of the AR display-maker WaveOptics last year for $500 million. In January, it bought another display tech company called Compound Photonics.
The European Union has opened a new chapter in antitrust enforcement for the digital economy, adopting a raft of new rules designed to clamp down on abuses by some of the world's largest tech firms. Under the Digital Markets Act (DMA), giants like Google and Apple will be forced to open up their services and platforms to other businesses.
The agreement ushers in a new era of tech regulation worldwide since major tech firms have long faced criticism that they use their market dominance to squeeze out competition. Under the DMA, Apple would be forced to open up its App Store to third-party payment options instead of users being forced to use Apple's payment system.
Google will be asked to offer people who use smartphones that run on its Android operating system alternatives to its search engine, the Google Maps app, or Chrome browser. The targets of the law include WhatsApp, Facebook Messenger, iMessage, the App Store, Google Play, and many other services belonging to large tech firms.
Nvidia Chief Executive Jensen Huang unveiled a slate of new products, including new chips and technologies that it said will boost the computing speed of increasingly complicated artificial intelligence algorithms. The company provided details of new graphic chips (GPU) at the core of AI infrastructure, releasing the H100 chip and a new processor chip called the Grace CPU Superchip. Nvidia also announced its new supercomputer Eos, which it said will be the world's fastest AI system when it begins operation later this year.
Earlier in the month, hackers stole sensitive data from the chipmaking giant's networks, including employee credentials and proprietary company information, and leaked it online. The hacking group claimed to have taken a terabyte of data from Nvidia. According to the data breach monitoring website Have I Been Pwned, the hackers stole the credentials of more than 71,000 Nvidia employees.
Is it a rainy or a sunny day? With technology, brands now will be able to determine customer behaviours and how these behaviours shift in response to changes in the weather. With an eye on the weather, IBM expanded its partnership with Adobe using AI-powered weather data from The Weather Company, an IBM business, on the Adobe Experience Platform. Adobe plans to use Weather Channel data as part of its Digital Economy Index to explore how weather patterns affect online spending and other trends in eCommerce. The new solution is designed to enable customers of Adobe Experience Platform, the foundation of Adobe Experience Cloud applications, to derive new AI-driven insights on how the weather could affect consumer purchasing habits across different categories such as retail, healthcare, travel, and hospitality.
When enterprise marketing is rapidly shifting online, and competition is fierce, it's harder to sell, market, and service effectively — especially when businesses don't connect these experiences. To address this, Drift launched Conversation Cloud, bringing together three solution areas — marketing, sales, and service – to give marketing teams actionable buyer insights, allowing for a hyper-personalised experience that satisfies customers.
By customising CX with AI-backed conversational engagements, enterprises can achieve a higher quality pipeline, increased revenue, and more loyal long-term customers.
The absence of face-to-face interactions can be challenging to read the room and understand engagement during virtual sessions. Tackling the problem head-on by harnessing the power of real-time emotional intelligence (EQ), Uniphore launched Q for Sales to assist organisations with the right cues and analytics to drive performance and results. It is an enterprise-level solution equipping sales organisations with EQ-based solutions. Built on Uniphore's unique conversational AI and automation platform, Q for Sales leverages computer vision, tonal analysis, automatic speech recognition, and natural language processing to recommend the full emotional spectrum of sales conversations to boost close rates and performance of sales teams.
The digital economy doubled the contribution to the UAE economy, reaching 9.7 per cent. The country has relentlessly launched programs to encourage coders to develop a digital ecosystem and enhance their future readiness. The latest is ten  new initiatives from Coders HQ, an initiative unveiled under the National Programme for Coders umbrella. The initiatives include the creation of an evaluation headquarters, an ambassador program, a language programmer challenge, a Tanzu-focused community, and an OpenHack hackathon, a joint project between Microsoft and Coders HQ, among many others. These new initiatives aim to develop advanced programming communities and prepare a new generation capable of using technology to build a competitive knowledge-based economy. 
As the threat landscape evolves, identity remains the central nervous system of the enterprise. Accelerating enterprise zero-trust adoption, SentinelOne acquired Attivo Networks to extend the company's AI-powered capabilities to identity-based threats. The endpoint security vendor said its proposed acquisition of Attivo Networks will allow SentinelOne to grow identity threat detection and response, identity infrastructure assessment, and identity cyber deception to its Singularity platform. SentinelOne will pay $616.5 million for Attivo, and the deal is expected to close in July.
Meta Platforms will build new tools to allow brands to prevent their ads from appearing next to unsuitable content on Facebook and Instagram and will begin testing the tools later this year to launch in early 2023. The social media company selected advertising measurement firm Zefr as its partner to provide outside verification that ads appeared only next to suitable content. The move is part of Meta's answer to longstanding demands from the advertising industry, which has advocated for brands to be given greater control over where their ads appear online. 
Crypto exchange Bybit and crypto platform Crypto.com would establish a hub in Dubai, the latest moves in the UAE's drive to become a centre for the virtual asset sector. This month, Dubai issued its first law governing virtual assets and formed the Virtual Asset Regulatory Authority (VARA) to oversee the sector, granted virtual asset licences to Binance, the world's largest cryptocurrency exchange, and FTX Europe, a subsidiary of one of the largest crypto exchanges FTX. The UAE has been pushing to develop the virtual asset sector and regulation to attract new forms of business as regional economic competition heats up.
*We'd like to hear whether you find our monthly round-up reading helpful. Send us an email at editor@vibeprojects.com with your thoughts.