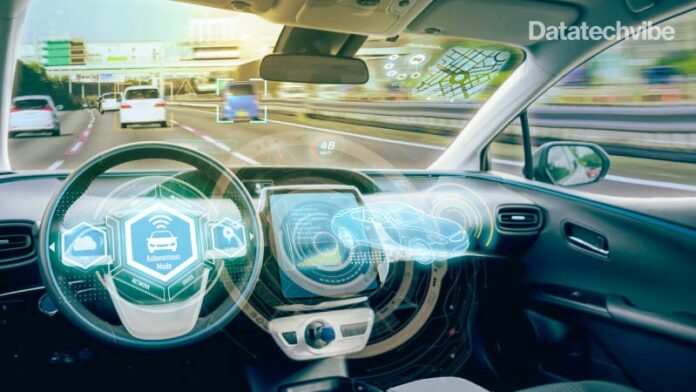 Everything is connected these days, fitted with chips and sensors. Even cars. Internet Of Things (IoT) is a transformative force in the automotive industry.
It's almost like you have your vehicle in your smartphone. With a single tap on an app, you can control and know your vehicle's stats. From connected cars to automated transport systems, the applications of IoT are making a huge impact in the automotive industry.
The automotive IoT market is predicted to grow over  $541 billion by 2025. John Chambers, CEO at Cisco thinks IoT as a potential opportunity of $14 trillion. Another prediction states that $267 billion will be spent on automotive IoT use cases in the next few years.
Fleet management
The implementation of IoT in the automotive sector has brought in a huge development in fleet management. Trucks are integrated with weight measurement, location tracking, and  other sensors.
The data gathered from the fleet is stored in a cloud application and then processed through different analytics features and conceptualised into a visual format. A fleet operator can easily go through this information to monitor different parameters associated with its fleet. Some of the benefits IoT brought about in fleet management system are:
Real-time location monitoring of the fleet
Weight and Volume tracking of cargo that the fleet is carrying
Trucks' performance statistics like fuel and mileage
Tracking traffic conditions
Route management
Time and Driver management
Connected cars
According to Gartner, there will be more than 250 million connected cars by the end of 2020. These cars are connected over an IoT network called CV2X (cellular vehicle to everything) that connects vehicles and smart transport systems.
Connected cars facilitate the fast transmission of data and reduce drivers' response time through enhanced vehicle communication. Based on the vehicle's connection with different objects, the CV2X is subdivided into four categories:
Vehicle to vehicle (V2V): This  connection allows vehicles in a proximate range to share data with each other. The data mainly constitutes information related to location, speed, and dynamics. V2V connection helps in preventing accidents and allows emergency vehicles like ambulances and fire trucks to easily move through traffic.
Vehicle to infrastructure (V2I): Refers to a network of vehicles and road infrastructures. The infrastructure in V2I generally constitutes traffic lights, lane markings, and toll booths. V2I generally facilitates smooth traffic flow and avoids long queues at toll booths or petrol pumps.
Vehicle to pedestrians (V2P): Through the use of a mobile application, a pedestrian can connect with the CV2X network, use the application to locate nearby taxis and monitor the estimated time of arrival for transits. They can also connect with the pedestrian walking system and change traffic signals to cross a road.
Vehicle to a network (V2N): Intelligent Transport System (ITM) and weather forecast department can connect with the network to alert the drivers about changes in weather conditions or an accident on the road. Moreover, a vehicle can be connected with smartphones. This way, the driver can use voice commands to operate the music system and GPS of the car while driving.
Airbiquity, Harman and Bosch, among many others, have been providing connected car software including smart behaviour tracking, mobile driver apps, connectivity systems based on real-time journey analysis, vehicle fuel and consumption tracking. Connected car technology has been availed by Toyota, Alfa Romeo, Lexus among many others.
Automotive maintenance system
Predictive analytics is one of the most interesting features of IoT automotive. The sensors embedded in different components of a car collect data and share it with a platform. This data is then processed by an algorithm that can analyse the future outcomes of the component based on its performance.
The main advantages of automotive IoT solutions with predictive maintenance are as follows:
Identify any part's failures before the occurrence
Calculate remaining useful life/possible repairs up to a 75 per cent
Measures performance variables such as temperature, speed, electrical system, navigation route
Lower costs of operations with an increase in safety
The IoT automotive maintenance system helps to take necessary steps to prevent car parts from sudden breakdown. Just like dashboard indicators of a vehicle, this system alerts the driver about a probable malfunction. The alerts are sent to the driver's smartphone. This helps the driver to make cost-effective and time-saving steps to avoid component failure while driving.
The predictive maintenance feature is helpful for cargo vehicles that travel for days before reaching their destination. By using the automotive maintenance system, drivers can confirm the performance of their vehicle and repair before they break.
Real-time monitoring
Vehicle IoT system manufacturers such as Intel, Cisco, Microsoft and TomTom International are trying to develop a fully autonomous car that will assume all driving functions from the driver. Tesla's autopilot features are the indicators of the cars of the future — the advanced sensor coverage comes with auto steer and smart summon. Tesla autopilot vehicles will figure out the optimal route, navigating urban streets, complex intersections and freeways with the help of advanced IoT mechanisms incorporated.
IoT enabled semi-autonomous cars can take on-spot decisions while partly controlling the vehicle operations to avoid accidents. Along with different proximity sensors and cameras, cars integrated with IoT systems can reduce human error and make driving more comfortable and safe.
In-vehicle infotainment and telematics
In-car wi-fi capabilities powered by a 4G LTE connection have enabled telematics features to IoT-based automotive. By using vehicular telematics, a car owner can keep an eagle eye view on its vehicle even from remote locations.
The in-vehicle infotainment market is estimated to reach over  $30 billion by 2022
With wi-fi and IoT, car owners can connect music systems and GPS with their smartphone and operate them remotely. Currently, there are various in-built and third-party applications that can be used to connect cars with smartphones.
Voice command accessibility in these applications allows users to play their favourite music, stream a video, or attend calls without even lifting a finger. The GPS and GNSS system in the infotainment systems also offers onboard navigation and comprehensive information about nearby petrol pumps and restaurants.
Security, safety and sustainability
Through a smartphone-enabled dashboard, drivers can be ensured about their  security and safety. External sensors and cameras keep a track of the vehicles' condition and send the data to a mobile application.
The Internet and society centre states that 90 per cent of accidents are caused by human errors and failures. Speed alert ensures safety the moment the pre-defined speed limit is crossed. Alerts are activated when any automobile part is dislocated or when temperature or the RH goes beyond the threshold.
Meanwhile, a telematics system along with a real-time alert system sounds an alarm in the owner's smartphone if someone tries to forcefully enter the vehicle. An IoT-enabled car   calls concerned authorities immediately like ambulances or firefighters in case of an emergency.
Also, wastage of fuel can be avoided through ignition alert, while idle alert indicates when the vehicle is standing idle for too long. These smart alerts are connected to the engine to indicate the usage of fuel.
IoT has revamped car inspection and maintenance capabilities and presented new mediums of entertainment. Moreover, vehicular telematics is allowing long-range data transmission that has helped in fleet management systems.
In a few years, we expect IoT technology to completely change the way in which we interact with our vehicles. IoT might be the future DNA of automobiles. HD cameras, thermal sensors, smart navigators, speed controllers, rain sensors, wireless networking, and proximity sensors are among the trailblazing IoT products making significant moves.
If you liked reading this, you might like our other stories