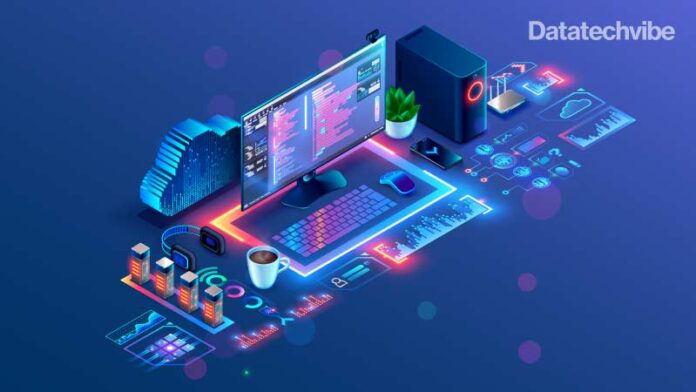 The latest market forecasts for cloud computing predict the market size to grow to $832.1 billion by 2025 as more and more organisations adopt the technology to store information in a virtual space. But cloud computing isn't just for data, businesses can also use it to run applications and software remotely, without being tied to one computer.

There are different types of cloud services, and Platform as a Service (PaaS) is one of them. It provides all the resources necessary for business owners to create their own software and programmes. Usually this will include an operating system, programming environment, database, and web server. 
As with other cloud services such as infrastructure as a service (IaaS) and software as a service (SaaS), a PaaS is typically accessed over the internet but can also be deployed on-premises or in a hybrid mode. Regardless, the underlying infrastructure an application runs on is managed by the service provider. 
Demand for PaaS
The global PaaS market size is projected to reach $22.7 million by 2026, from $6.75 million in 2019, at a CAGR of 18.5 per cent during the forecast period 2021-2026.
The PaaS growth is driven by digitalisation and an increase in online payments. As digitalisation and online payments expand, a cloud-native ecosystem will emerge, necessitating hiring a third-party vendor capable of integrating domestic, cross-border, and regional payment solutions via a single interface. 
Furthermore, the COVID-19 pandemic has also contributed to the growth of the PaaS — a rise in demand for cloud-based business continuity software and services, a strong reliance on public cloud services to achieve near-term business goals and an increased spending on cloud services by major industries.
Also, the increasing need to reduce time to market, mature vendors with different support levels, focus on cost reduction of application development and focus on streamlining application management and the rising need for advanced integration services and shifting of workload to cloud environments are the other factors driving the demand for PaaS globally.
Also Read: Cloud Adoption Strategies For Enterprises
Benefits of PaaS
One of the major benefits of PaaS is its ability to improve developer's productivity by enabling rapid development with faster and more frequent delivery of functionality. It does this through continuous integration techniques and automatic application deployment.
Businesses don't have to set up and maintain the environment in which its application runs, thus allowing developers to deploy faster and more regularly, and focus on differentiators rather than solving problems such as infrastructure provisioning.
PaaS is maintained by the service provider and comes with service level contracts and other guarantees, so developers don't have to worry about repetitive tasks such as patching and upgrading, ensuring the availability and stability of their environment.
Cost-Effective: No need to purchase hardware or pay expenses during downtime

Time Savings: No need to spend time setting up/maintaining the core stack

Speed: Speed up the creation of apps

Future-Proof: Access to state-of-the-art data centre, hardware and operating systems

Security: PaaS providers invest heavily in security technology and expertise

Scale: Rapidly add capacity in peak times and scale down as needed

Custom Solutions: Operational tools in place so developers can create custom software

Flexibility: Allows employees to log in and work on applications from anywhere
What businesses should look for in a PaaS provider offering
While PaaS can provide benefits to businesses, increasing efficiency, time-management, and faster deployment, it's important for an enterprise to understand what they need from their PaaS provider. An enterprise should answer a few crucial questions like whether it requires a higher level of security, or is more interested in whether its PaaS offering is tied to a SaaS environment. The key is to determine what each PaaS provider offers, from a faster and more affordable route or a complex and wide-ranging model.
Fully-Managed Cloud Database
A PaaS provider should not simply provide provisioning and manage the low-level infrastructure, but serve as a fully managed application development and deployment service.
Control
It's vital that developers have control over their hardware environment, especially when they need a certain resource to build applications. Not all PaaS providers feature the same amount of control, and developers don't want to be in a position where they cannot do something expected of them due to a lack of control.
Also Read: Is Security Key To Your Cloud-Native Strategy?
Security
Providers must have top-notch security tools that protect data. Ask a few crucial questions like what level of uptime do they guarantee? In the event of a disaster, what level of customer service and support is offered?  Will the provider answer the phone call when something goes wrong, and have a plan in place to fix the issue. 
Technology
Selecting a PaaS provider boils down to what technology and services they actually provide. A provider must offer different combinations throughout the cloud computing stack, and as applications run, the stack must work consistently with it.
For an enterprise, it is also important to understand how a PaaS deployment system is designed, what type of programming language is used, and what is the process as far as scaling goes? 
Look before you leap when considering a PaaS provider, but if the answer to these questions is yes, don't be afraid to take the plunge.
Leading PaaS Vendors
There are many viable vendors to choose from, here are some:
AWS Elastic Beanstalk
It enables rapid deployment and management of cloud applications without having to learn about the underlying infrastructure. Elastic Beanstalk handles capacity provisioning, load balancing, scaling, and application health monitoring details automatically.
Cloud Foundry
It is an open source PaaS managed by the Cloud Foundry Foundation (CFF). Originally developed by VMware, it was transferred to Pivotal Software, and then to CFF in 2015. 
Google App Engine
A PaaS offering for developing and hosting web applications in Google-managed data centres. Applications are sandboxed, run, and automatically scaled across multiple servers.
Microsoft Azure App Service
It is a fully managed PaaS that combines various Azure services on a single platform.
Also Read: Edge Computing Helps You Harness The Power of The Cloud
Red Hat OpenShift
It is a family of PaaS offerings that an enterprise can host or deploy on-premises in the cloud to build and deploy containerised applications. The flagship product is the OpenShift Container Platform. It is an on-premises PaaS built on Red Hat Enterprise Linux and built around a Docker container orchestrated and managed by Kubernetes.
Technology is always evolving, and PaaS is no exception. As businesses across industries are able to plan for growth with PaaS, leading cloud service providers are starting to offer AI-platform-as-a-service (AIPaaS), which is a platform for delivering artificial intelligence (AI) applications, enabling companies use as-is or personalise with APIs for integrating specific AI capabilities into an application.