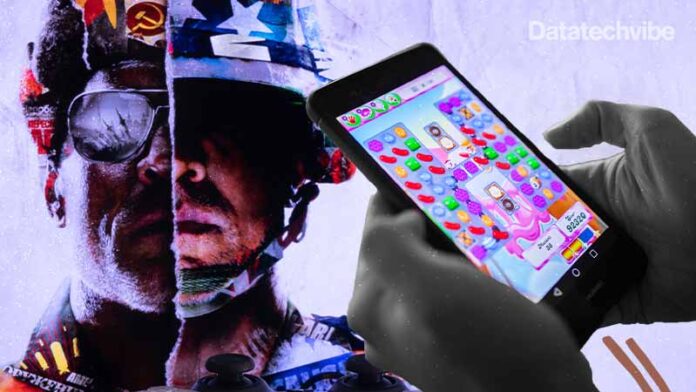 The proposed takeover of video game company Activision Blizzard, the maker of Candy Crush and Call of Duty videogames, by Microsoft would make the software giant the world's third-largest gaming company by revenue, after Tencent and Sony.
Microsoft plans to buy the powerful, but troubled video game company, for nearly $70 billion. It's the biggest deal ever, and one that places a major bet that people will be spending more time in the digital world.
This purchase will accelerate the expansion of Microsoft's gaming business across mobile, PC, console and cloud and provide building blocks for the metaverse.
The addition of Activision's popular games would help Microsoft broaden its Xbox console's options and better compete with competitor Sony.'s PlayStation. The Xbox has a lengthy relationship with Activision. Call of Duty, the publisher's most popular title, has grown in popularity thanks to Microsoft's unique online network Xbox Live, letting players join for multiplayer engagements. The majority of Activision's games are for Xbox systems.
Activision, one of the industry's most storied publishers, has been embroiled in many lawsuits alleging gender discrimination and harassment for months. Employees have been pressuring Kotick, who has managed the corporation for three decades, to go. The controversy has taken its toll on a corporation already adjusting to the end of a pandemic-fueled video gaming boom. Activision delayed two of its most anticipated titles in November and issued a fourth-quarter sales projection that fell short of Wall Street's expectations, sending the company's stock plummeting.
The controversy has taken its toll on a corporation already adjusting to the end of a pandemic-fueled video gaming boom. Activision said in November that two of its most anticipated titles would be delayed, as well as a fourth-quarter sales estimate that fell short of Wall Street's expectations.
Activision, founded in 1979, is the home of some of the most well-known video game properties, including Candy Crush, Guitar Hero, Skylanders, Destiny, Crash Bandicoot, and Tony Hawk skateboarding games. Its Call of Duty franchise is famous for its long-term popularity, opening-week sales, and, increasingly, its Asian reach. The game's mobile version was released in China in December 2020, and it soon rose to the top of the download charts.
Microsoft has lately made several acquisitions to add to its list of gaming developers. It agreed to buy ZeniMax Media, which owns Bethesda Softworks, the Elder Scrolls and Doom publisher, for $7.5 billion in 2020. This was Microsoft's largest video game purchase to date at the time.
What does it mean for marketers?
From Microsoft to Nvidia, substantial investments have been made on metaverse, with the excitement surrounding it picking up late last year as Facebook rebranded itself as a Meta platform to reflect its concentration on virtual reality.
While Microsoft already has a strong foothold in the industry as one of the major three console makers, it has made considerable investments in recent years, including multibillion-dollar acquisitions of Minecraft creator Mojang Studios and Zenimax.
It also boasts a popular cloud gaming service with over 25 million users.
Executives touted Activision's 400 million monthly active users as a significant selling point for the transaction, emphasising the importance of these communities in Microsoft's multiple metaverse initiatives.
If you liked reading this, you might like our other stories