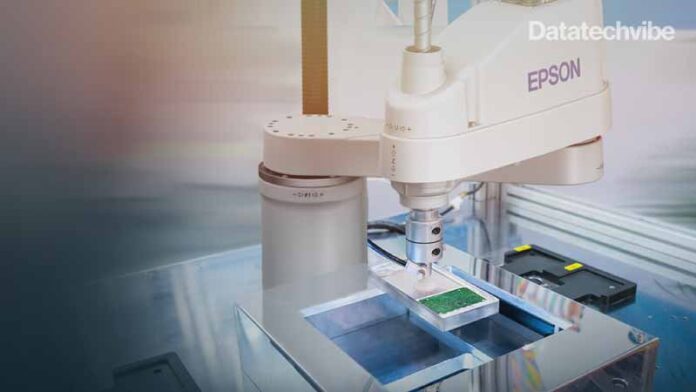 Epson Robots announced new updates to its T-Series line with the T3-B and T6-B All-in-One SCARA robots. The new T3-B and T6-B All-in-One SCARA robots offer high-quality and high-performance at an exceptional value to simplify both complex and simple automation applications such as packaging, pick and place, dispensing, and inspection.
These all-in-one industrial robots include the same intuitive software, features and reliability while keeping the total cost of ownership low in industries spanning automotive, medical development, lab automation, consumer electronics, electronic components, and industrial.
Epson's new SCARA robots tout an All-in-One, space-saving design that includes a built-in controller housed in the robot's base with power for end-of-arm tooling. The T3-B and T6-B are compatible with Epson's suite of integrated options including vision guidance, IntelliFlex parts feeding, teach pendants, and field bus master and slave interface boards. Additional updates include an improved form factor design and updated motion control for smoother, faster cycle times.
Also Read: The Rise And Rise of Robots 
"Ease of use in robotics is more important than ever and the new T-B Series SCARA models bring exceptional value without compromise to both new entrants and advanced manufacturers. Epson strives to simplify automation for all users and the new T3-B and T6-B are designed to provide uncomplicated solutions with productive outcomes. Paired with the no-code Epson RC+Express software, users can add the robots to automation systems in no time," said Scott Marsic, Group Product Manager, Epson Robots.
Designed for the ultimate ease of use, the T3-B and T6-B come equipped with the feature-packed Epson RC+ and no-code Epson RC+ Express industrial automation development software. Ideal for novice and advanced users, Epson RC+ is an easy-to-learn programming language that offers a powerful set of tools to redefine automation efficiency. An intuitive, visual-based teaching environment, Epson RC+ Express is designed for users with little-to-no programming experience to easily and efficiently develop simple, powerful robotic programs.