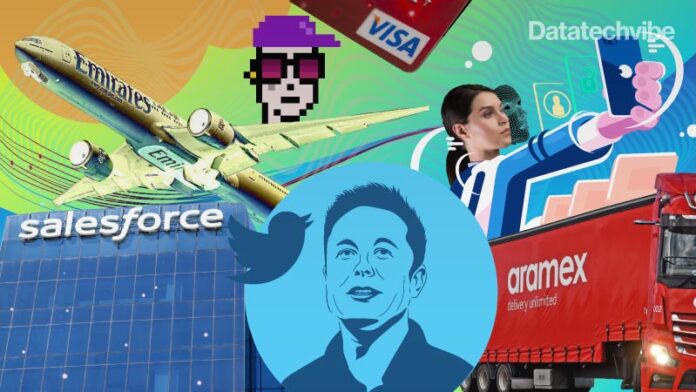 Elon Musk casts his shadow over industry announcements this month. However, other company news is not to be missed.
April ends with $44 billion exchanging accounts. An Elon Musk-led Twitter promises quite a spectacle, and the world is curious to know more.
Although the tech billionaire stole the show, the month was flooded with partnerships, launches, and tech initiatives across industries showcasing technology advancements and improved customer experience. Let's look at the most exciting and promising announcements that made headlines this month.
April Has Been Cloudy
Google Cloud's BI products are expanding access to data. Its BigLake is built to unify data warehouses and lakes to extend BigQuery's capabilities, gain access control, and accelerate performance across multi-cloud storage over a single copy of data. It eliminates duplicating or moving data from a source, reducing cost and inefficiencies. The company also announced Spanner change streams, allowing customers to track changes and provide easy access and integrate the data with other systems, unlocking new value.
Intel announced its plan to acquire Granulate Cloud Solutions in the second quarter of 2022. Israel-based Granulate develops real-time continuous optimisation software for the cloud and data centre, using  artificial intelligence software.
As organisations advance their digital transformation initiatives, they're modernising their operations, applications, and databases and leveraging hybrid and multi-cloud deployments. SolarWinds launched SolarWinds Hybrid Cloud Observability providing organisations a comprehensive and unified view of network environments.
Accenture acquired Ergo, a data-centred business that helps companies create a culture of data-driven decision-making using big data, analytics and AI. Ergo brings human-centric design principles to build data solutions that guide better business decisions.
What's New With Microsoft, Oracle, Salesforce, Sprinklr And Freshworks?
In the last couple of years, extreme pressure on end-to-end supply chains have exposed the need for more connected and collaborative networks between suppliers, buyers, retailers, and other parties along the value chain.
Kraft Heinz and Microsoft join forces to accelerate supply chain innovation as part of a broader digital transformation. They are developing designs to accelerate the consumer goods giant's transformation and enable a more resilient supply chain.
Microsoft successfully trialled an AI application in space, and signed deals with Ball, Thales Alenia, and others. It helped develop an AI that used spacesuit cameras to check astronauts' gloves on the International Space Station.
In addition to the AI trial, Microsoft entered into a partnership with Thales Alenia Space to explore space edge computing technologies. Similarly, Ball Aerospace plans to test some on-orbit computing with Microsoft next year.
Elsewhere, collaborating with Microsoft, Mastercard launched an enhanced identity solution designed to improve the online shopping experience and tackle digital fraud. Mastercard enhanced its Digital Transaction Insights solution with next-gen authentication and real-time decisioning intelligence capabilities.
Oracle chose Flytxt's AI and analytics solutions for its enhanced Digital Experience for Communications to drive data-driven digital experiences for its communication service provider (CSP) clients.
While Salesforce launched CRM Analytics with innovations that surface AI-powered, actionable insights directly in the workflow to help industry sales leaders put data at the centre of every customer relationship, Freshworks launched Freshworks CRM for eCommerce. It created an unified customer record across conversational marketing, sales, and customer support.
And finally, Sprinklr integrated its Sprinklr Modern Care with Amazon Connect to unify the contact centre. With this integration, Sprinklr customers can add voice services with Amazon Connect, and Amazon Connect customers can access a complete unified-CXM platform from Sprinklr to give agents a 360-degree view of company conversations across social channels.
The Middle East Newsroom
Digital transformation is still a top priority. e&, (formerly known as Etisalat), is working with Meta on use cases that integrate with the latest Meta products and solutions, consumer channel digitalisation, enhancing AR/VR experiences and conversational commerce throughout its digital communication plans.
In the healthcare industry, Saudi Arabia's Alpha Pharma partnered with pharmaceutical products and services provider Acino to further the goals of the country's health sector transformation programme.
In the BFSI industry, Finastra teamed up with Microsoft for Banking-as-a-Service (BaaS). This move enables SME owners to access relevant and valuable business financing seamlessly. Users will be able to unlock lending options within Dynamics 365. Providing banks with additional information, including accounts receivable and payable records, will improve lending decisions and time to cash for SMEs.
PopID, a consumer authentication service, and Visa collaborated on launching facial verification payment acceptance in the region. The goal of the partnership is to provide cardholders with new safe, secure, and innovative ways to pay.
In the logistics industry, Aramex integrated what3words into its retail application programming interface (API) platform to further enhance the efficiency of its last-mile delivery. The integration enables regional eCommerce businesses to give their customers the option to have their packages delivered to any what3words address across the region. what3words allows users to locate, share and navigate to precise locations, and the technology is available in 50 languages, including Arabic.
Emirates joins the NFT craze, and metaverse initiatives and advancements are becoming a recurring theme in technology news. Middle East's first Metaverse Incubator was launched in Dubai to incubate early-stage Metaverse and Web3 projects.
To top it all, demonstrating UAE'S contribution to advanced technology and artificial intelligence, Abu Dhabi-based Technology Innovation Institute (TII) launched NOOR, a language program that provides data for automated summarisation, chatbots, and personalised marketing in Arabic. NOOR's training dataset is the world's largest cross-domain Arabic dataset, combining web data with books, poetry, news articles, and technical information to widen the applicability of the model significantly.
If you liked reading this, you might like our other stories
March Round-Up: All The Tech News You Need To Know
February Round-Up: All The Tech News You Need To Know