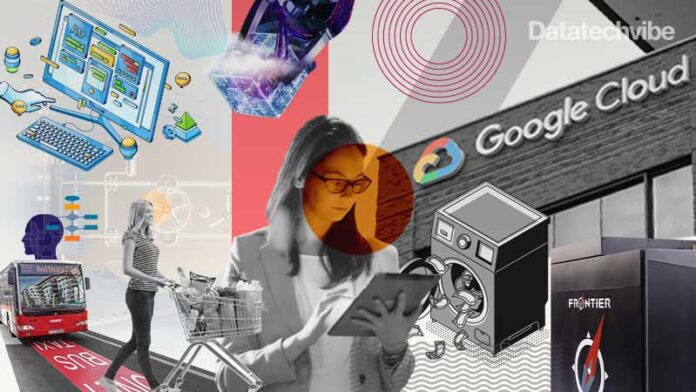 An innovative digital future is being paved by high-performance computers, cutting-edge AI-ML technologies, and open development
With a rapid developmental evolution in next-generation technologies, the ability to process big data and its effects on data privacy and security have become key challenges for the tech sector today. Generalisation in high-performance computing is now enhancing the capability to churn tremendous volumes of data into valuable insights, reaching new heights in processing capabilities and providing unimaginable speeds with easier access.
Self-learning algorithms, too, on the other hand, are changing the way machines understand and capture data, with Deepmind showcasing possibilities of its new self-supervised latent-predictive method that can handle real-world problems through exploration and understanding.
Rising cyber espionage damages the reputation of the targets by disclosing questionable business practices or personal data. Thirty-three per cent of attacks worldwide targeted the Middle East's services, defence, and energy sectors. A talent crisis is plaguing the cybersecurity sector. Eighty-five per cent of respondents believe that talent shortage affects their organisations' capacity to safeguard increasingly sophisticated information systems and networks.
Leading businesses commit to increasing fairness in marketing initiatives, gravitating toward the issue's importance. IBM's most recent attempt to raise knowledge and public awareness about the effects of bias in advertising technology brought together several agencies, brands, and industry leaders.
Industries emphasised high-performance computing, both cloud and on-premise, AI-ML pipelines, Ad-tech tools to mitigate bias, and high-level cybersecurity solutions in June.
Here is a summary of the top tech news from this month that you might have missed.
Processing superheroes
Meta will employ a dedicated Microsoft Azure cluster (AI) to conduct AI research. 5,400 Nvidia A100 GPUs and 1,350 AMD Milan Epyc 7V13 CPUs will be provided to the cluster utilising Azure's NDM A100 v4-series instances. However, on a much smaller scale, Meta started employing Microsoft Azure Virtual Machines for AI research last year.
During a continuous Linpack run, the AMD-powered Frontier supercomputer reached 1.102 ExaFlop/s and is currently the first exascale supercomputer to receive formal recognition. As the number of AMD-powered systems on the list has increased noticeably this year, it is currently ranked first on the Top 500 list of the fastest supercomputers in the world. Frontier is quicker than the seven supercomputers on the list combined, surpassing the previous leader, Japan's Fugaku, by a wide margin.
In a "strong endorsement" of HPE's edge-to-cloud pay-per-use cloud service, Google Cloud has agreed to employ the GreenLake on-premises cloud service from Hewlett Packard Enterprise for its distributed hybrid cloud. As a result of the Google Cloud-HPE partnership, HPE partners can now sell both Google Cloud and GreenLake on-premises. One can access Google Cloud or Google on-premises through HPE GreenLake, the GreenLake solution.
The AI takeover
BYOL-Explore, a curiosity-driven exploration algorithm, was just unveiled by Deepmind researchers. Bootstrap Your Own Latent (BYOL), a self-supervised latent-predictive method that predicts an earlier version of its latent representation, serves as the foundation for the strategy. BYOL-Explore learns a world model with a self-supervised prediction loss and trains a curiosity-driven policy using the same loss to address the issues associated with constructing the world model representation and the curiosity-driven policy. BYOL-Explore was evaluated against the ten hardest exploration-based Atari games to show how generalisability the system is.
The Roads and Transport Authority (RTA) of Dubai has acknowledged that advances in its public bus service and operational effectiveness have resulted from cutting-edge technology and artificial intelligence (AI). In collaboration with Alibaba, the RTA intends to implement the City Brain system in 2022. The system employs AI and cutting-edge algorithms to analyse a vast amount of big data collected from active nol cards, buses, and taxis to manage urban traffic networks. This data is transformed into useful information by delivering immediate notifications about the updated bus schedules and routes.
Artificial intelligence will be included in all aspects of the Mohammed bin Rashid Library's operations, including book selection, borrowing, and return. The library would be the first of its kind in the Middle East, with over a million volumes are housed in the automated storage and electronic book retrieval system on the first floor of the library, which employs artificial intelligence (AI) to instruct robots to find books and deliver them to readers wherever they are in the many libraries scattered across seven floors.
A new agreement between Al Fardan Exchange and the provider of digital and financial solutions, Kiya.ai, aims to combat money laundering. Al Fardan Exchange, which holds a licence from the Central Bank of the United Arab Emirates, will receive Kiya.ai's anti-money laundering (AML) solution, which is powered by artificial intelligence, machine learning, and robotic process automation.
What's new in AdTech?
To make it simple for customers to feed their AI-powered revenue engine with high-intent possibilities and their buying committee members, SalesboxAI teamed with LeadSift. With the help of the strategic collaboration, B2B revenue teams can now identify high-intent buying groups for acquisition, retention, cross-selling, and upselling opportunities, as well as engage in account-centric discussions with AI Assistants.
Consumer packaged goods marketers will benefit from a newly enhanced, machine learning-driven version of NCSolutions' next-generation advertising campaign measurement system, which will give them additional insight into the aspects of their campaigns that are causing sales to lift and return on ad spend. The new edition, dubbed Next-Gen Sales Effect, uses developments in NCS intellectual property and methodology as well as machine intelligence. The new approaches help meet the demands for earlier scans, quicker delivery, and higher precision.
Leading businesses have committed to increasing fairness in marketing initiatives. An initiative to reduce bias in advertising technologies was launched at the Cannes Lions International Festival of Creativity 2022, bringing together agencies, brands, and industry leaders. IBM, Delta Air Lines, WPP, Mindshare, 4A's, the IAB, and the Ad Council are among the organisations that have committed. The initiative is IBM's most recent attempt to raise knowledge and public awareness about the effects of bias in advertising technologies. More industry participation and data gathering are required to understand the potential impact of bias on advertising initiatives properly. Still, many industry leaders exhibit early activism by spreading awareness and taking action via IBM's Advertising Fairness Pledge.
Open-source is the key
The TaiChi few-shot NLP software developed by the Salesforce research team is now publicly available. Users of the software do not need to be very knowledgeable in FSL. It is designed for software developers and data scientists who want to build proof-of-concept products or get quick results but are unfamiliar with few-shot learning (FSL).
Union.ai announced UnionML's debut. A uniform interface for incorporating Python functions into machine learning (ML) microservices is provided by the open-source MLOps framework for developing web-native machine learning applications. It is the only library that simultaneously handles production lifecycle chores and data science workflows. This makes it simple to create brand-new AI apps from scratch or accelerate Python code already in use.
Abu Dhabi Islamic Bank launched its first application programming interface (API) developer portal to encourage the transition to open banking. Real-time connectivity, transparency, and speed are made possible by the technology of open APIs. Open banking aims to safely share information and services so dependable outside parties can spur innovation.
More customers will now be able to scale and accelerate their impact with AI, thanks to DataRobot's announcement that it is now available on Google Cloud Marketplace. To accelerate the procurement and deployment process, create AI-based models, and provide even more intelligent business solutions on Google Cloud, DataRobot users can now take advantage of Google Cloud Marketplace in addition to Google Cloud services.
Growing cybersecurity concerns and emphasis
Cybercriminals in the Middle East severely targeted the services, defence, and energy sectors. According to the CyberRes Galaxy 2022 Annual Report, 33 per cent of attacks targeted the services sector worldwide. Cyber espionage may occasionally be done to damage the targets' reputation by disclosing questionable business practices or personal data.
Trellix has published new research on the talent crisis plaguing the cybersecurity sector. One of the survey's significant findings is that 85 per cent of respondents believe the talent shortage is affecting their organisations' capacity to safeguard increasingly sophisticated information systems and networks. Thirty per cent of the workforce intends to change careers in the future.
Dragos launched its new Dragos OT-CERT (Operational Technology – Cyber Emergency Readiness Team), a cybersecurity resource designed for industrial asset owners and operators to help them build their OT cybersecurity programs, improve their security postures, and reduce OT risk.
Last but not least, Trend Micro unveiled Trend Micro One, a unified cybersecurity platform with an expanding ecosystem of technology partners that enables users to identify better, share, and reduce cyber risks. The unified security platform strategy offers a continuous cycle of risk and threat assessment with attack surface identification, cyber risk analysis, threat mitigation, and response capabilities.
If you liked reading this, you might like our other stories
May Round-Up: All The Tech News You Need To Know
April Round-Up: All The Tech News You Need To Know